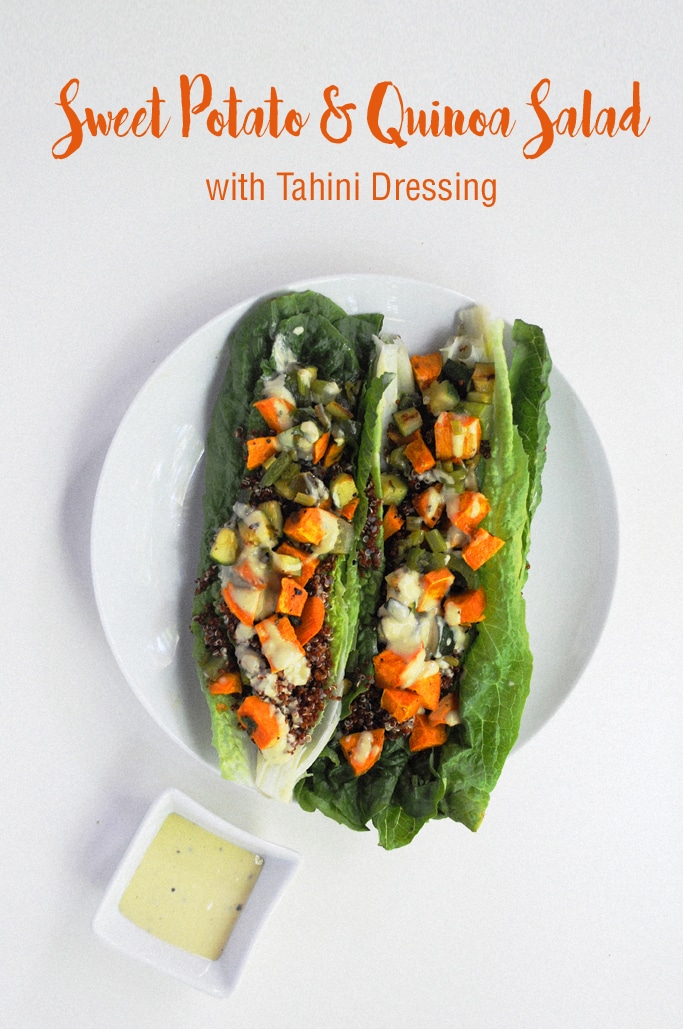 Sweet Potato & Quinoa Salad with Tahini Dressing is a reminder of our stay in Key West. That is when we were introduced to the Inca Quinoa, which has become our favorite thing to put on our salads. Now that the weather is getting hotter and the summer days longer. A salad for dinner is becoming the perfect meal.



There is crunchy taste with a nutty flavor that I love when I am eating this grain. Quinoa is gluten-free and considered easy to digest. It's filling to say the least and great on any salad. I'm always trying new ways to spice up my salads for our dinner. We do No Meat Mondays and that has turned into a big salad night for us.
Sweet Potato Quinoa Salad with Tahini Dressing
Now that the summer is around the corner, I try to create something light to eat for dinner so we can enjoy our evening walks while the weather is so beautiful at a perfect 78º at night. It's a quick dish to make for dinner and low calorie meal to get our summer bodies. LOL! At least try for it 🙂


Benefits of this Sweet Potato Quinoa Salad with Tahini Dressing:
Sweet Potatoes: excellent source of vitamin A (in the form of beta-carotene)
Inca Quinoa: One cup of cooked red quinoa has 8.14 grams of protein
Tahini: rich in minerals such as phosphorus, lecithin, magnesium, potassium and iron.
Sweet Potato & Quinoa Salad with Tahini Dressing
Ingredients
Salad
2 head of romaine lettuce
2 sweet potatoes chopped
1 cup of Inca Quinoa
1 zucchini
Tahini Dressing
¼ cup of Olive Oil
⅓ cup of vinegar
⅓ cup of lemon juice
1 crushed garlic clove
Instructions
Salad
Chop the sweet potatoes and roast in the oven for 20 minutes at 400º degrees.
Cook quinoa to package direction - I used a cup to make this salad.
Chop the zucchini in bite size piece.
Cut 2 Romaine lettuce in half.
Place on the a plate and put your toppings on top.
Tahini Dressing
Put all your ingredient and mix in a food processor or blender.
Sprinkle the dressing on top of the salad.
Enjoy!