Influenced by the French baguettes comes the sourdough Ciabatta from a baker in Rovigo, Veneto, Italy. The Ciabatta was invented in 1982 which took Europe by storm.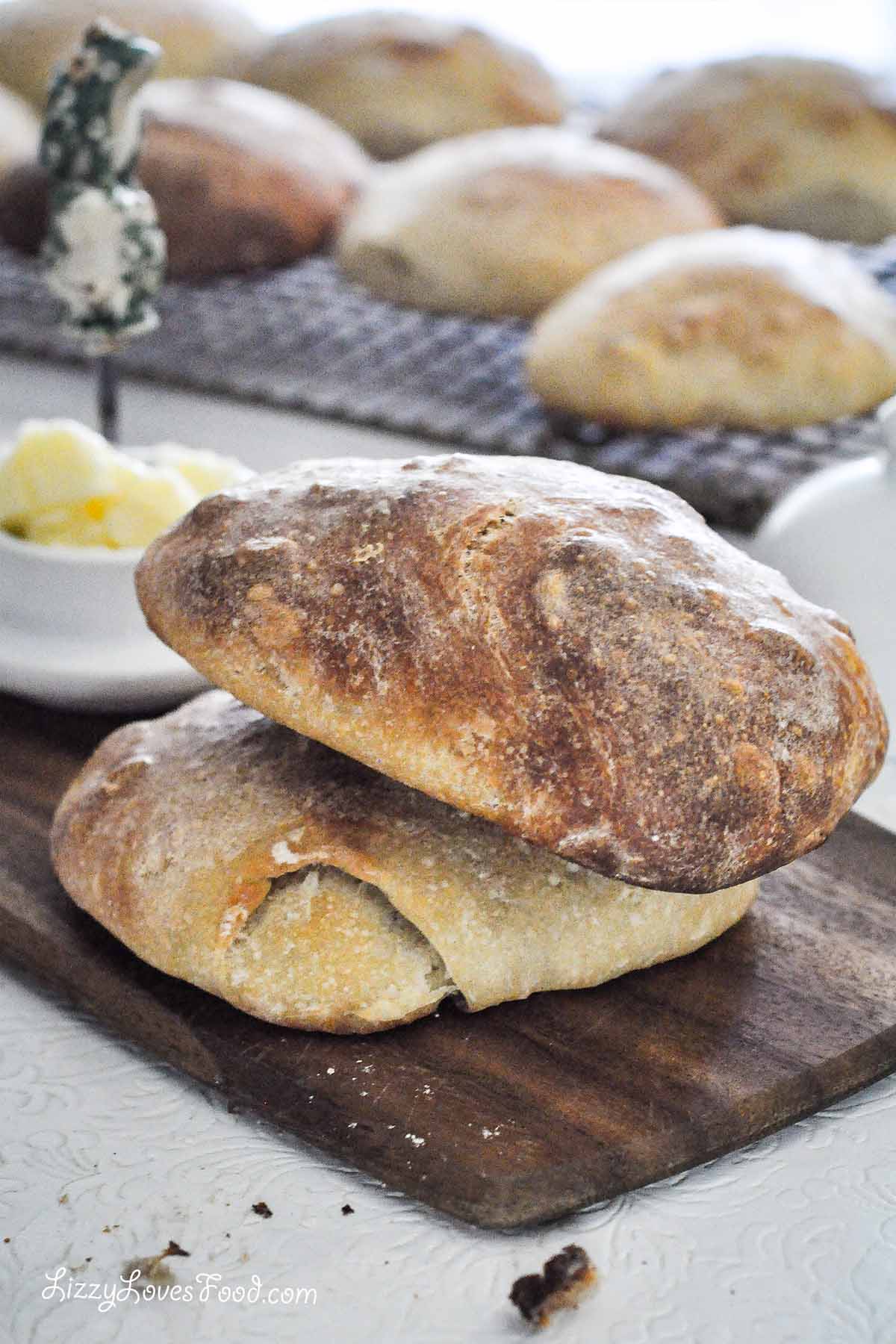 Arnaldo Cavallari was an Italian baker near Venice where the loaf of bread was named because of its shape.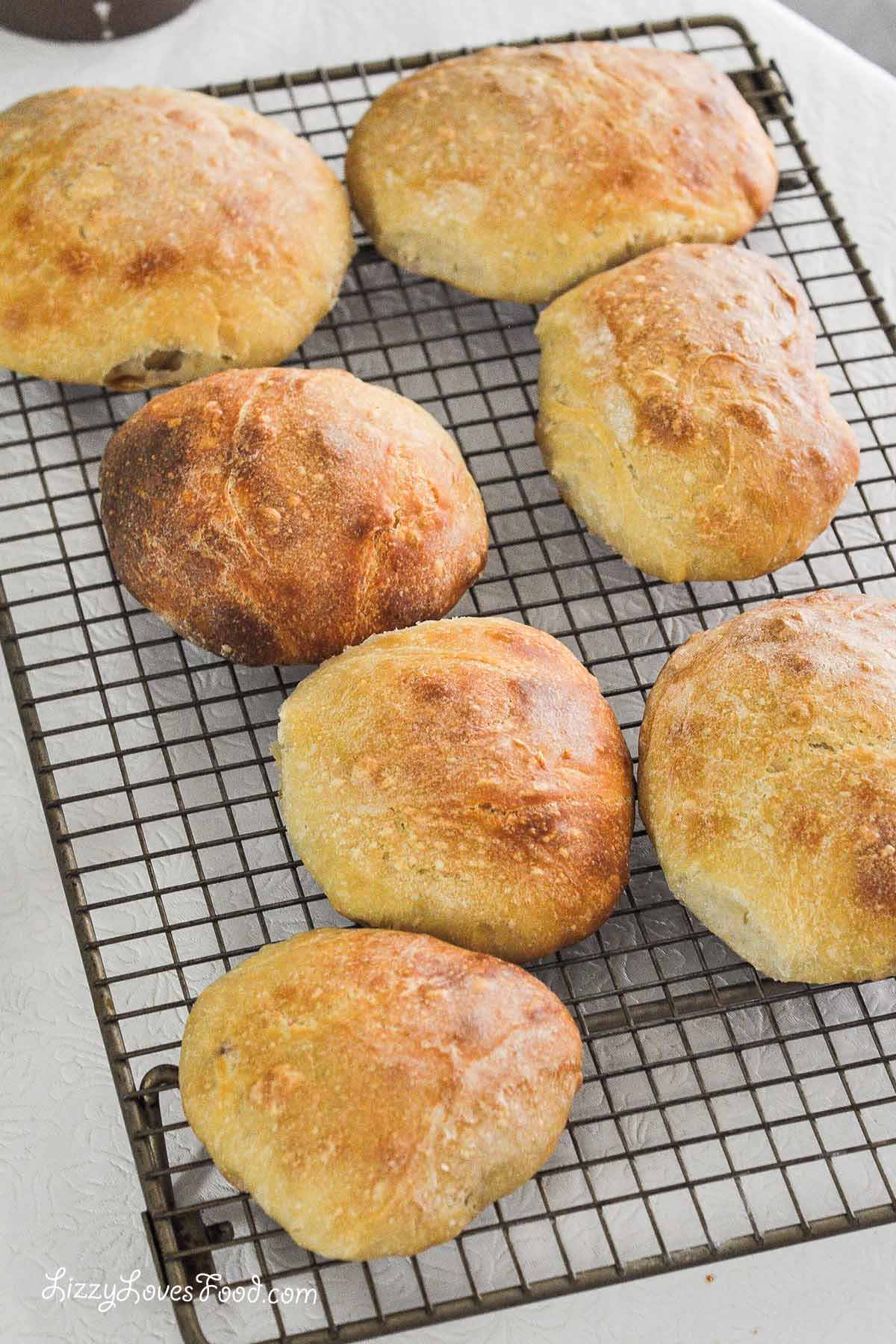 Ciabatta means slippers in Italian which is perfect for a bread that slips prosciutto and salami in the middle. Now let's get started on our journey with our sourdough ciabatta bread recipe.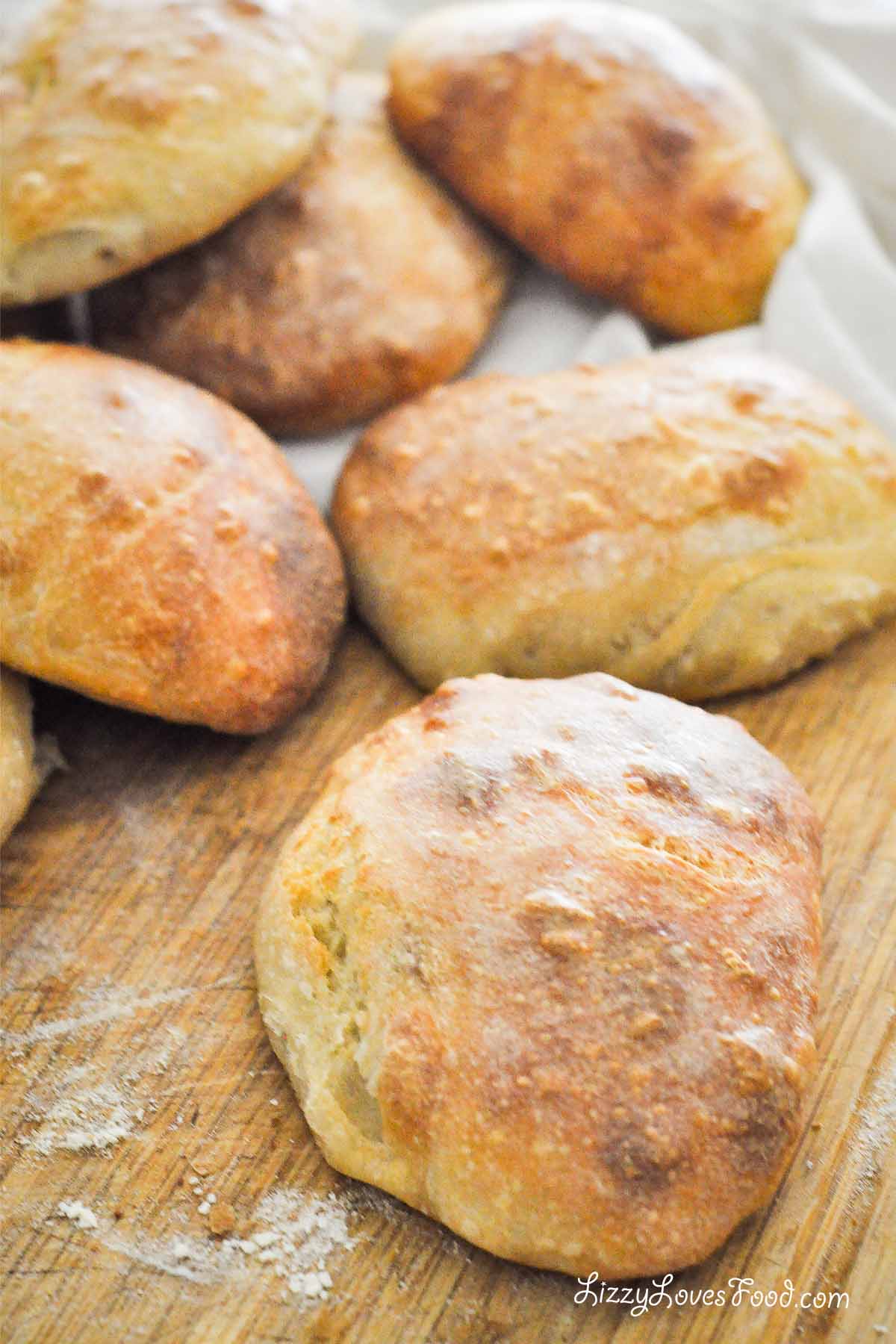 Ingredients
active sourdough starter
water - I use
salt
bread flour
1. Sourdough Starter
Day 1 - Time: 2:00 pm
The first thing to do for these homemade sourdough bagel recipes is to have a ripe sourdough starter. The best way to do this is to feed the sourdough starter and let it rise.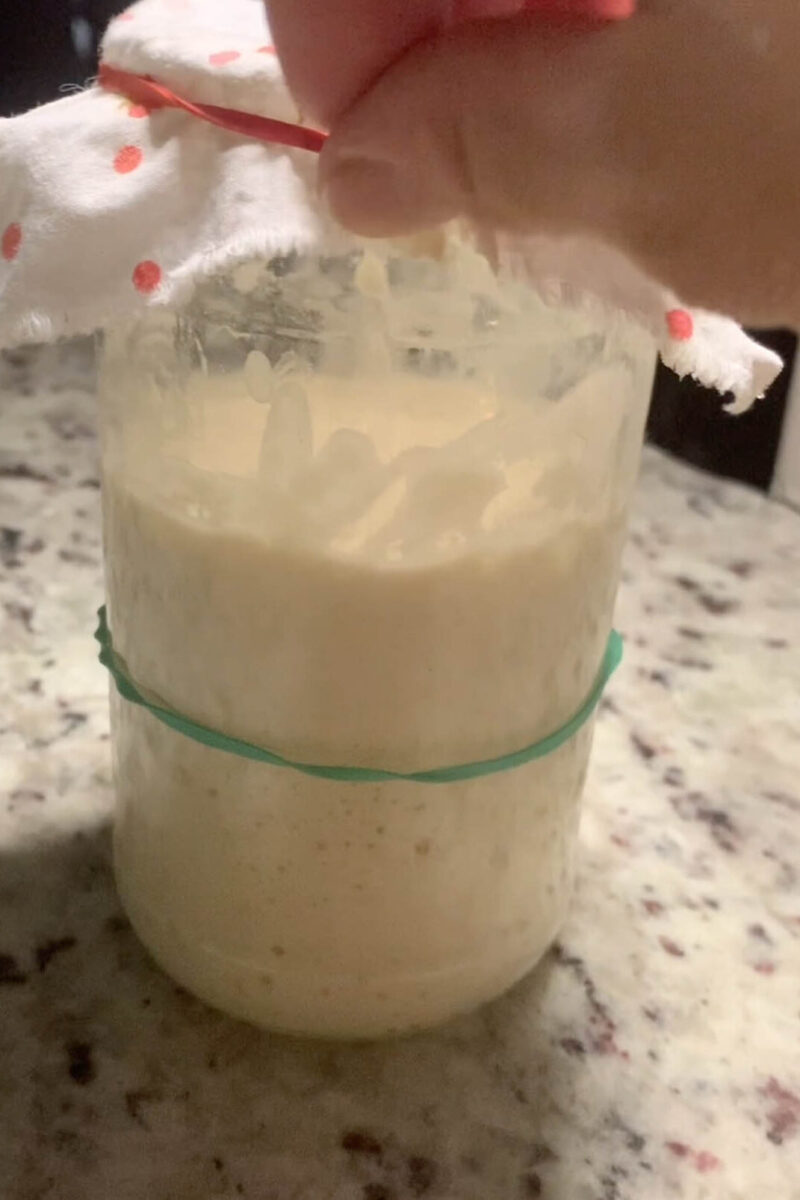 Once that is done do a float test by taking a piece of the starter and drop into a glass of water. If it floats to the top like a piece of dough, get ready to mix the ingredients.
2. Mixing Dough
Around 7 p.m.
I started mixing the dough. I found the weather in Florida will affect the dough. It takes me about 12 hours for the dough to double.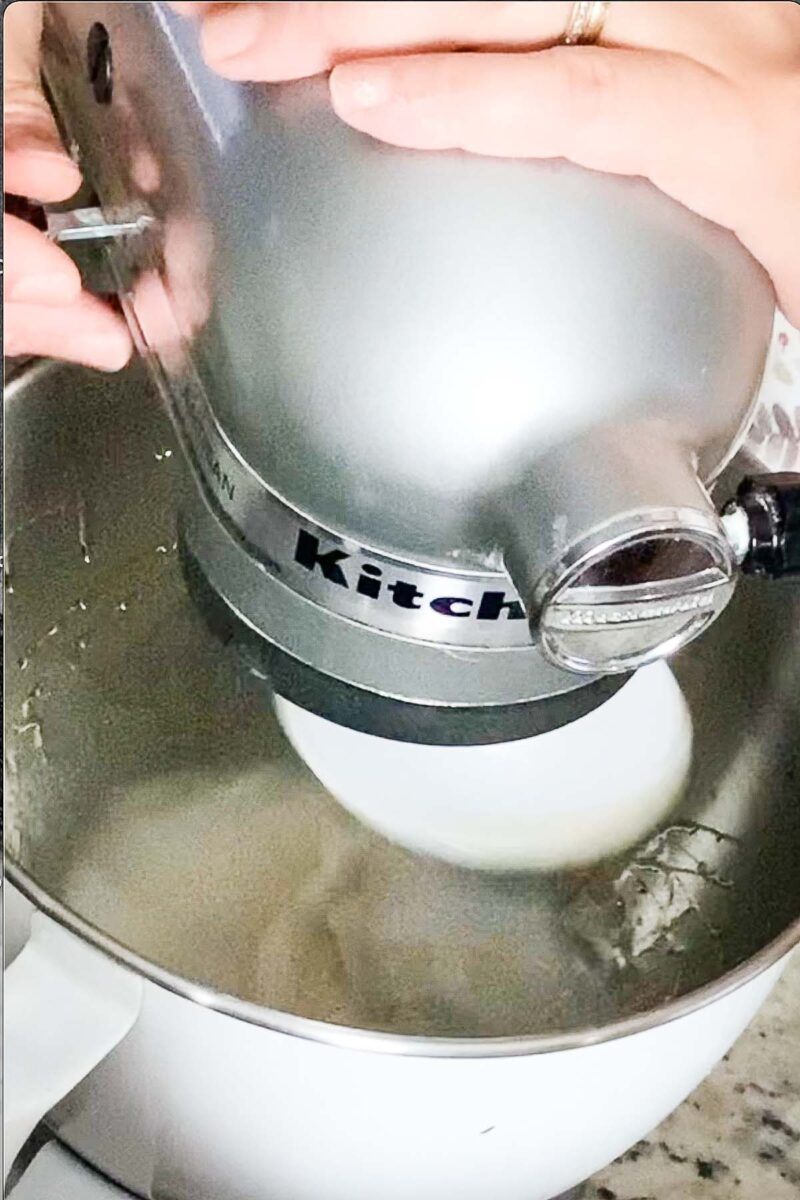 First, get the bowl of your stand mixer and use the dough hook attachment. You can mix by hand.
Add the sourdough and water at room temperature and mix, add the flour one at a time and mix on low.
Add the salt and one cup of flour and mix. Add the rest of the flour and mix until it is all combined and the dough is soft.
3. Stretch & Fold
This is a sticky dough so wet your hands then grab the edge of the pieces of dough to start the sets of stretch. Pull one end up, stretching it out as you pull upwards.
Then place the dough that is in your hands back into the center. Turn the bowl a quarter turn repeat another stretch and fold. Place back in the bowl with the cover and wait 15 minutes each time to complete 4 rounds of stretch and folds.
4. Rise & Ferment
For the first rise, place the dough in a large bowl with plastic wrap and shower cap and place in a warm place.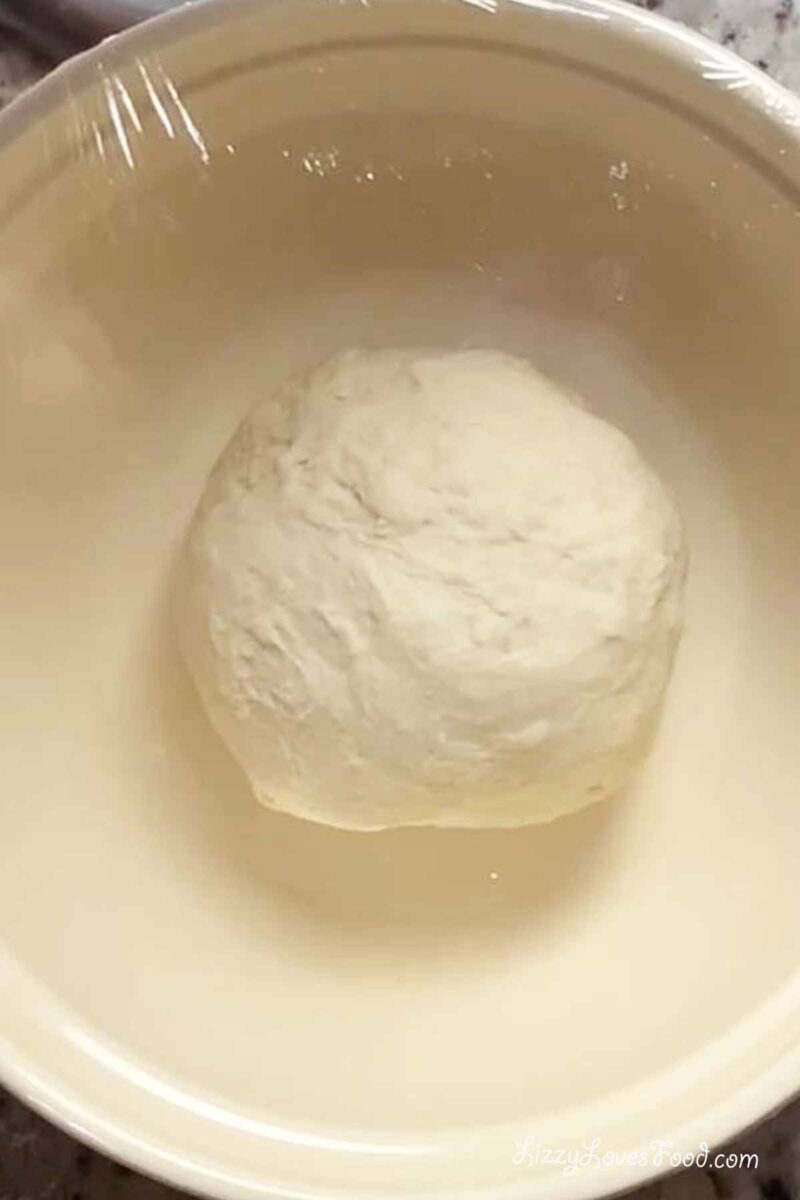 Transfer the dough to the refrigerator and allow it to ferment for 12-24 hours.
5. Shaping
Day 2- Time: 8:00 am
Check your dough the next morning to see if it is fermented with bubbles popping from the dough. Slide the dough gently out of the bowl to not disturb the bubbles too much and onto a lightly floured work surface.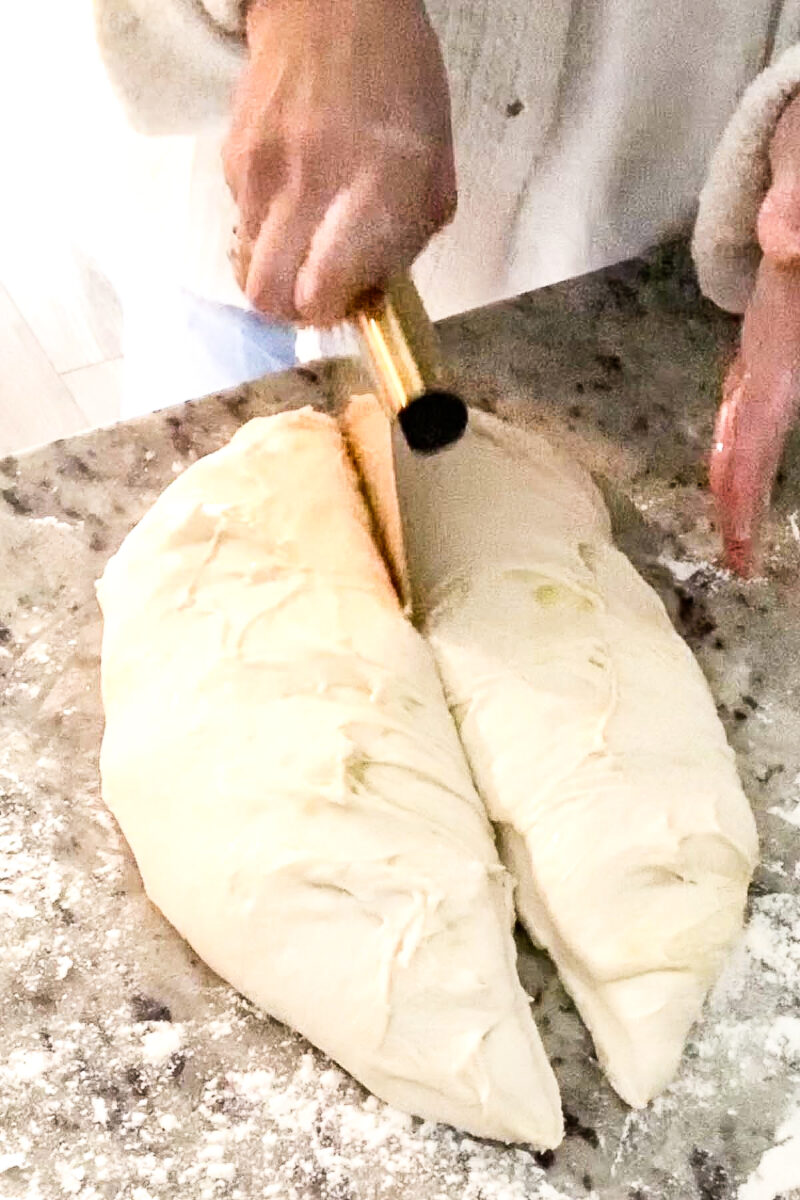 Shape the dough into a large rectangular shape, and sprinkle flour on top. To get 8 equal pieces, cut it down the middle lengthwise. and then make three cuts on each side. You can make it smaller and make 10 which I do sometimes. To transfer, bench scraper to gently transfer the rolls to a piece of parchment paper onto a pan.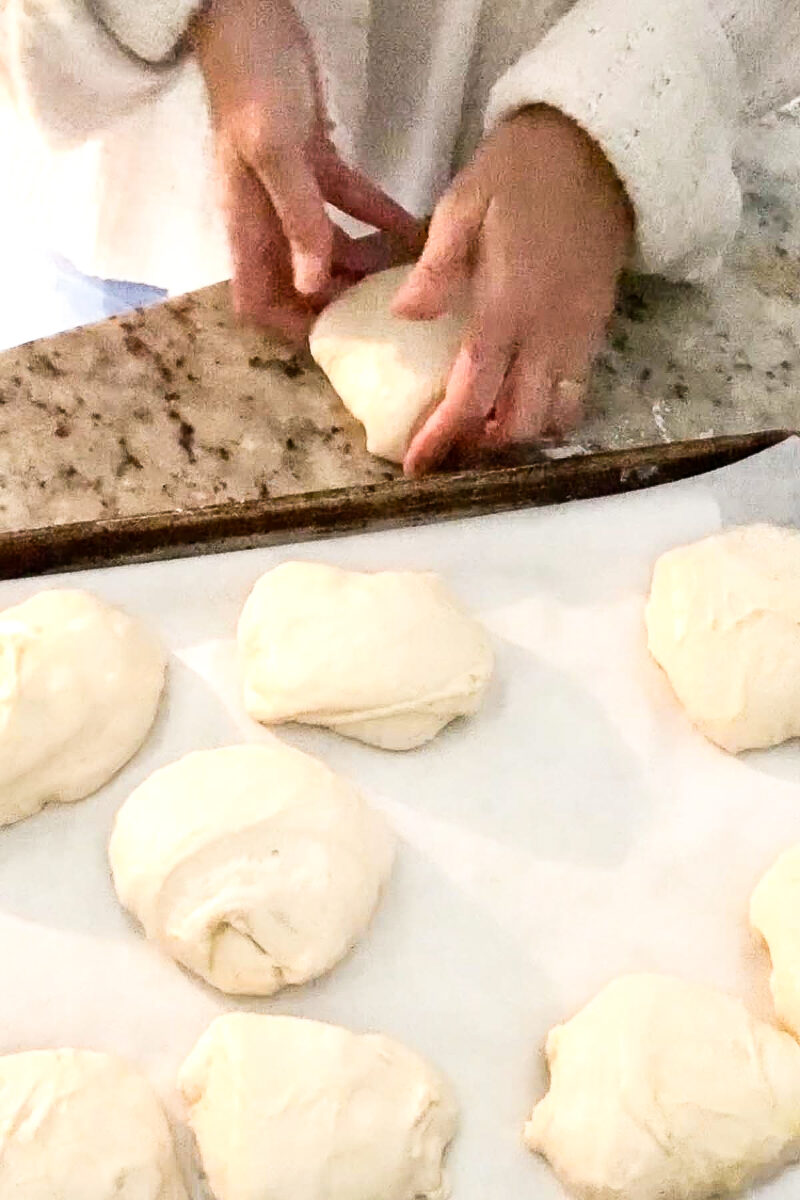 Cover with a tea towel and allow to rise for about 2 hours depending on the climate in the house. I find the more humid the harder for my bread to rise
6. Baking & Cool
Preheat the oven to 410º degrees put a cast iron skillet on the bottom rack and add a bit of water to the cast iron skillet on the bottom rack for steam.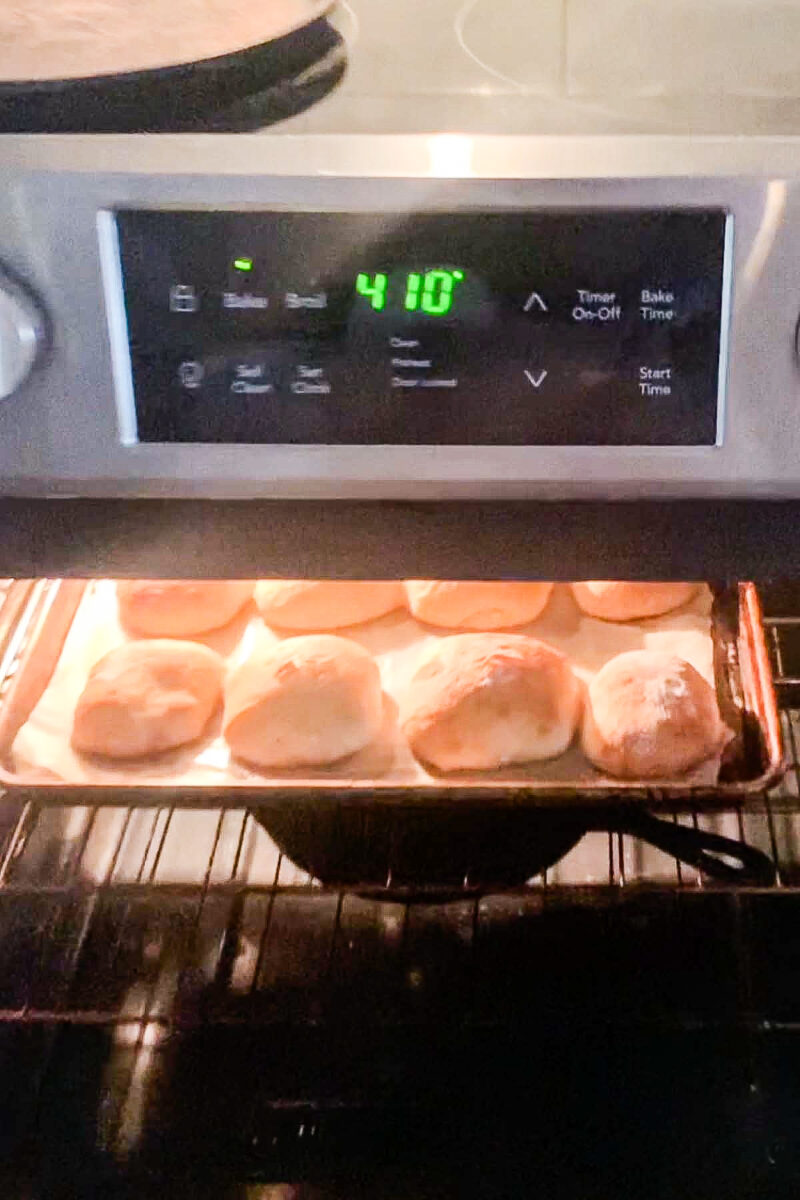 Place the large baking sheet into the hot oven and bake for about 10-15 minutes, then rotate the pan and bake for another 15 minutes or until the crust is golden. Remove from the baking sheet and cool on a wire rack.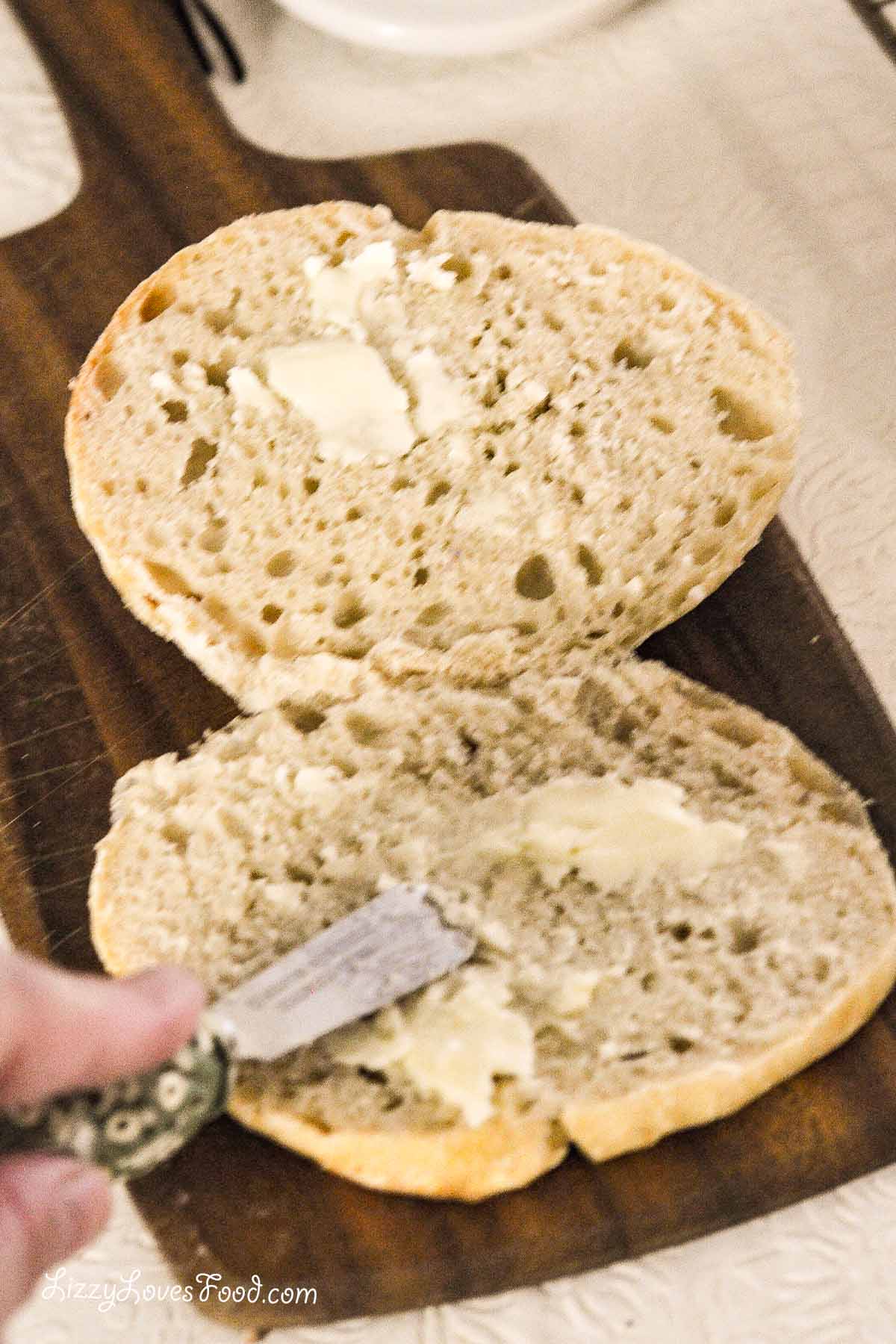 Tips and Tricks for Flavorful Variations
1. Experiment with Different Flours
While traditional ciabatta is made with all-purpose flour, don't be afraid to venture into the world of different grains. Rye flour can impart a subtle earthy flavor, while whole wheat flour adds nuttiness and complexity. Consider mixing white flour to create unique blends and find the perfect balance of flavors that match your taste buds.
2. Infuse Your Dough
To take your sourdough ciabatta recipe to the next level, consider infusing your dough with various ingredients. Herbs like rosemary, thyme, or basil can add a fragrant aroma and a touch of savory goodness.
3. Add Texture with Seeds and Nuts
For an added crunch, these are favorite ways to do this by adding seeds and nuts to your dough. Sesame seeds, flaxseeds, or poppy seeds lend a delightful texture, while walnuts, almonds, or sunflower seeds provide a nutty richness. Sprinkle these toppings on top of your shaped loaves before baking for an eye-catching finish and an exquisite taste.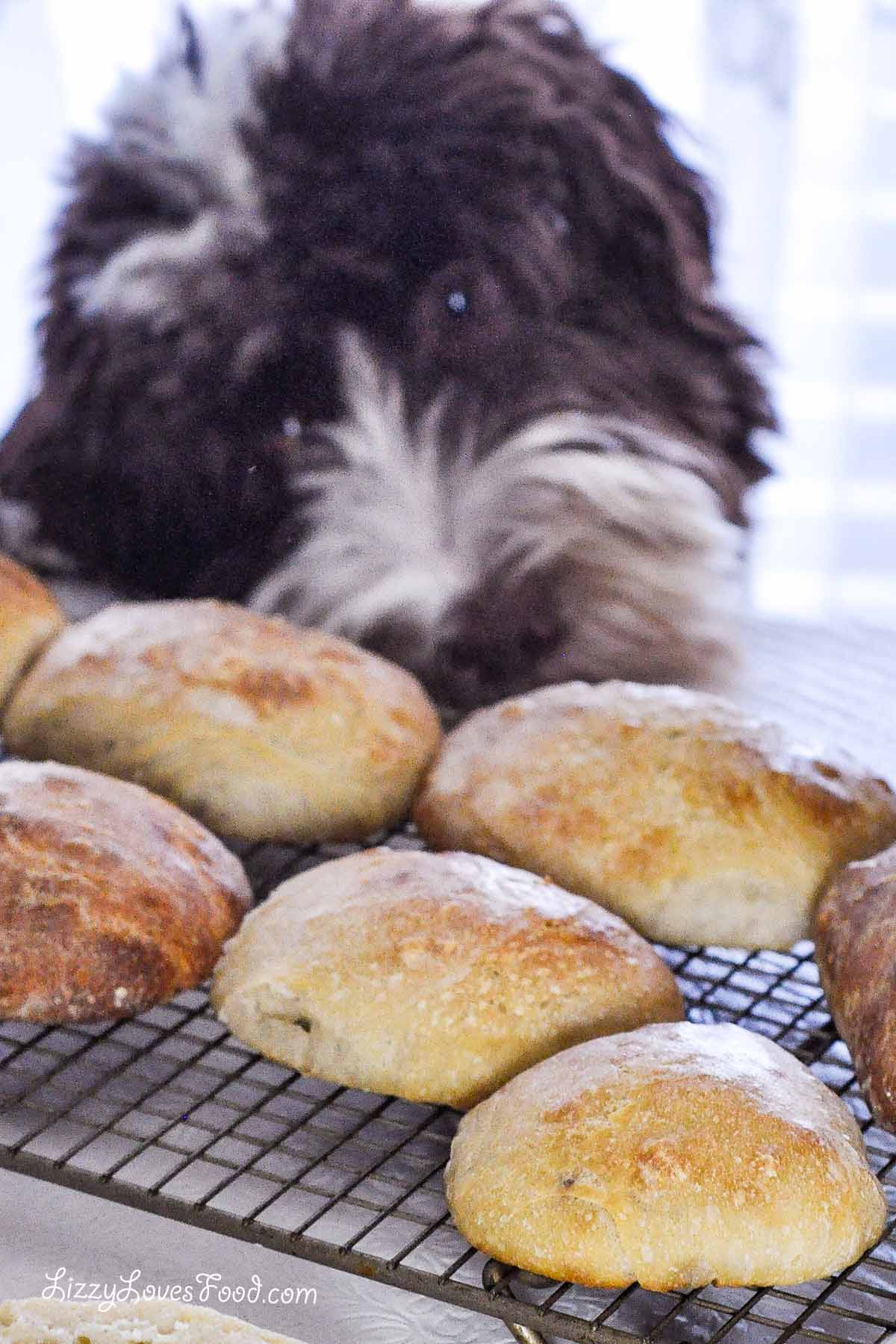 More Italian Food Recipes
If this is your first time making sourdough ciabatta rolls, remember it took me about 4 tries to get it right, and now it's so easy to make. I don't make them on high-humidity days or any sourdough bread so pick a cool climate day. Once you learn the texture of bread, it is easy to make bread recipes. Hope you enjoyed our journey today with an Italian favorite. Till next time my beautiful friends as my quest for the perfect bite continues, Buon appetito!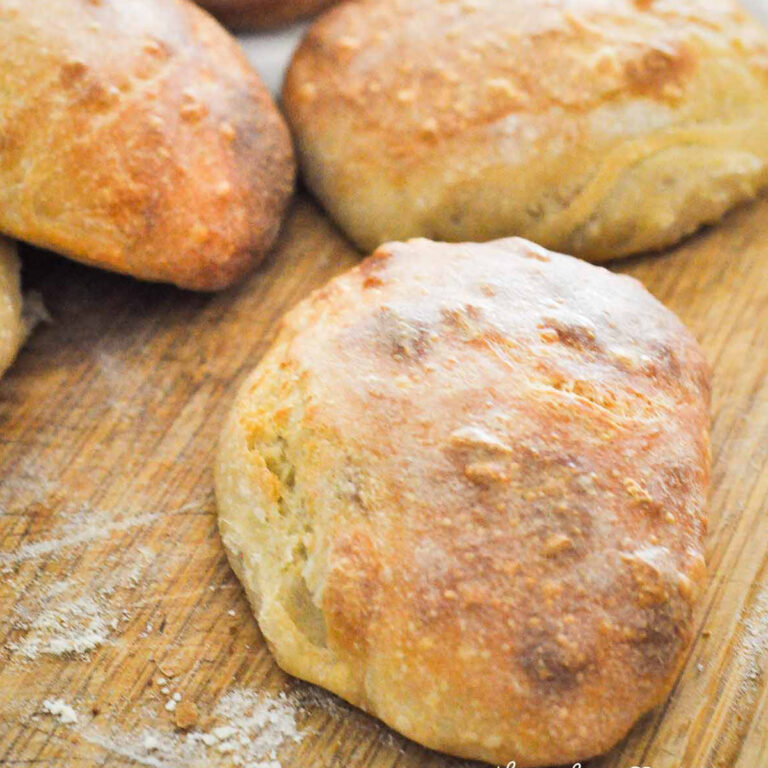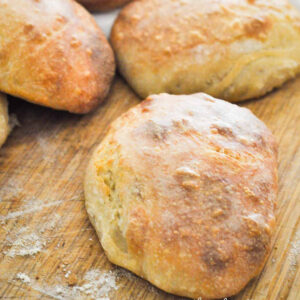 Sourdough Ciabatta from Italy
Sourdough ciabatta bread is the perfect bread to slips prosciutto and salami in the middle of a crusty outside and soft on the inside.
Ingredients
1

cup

active sourdough starter

2

cups

water

1

tablespoon

salt

4

cups

bread flour
Instructions
Notes
I found the weather in Florida will affect the dough, make this on a cooler day with little humidity because the weather

My dough tends to rise within 12 hours but that is not the same for everyone.
Don't skip the stretch and folds that is what makes all the bubbles in the bread.
Nutrition
Serving:
8
g
Calories:
169
kcal
Carbohydrates:
34
g
Protein:
6
g
Fat:
1
g
Saturated Fat:
0.1
g
Polyunsaturated Fat:
0.3
g
Monounsaturated Fat:
0.1
g
Sodium:
584
mg
Potassium:
42
mg
Fiber:
1
g
Sugar:
0.1
g
Vitamin A:
1
IU
Calcium:
8
mg
Iron:
0.4
mg