Why I love Living in a Small Town in Dunedin Florida is why everyone else loves living here too. They love the beaches but the main reason is the people are very kind.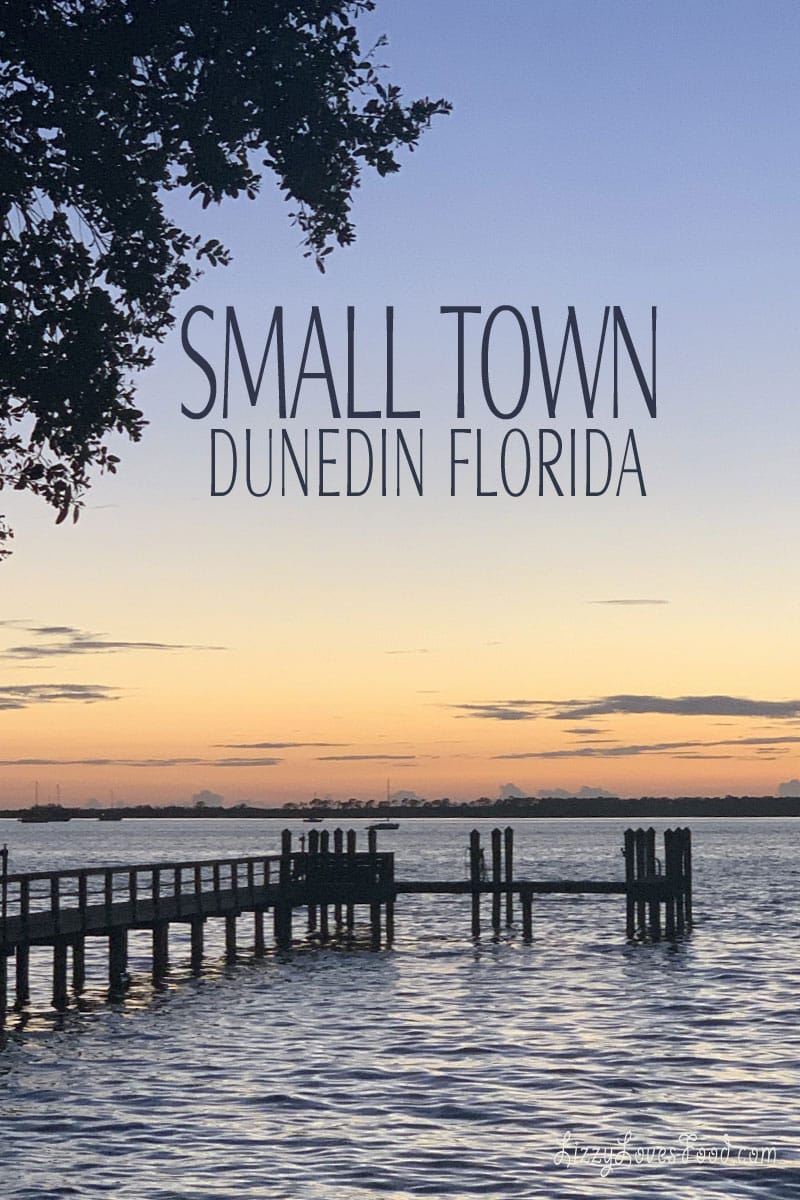 I must admit coming from DC it is a big difference and the first thing you notice is how polite and friendly with a scoop of kindness that surrounds this small town. Let me share with you my favorite things about Dunedin Florida which will make you want to live here too.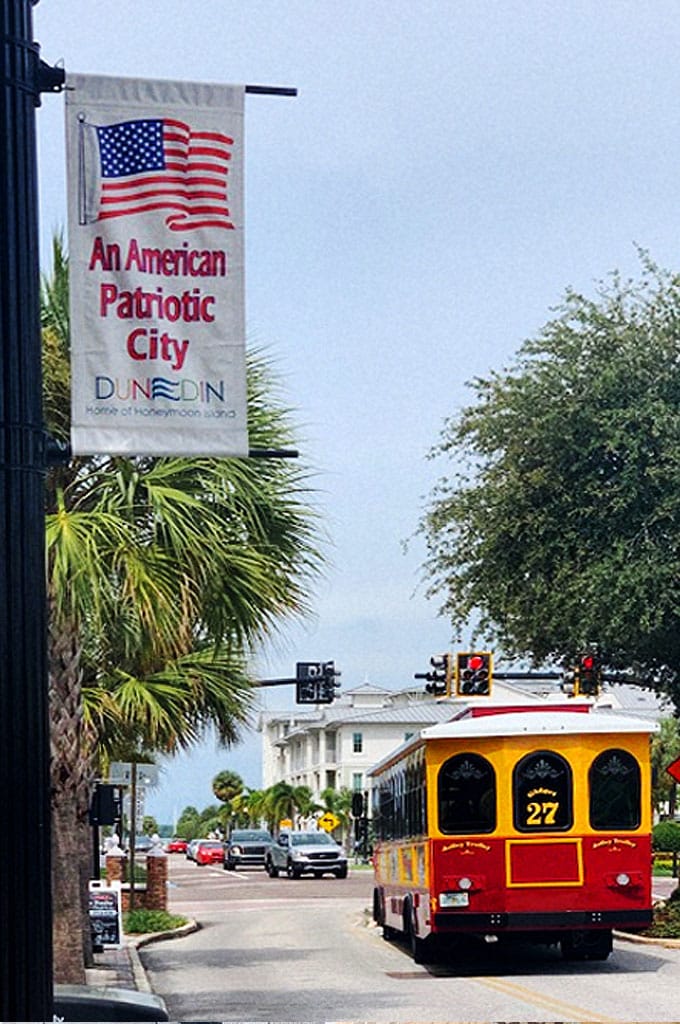 Let me just say this is not your typical small town just so you know, it is filled with people from everywhere and a population of a little over 36,000.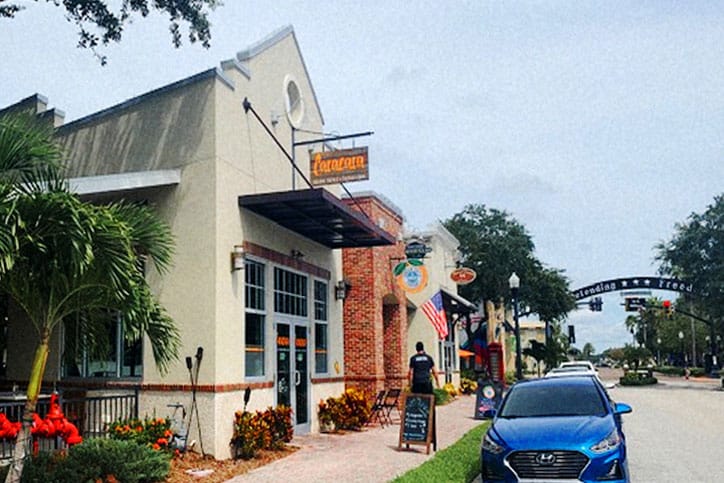 There is no traffic in downtown although the locals seem to think so, but Honeymoon Island is definitely bumper to bumper so get there early. If you're like me, I prefer sundown and the sunset with the cool breeze coming into the shore.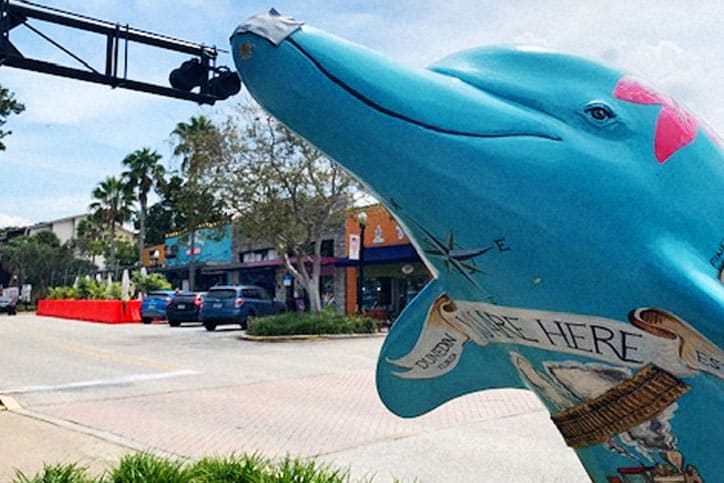 Places To Enjoy
Beaches
Honeymoon and neighboring Caladesi Island were originally part of a large barrier island that split in half during a major hurricane in 1921.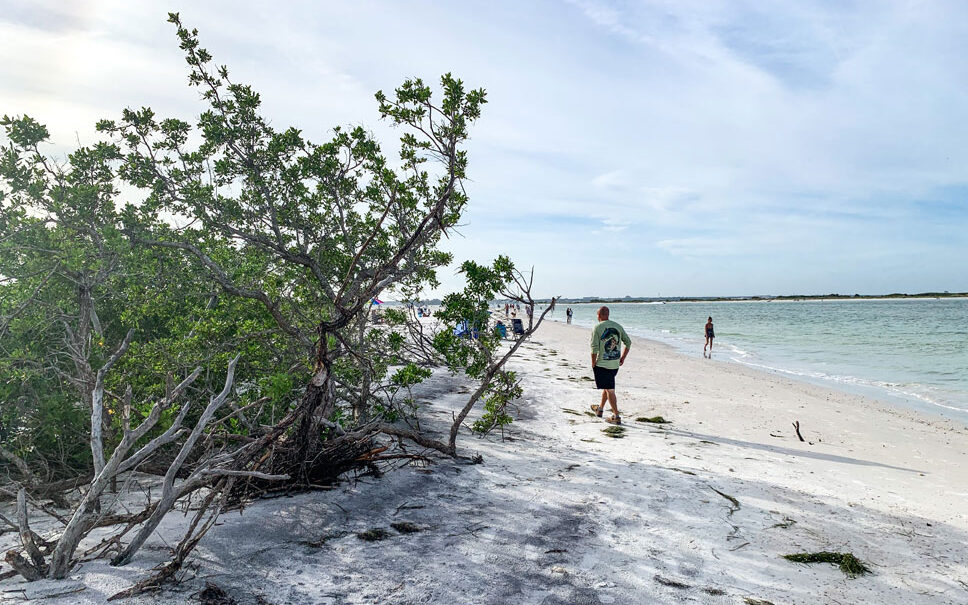 The waterway between the islands is known as Hurricane Pass and the best part is you can only get to Caladesi Island by foot or by boat which is pretty cool to do.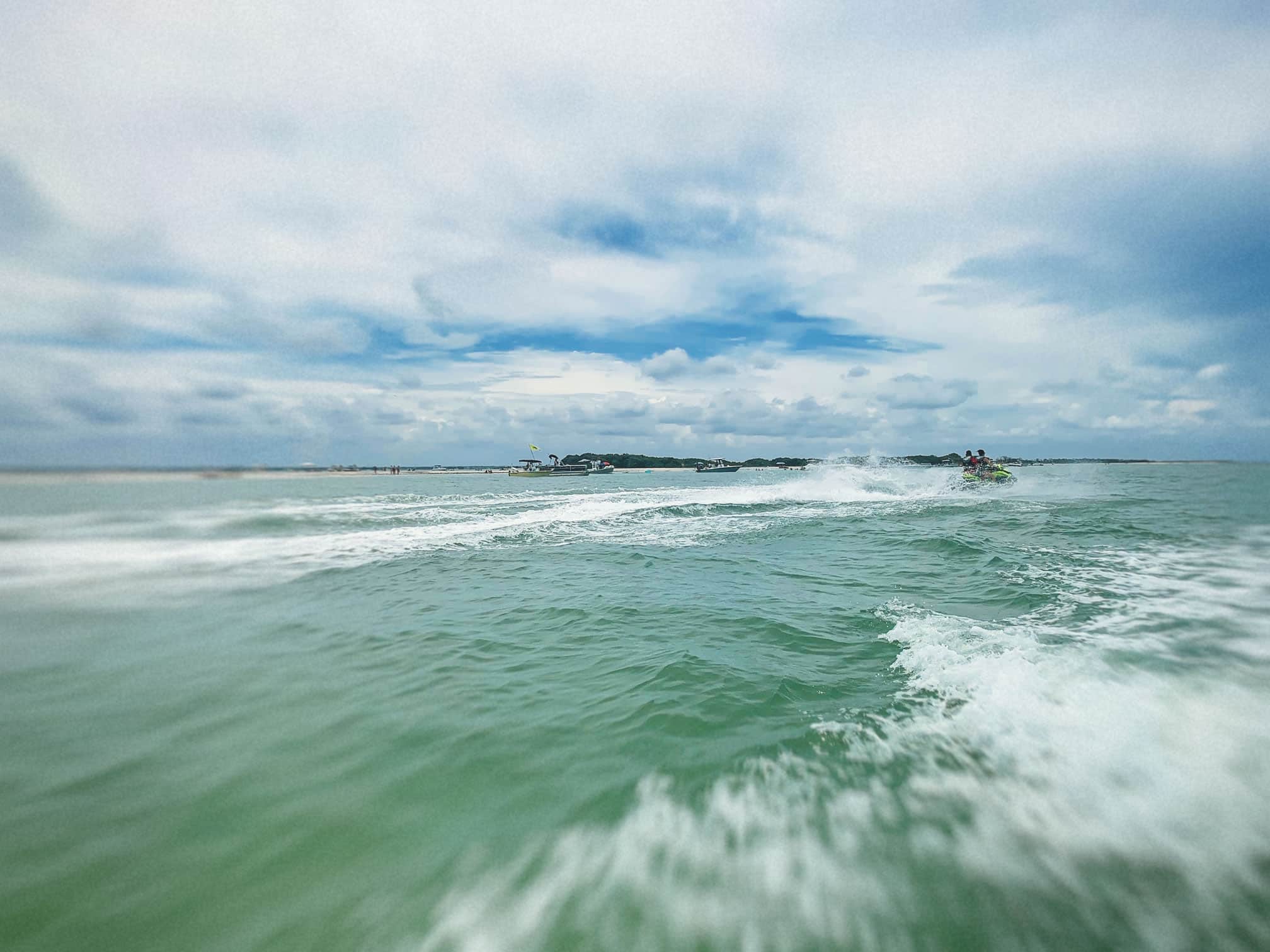 The best part about Honeymoon Island it is part of the park system so no commerical property will be built any time soon.
Honeymoon Island State ParkAddress: 1 Causeway Blvd
Dunedin, FL 34698
Phone: (727) 241-6106
Sunset
The sunsets have surprised me the most about living in this small town. Keep in mind I was just looking for a house that I could afford with my dog having a backyard to play and our of course if I had a hurricane come by, I would not flood! The sunset downtown came as a surprise one night and boy it just lite the sky with sunset colors.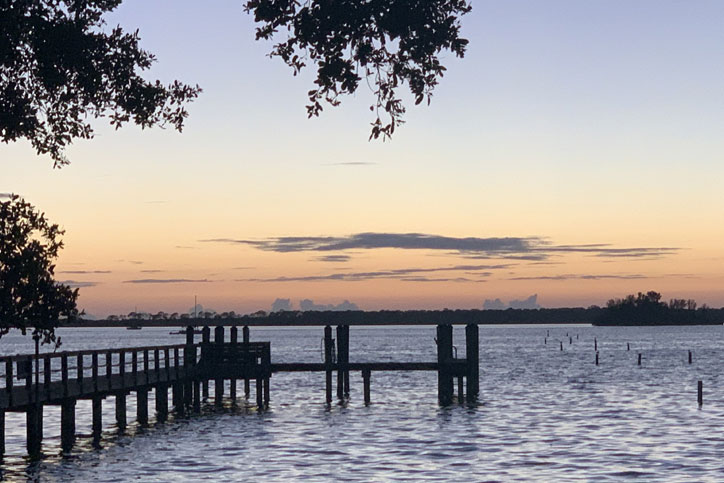 We now take a spin to our favorite area on Victoria Dr Dunedin, Florida and Daisy (Our Dog) seems just as surprised as she looks out to ocean. After the sunset is over we usually order fish and chips to take home. There you have it friends, that is our Friday night date during Covid.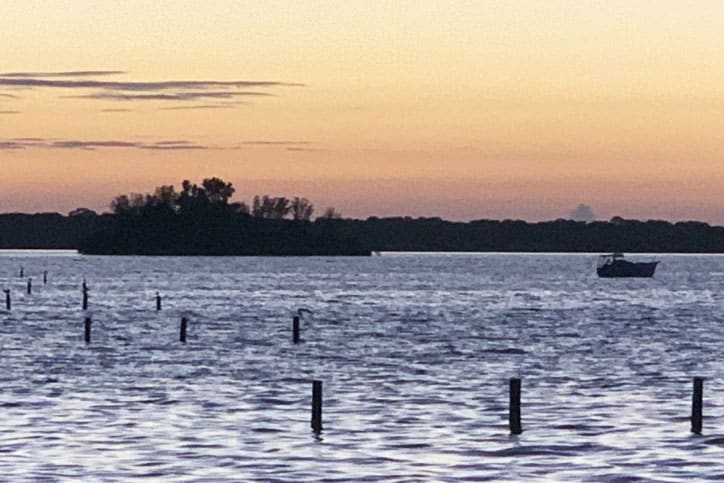 One of the things that some people do in the area is do a sunset tour or rent a boat. If you're lucky and can afford it, buying a boat is very popular around here and I can see why at sunset.
Fishing & Sailing
If you love the water? This is the place to go sailing and fishing on the weekend or on your day off. One of the main reasons that I moved to Dunedin was, we would be close to the water like I did in Fort Lauderdale when I lived there.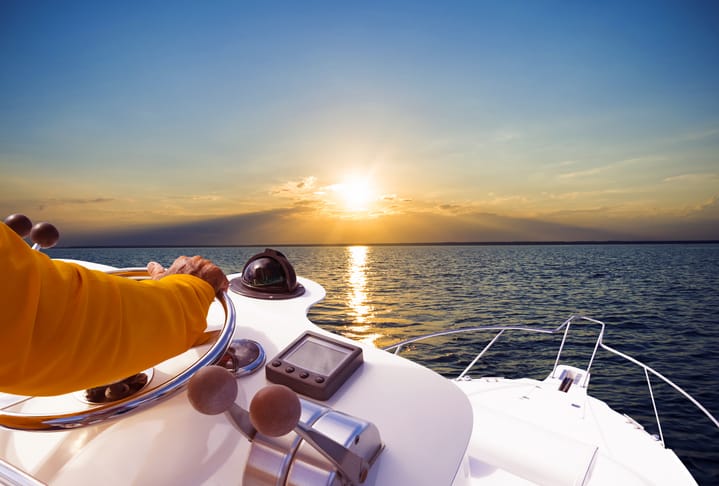 We don't own a boat but Dunedin makes it easy to rent a boat or become a member at the boat club. Here are a few places that I have tried and liked the services.
Parks
Another popular activity in this small town is bike riding and you will see why once your Dunedin. The bike trails go right threw the parks which there are plenty around here.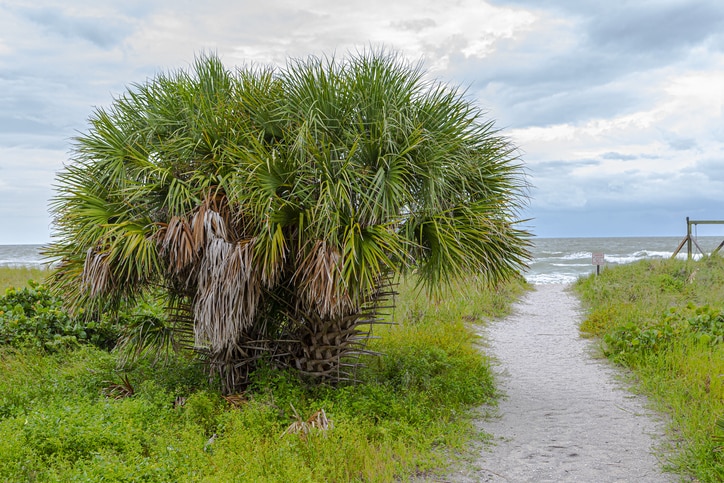 The best part of the parks in the area are the amount of trails for walking, playgrounds for the kids and the best dog walking park has got to be at Honeymoon Island State Park for your furry friend.
Golf
Dunedin Isles Golf Club Golf Course is a national historic site in Florida, located at Dunedin in Pinellas County. It was not until 2014 that it was added to the National Register of Historic Places.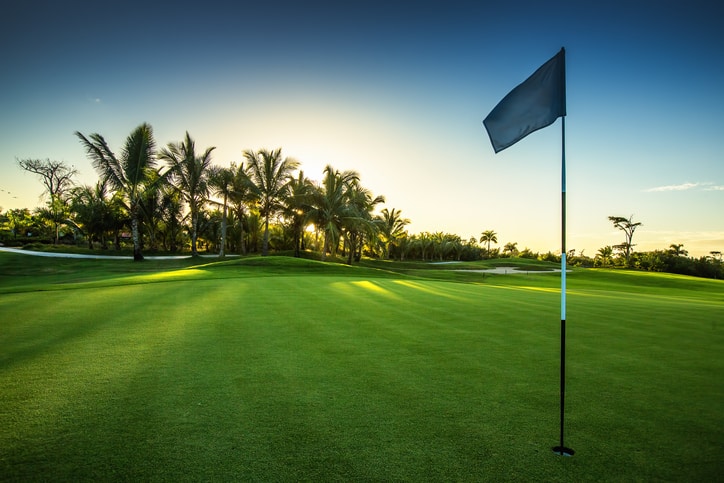 The course was designed by famous architect Donald Ross. It opened 93 years ago in 1927 on New Year's Day as a municipal course, It was acquired by the PGA of America in 1944 and renamed "PGA National Golf Club."
The PGA of America moved its national offices from Chicago to Dunedin in 1956, but sold its holdings in the course back to the city in 1962. It wasn't until 1965 that PGA of America relocated its offices to Palm Beach Gardens Florida.
Book Course Time > https://dunedin.ezlinks.com/
Contact
Dunedin Golf Club
1050 Palm Boulevard
Dunedin, FL 34698
Tel: 727-733-2134
Email: [email protected]
Toronto Blue Jay
If you love baseball don't forget to stop by and watch the Blue Jays spring practice.
Just walk to the stadium from Main Street and enjoy the game! Buy Tickets >Toronto Blue Jay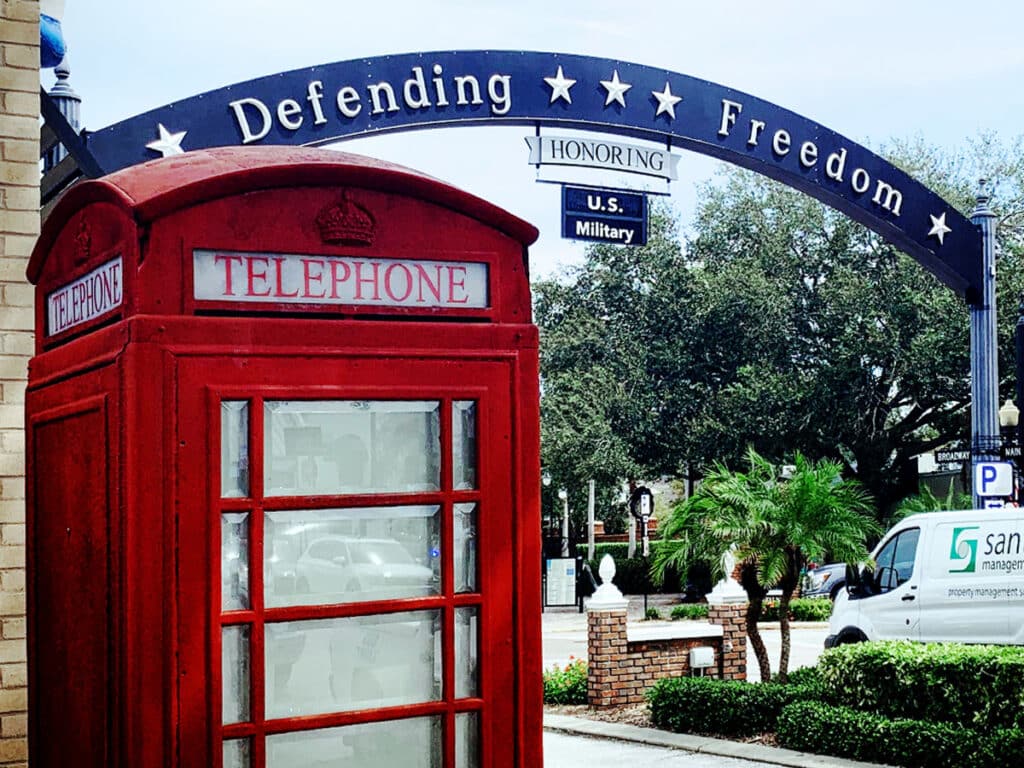 What 's in Town
Main Street Shopping
The heart of this small town in Dunedin Florida is Main Street. It is covered with shoppes, restaurants and breweries for a cold beer.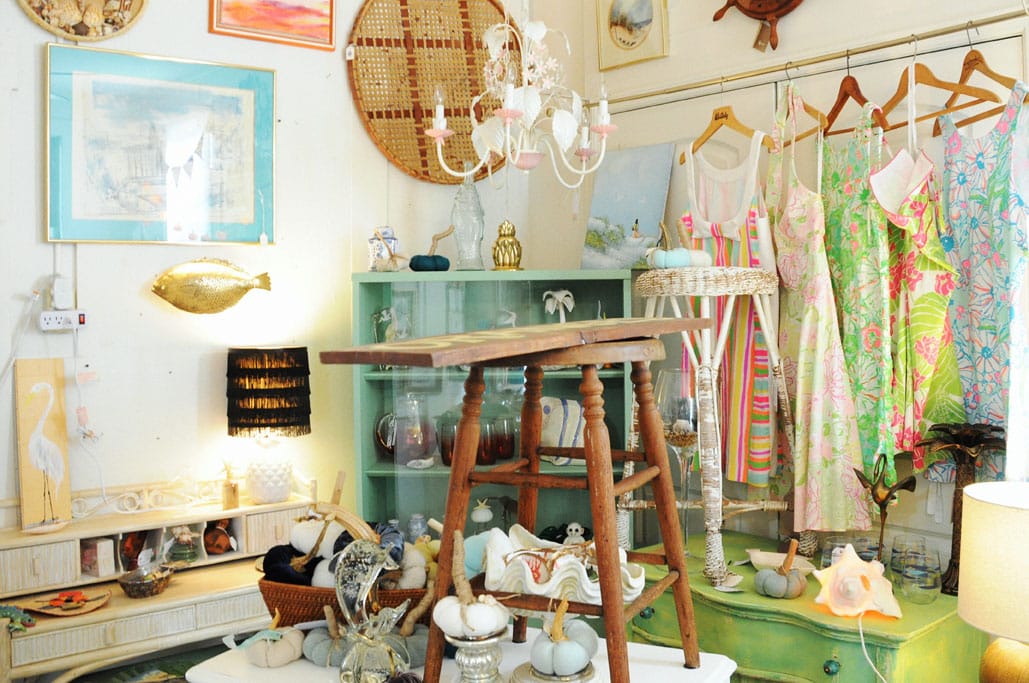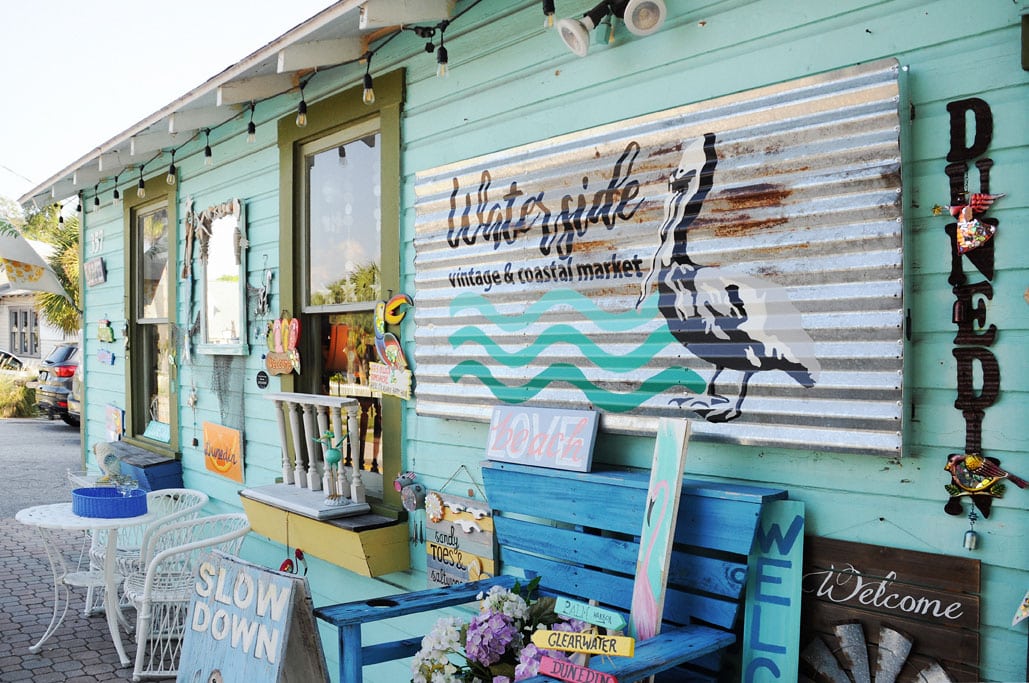 The best part is that everyone is friendly, happy and inviting.
Thistle Boutique and Gallery
Our House
Waterside Vintage Coastal Market
Farmers Market - My Saturday Mornings
The Farmers Market is held November thru June on both Friday and Saturday. During the month of June, the market adjust to Saturdays only.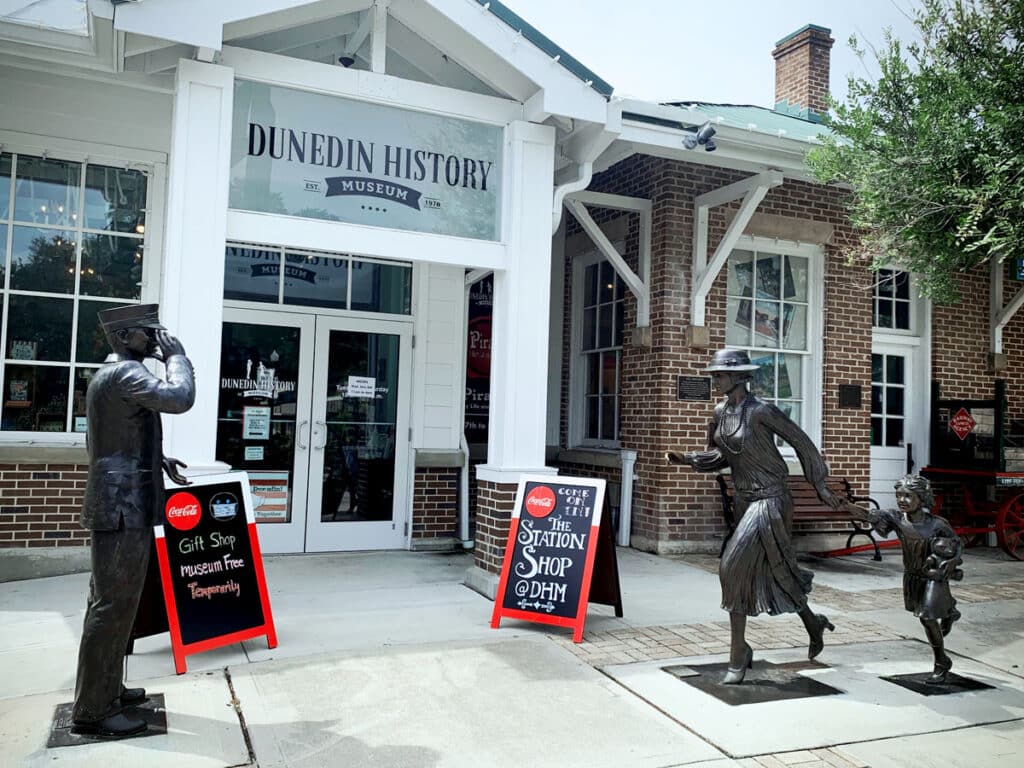 Dunedin hosts many events throughout the year which is enjoyed by locals and tourists that come to visit. It fills the town with excitement and brings the community together to enjoy the yearly events.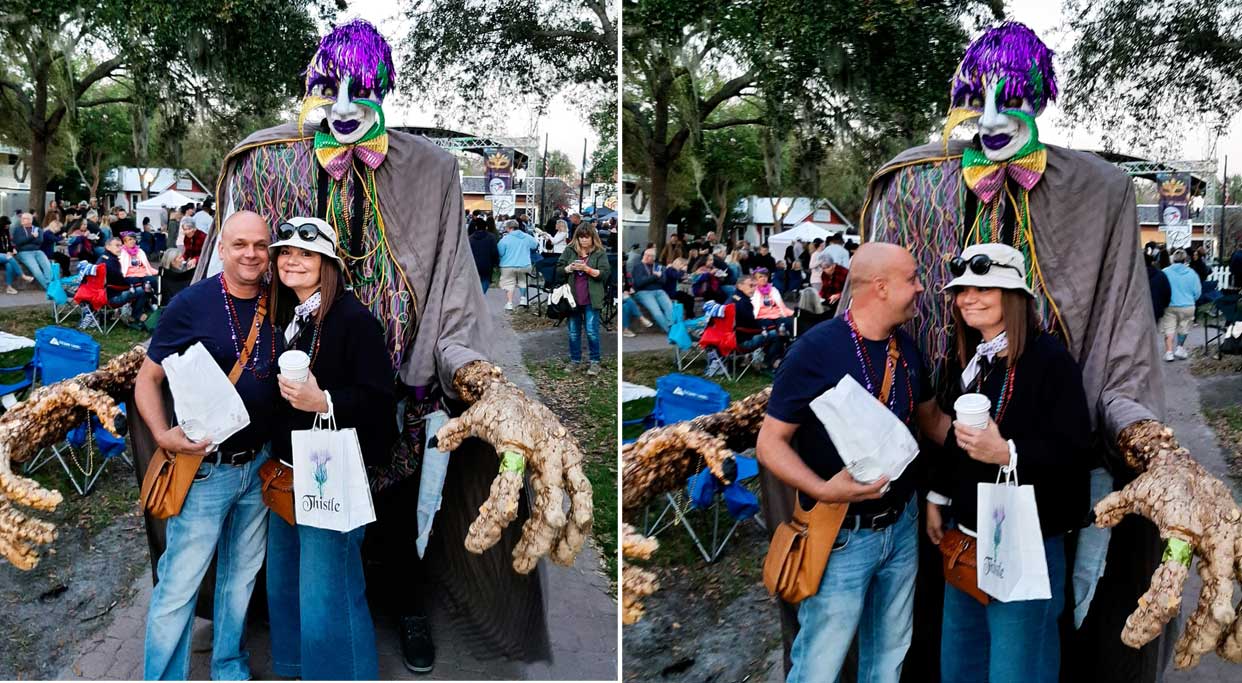 The festivals are posted on Dunedin Events with dates each year. Here is a list of the events that come up yearly and around the month the festivals take place.
Dunedin Mardi Gras - February
Dunedin Wines The Blues - November
Dunedin Orange Festival - July
Seafood Festival - March
Highland Games & Festival - November
Craft Beer Festival - November
Dunedin Fine Art Center's has a little for everyone which is a great place to take an art class or see an art exhibit. They have regular events that take place and a cafe to enjoy a bite to eat with friends.
The Dunedin Fine Art Center offers a little something for everyone!
1143 Michigan Blvd.
Dunedin, FL 34698 - USA
727.298.3322
Can we talk about the Golf Cart Driving here??? This is the highlight of living in this small town, golf cart driving in style. Everyone it seem, except for me and Jeff, own a highly decorated golf cart to zoom by the designated streets for weekend fun going to downtown Main Street.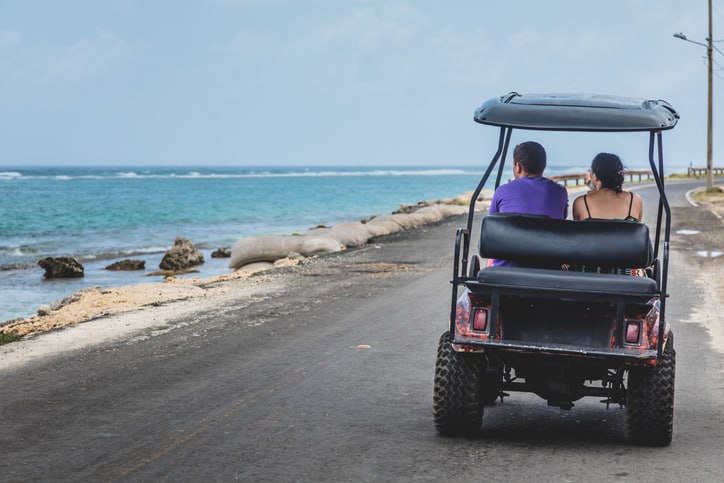 One off the main popularity of this town is the golf cart driving around here. We live by the one of the popular golf cart street heading to downtown so, we see all the excitement on the weekends. The best part is the Golf Cart Christmas Parade, yes you guest it, decorated Santa Shed golf cart.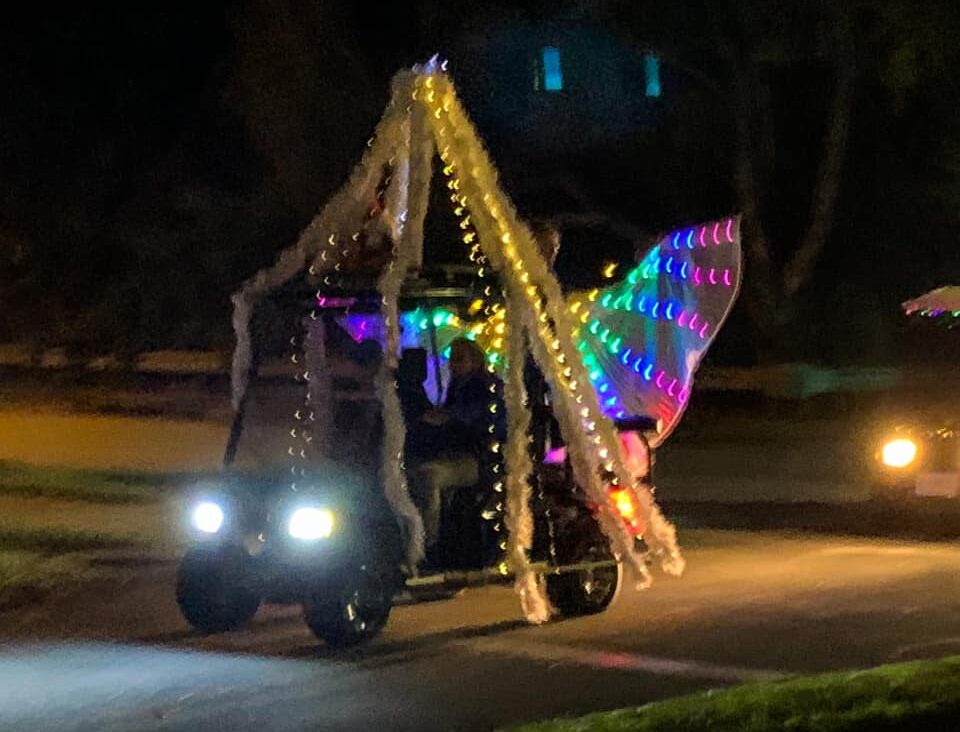 It's a trail of golf cart playing Christmas music and crowds of people lined up on the street just like a street parade. I was amazed on the crowd line up around my house to view this unique parade that brings Christmas Joy to all the neighbors.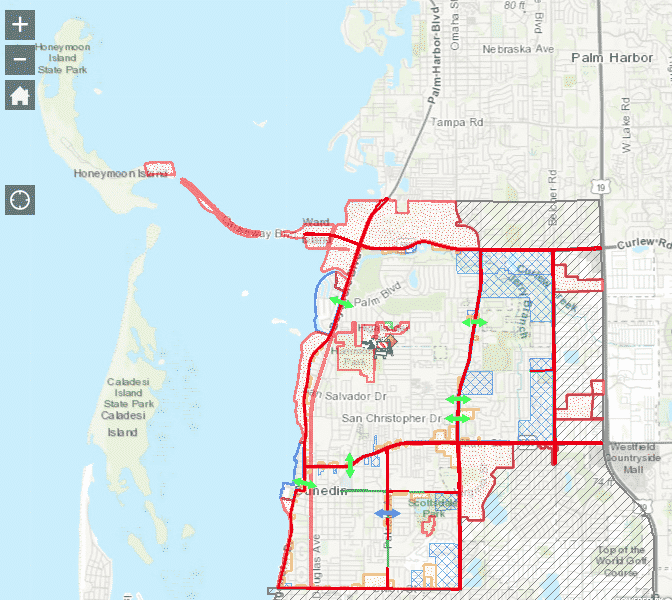 Get the Golf Cart Map >> GIS Map
Places to Eat & Drink
One on the things that make place great is the food it has to offer. In general, people always remember if they liked the food in a town they visited and will only recommend what they loved.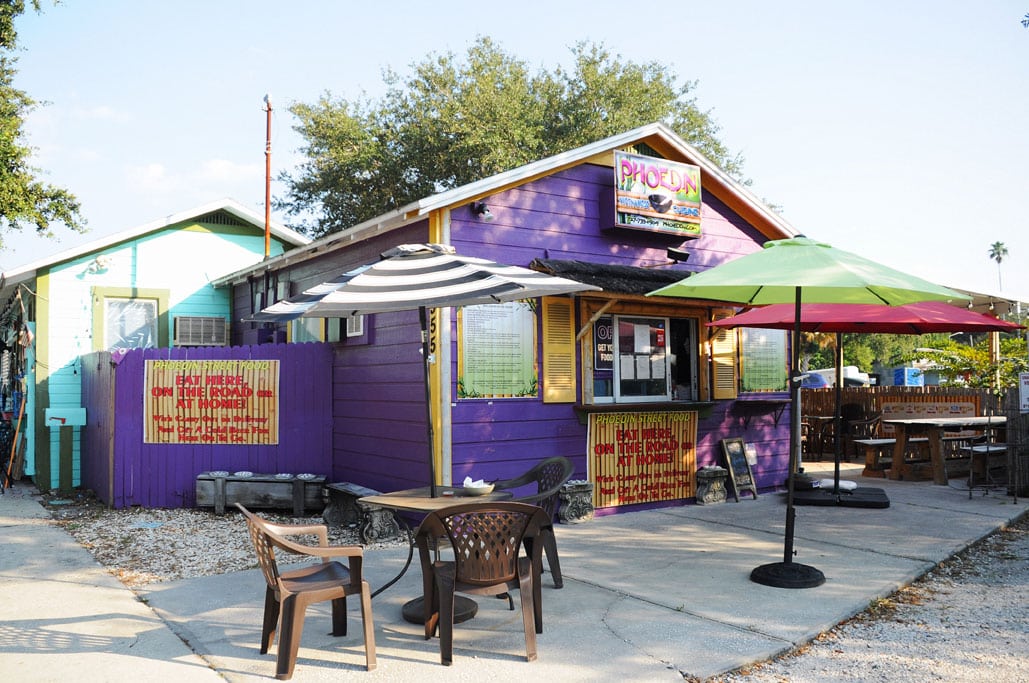 Dunedin is no exception, that was the first thing people recommended on where to go for a bite to eat.
Restaurants Near Me
Now you will be surprised on how many restaurants they have in this small town but the food is fabulous and so far I can't say that I have had a bad bite but so far these are my favorite and at the top of my list.
Brewery Near Me
I'm not much of a beer drinker but if you like a cool refreshing beer in the summer time or during football season, this is the place to be during that time.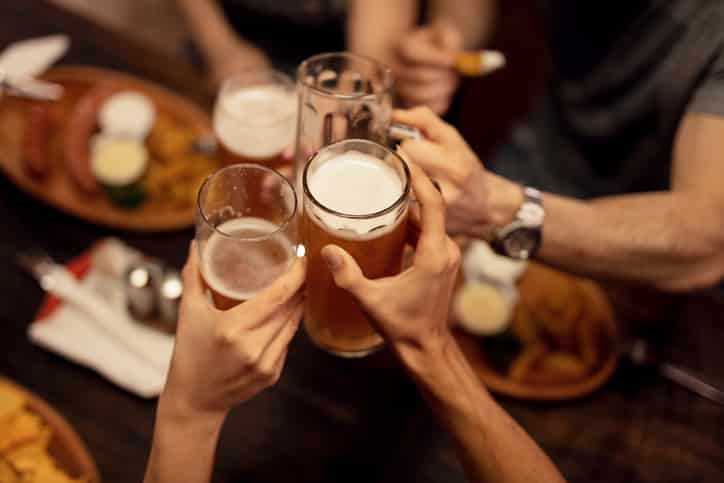 With plenty of breweries around, the problem usually is which one should I go to because of the large selection of wonderful tasty cold beer.
Services
Here are some of the services that I use in the area that have made my life a little easier. When I need a little pampering or just need to look a little better then my CovidComa Look that is becoming very popular around the world, as I can tell on Instagram.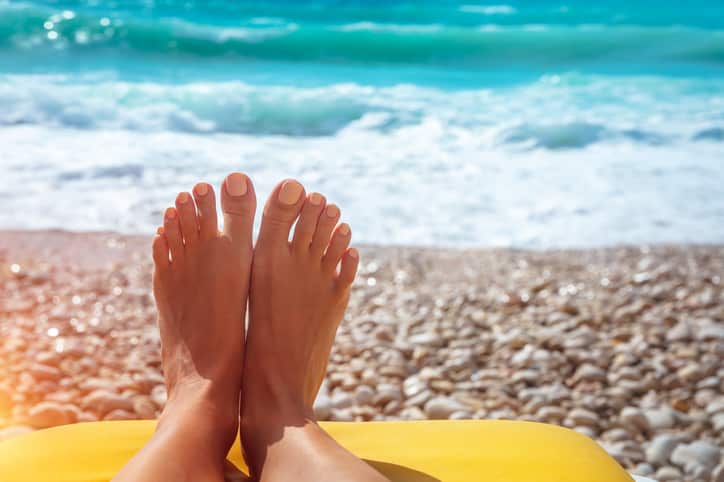 Salon Near Me
Salon 1738
Tel: 813-330-6599
25973 US Highway 19N Suite 117, Clearwater , FL, 33763
Nail Salon Near Me
BTV Nails
Tel: 727-736-8782
County Rd 1, Dunedin, FL 34698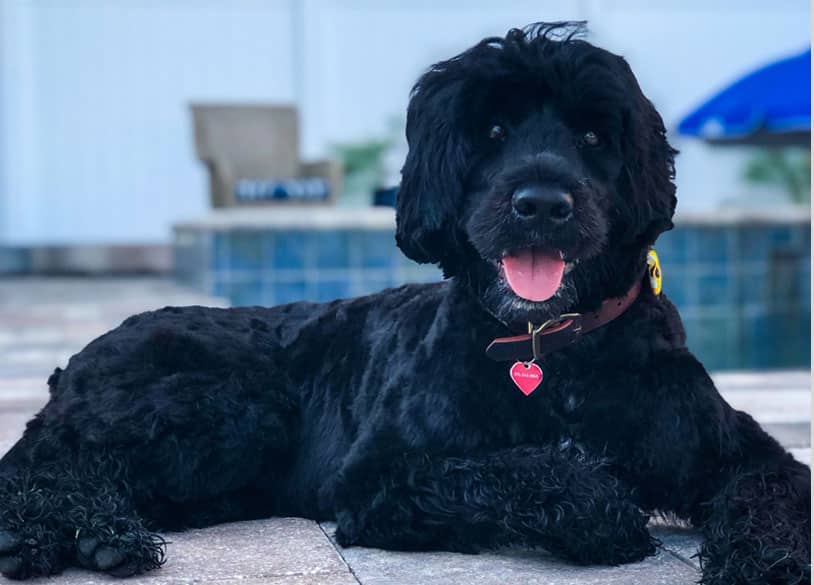 And let's not forget Daisy and our furry friends, because even they need a little beauty treatment from time to time!
Dog Grooming Near Me
Pet Styles by Jennifer
Tel: (727) 736-2468
1153 Main St #103, Dunedin, FL 34698
Veterinary Near Me
Paws and Claws Animal Medical Center
Tel: (727) 953-6588
812 Louden Ave, Dunedin, FL 34698
Home Renovations
When we bought our new home we ended up needing to do some work to clear up problems that we encountered. So I started looking to see who could do some work in Dunedin Florida, the rest we did ourselves. I have to say it wasn't easy to find people qualified people but we finally did after interviewing at least 40 different companies. I assure you it became a full time job for me.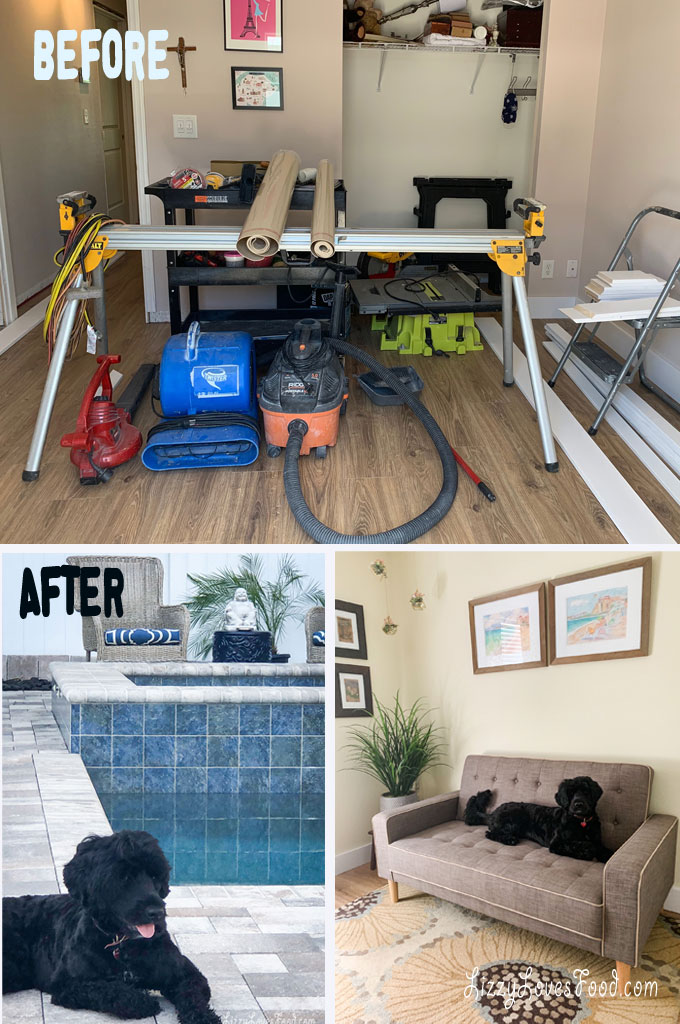 Services that I used on My Home:
Grass Cutter
Pelletier Lawn Care by Mark - 727-485-6781
Roof
All Bay Roofing
Electric
Driven Power Systems
Pool Services
Pinch-A-Penny
Floors
Rob Zumwalt Contruction 727-638-4762
Window Awnings
Tampa Bay Awning, LLC
Plumbing
Plumbing Repairs R Us - Larry 727-487-3645
Fence
Gulf to Bay Fence - Mike 727-657-3750
Paint - We painted!
Sherman Williams
Garage Door


Integrity Garage Door Service
Walking Tour
The first question I get is what's the weather like? Sunny for about 70 percent of the year and the weather is pretty much two seasons. Hot for six months of the year and then fall temperature for the other six months. Hope you enjoyed the post in seeing what I now call my home town. If your ever in the area, here is a walking tour that I have done many times in Dunedin Florida. EnJoy!
FLORIDA TRAVEL GUIDES
RECIPES FROM FLORIDA
★ Like this post? ★ Let us know in the comments below or on social media using #LizzyLovesFoods and tag us @LizzyLovesFoods