French Recipe! French Einkorn Crepes with strawberries is special for any Sunday brunch.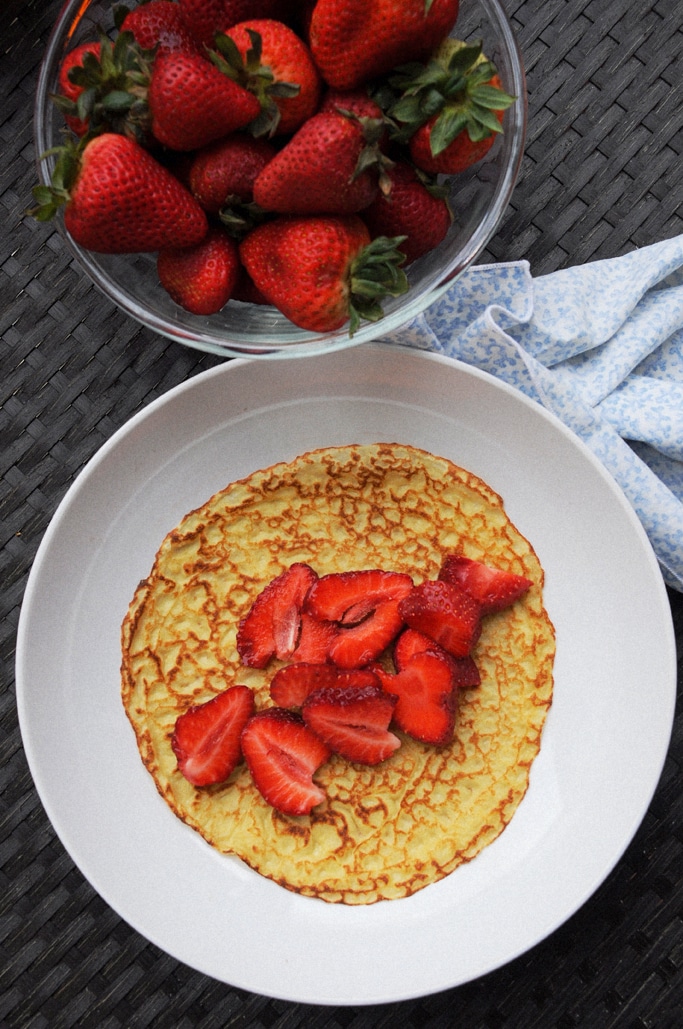 French Einkorn crepes with strawberries is are a special for any Sunday brunch. My mom and godmother would make these for me on a Sunday morning. They would flip them in the air and down they came, as I hoped for an imperfection crepe so I could eat it!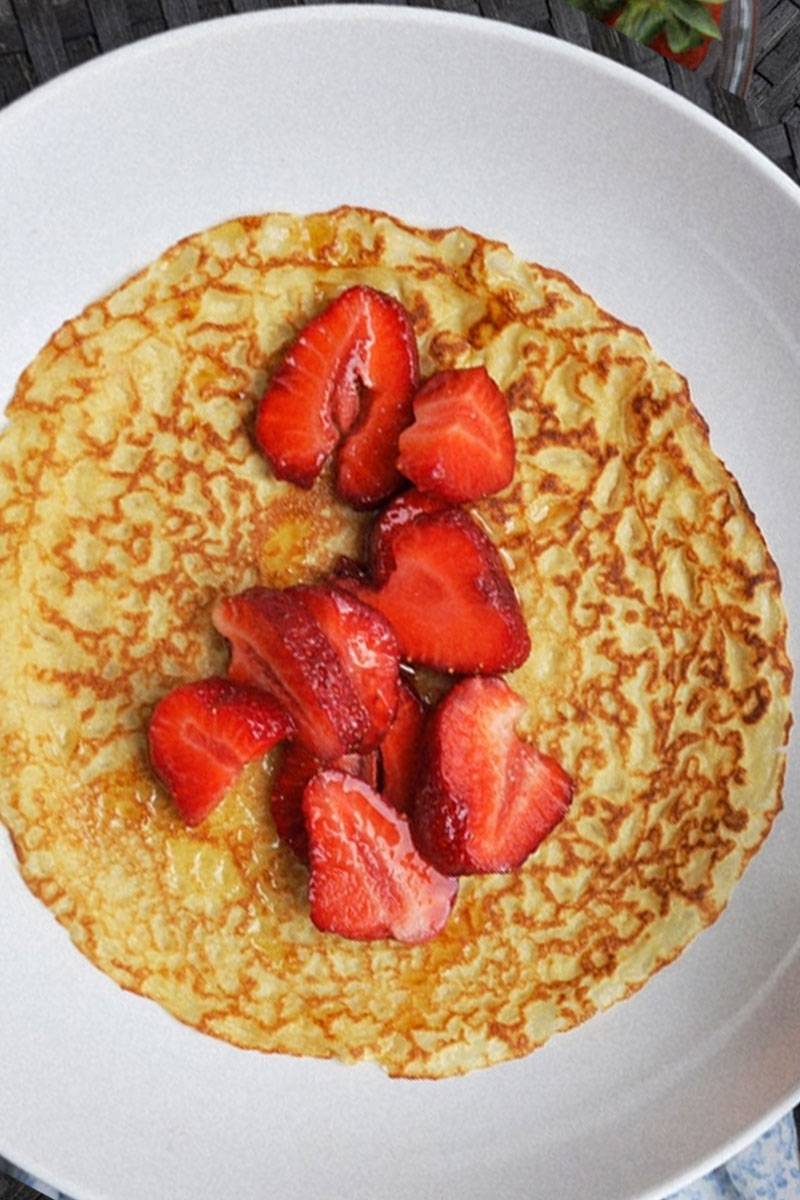 It was always a treat for the family, either for a dinner crepe or a desert crepe. The family would gather around and the fillings were past around. I still prefer strawberries for mine with a little maple syrup as my toppings. In France, it is very traditional to have them with apples or oranges as it is sauté in a liquor and sugar.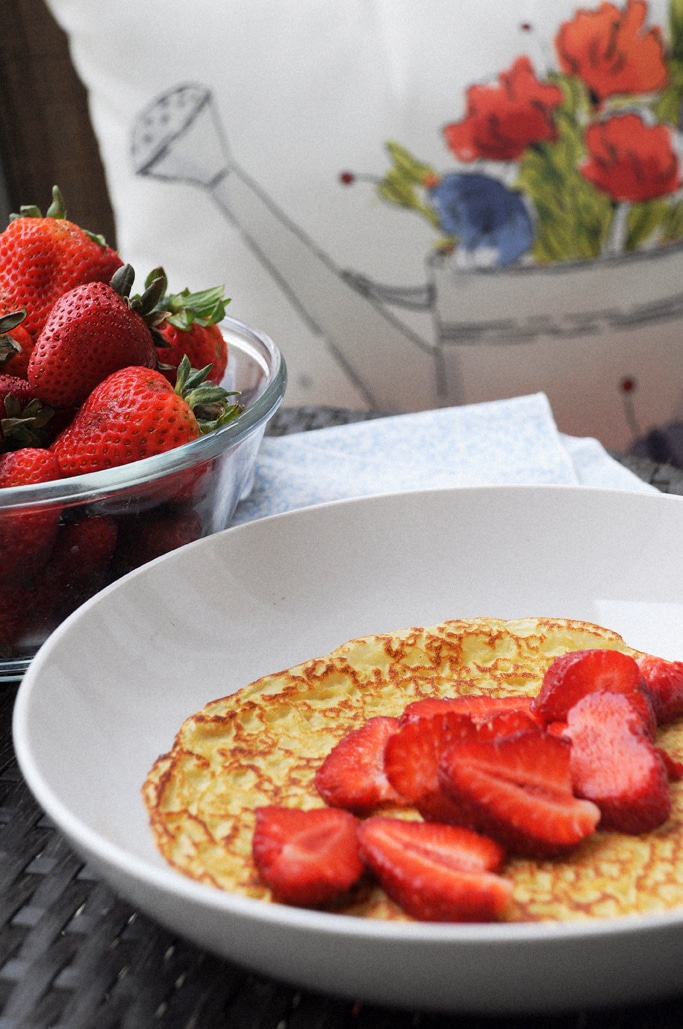 Today I have created my own tradition with Einkorn flour to make my French crepes with strawberries. With more modern forms of wheat, evidence suggests the gliadin protein of einkorn may not be as toxic to sufferers of wheat.
Einkorn crepes with strawberries
It gives it a butter taste that give it a a light fluffy taste to anything you cook. I find it to be the best of all flours and instead of resorting to gluten free, which I still have accidents with recipes from time to time in my tasty baking.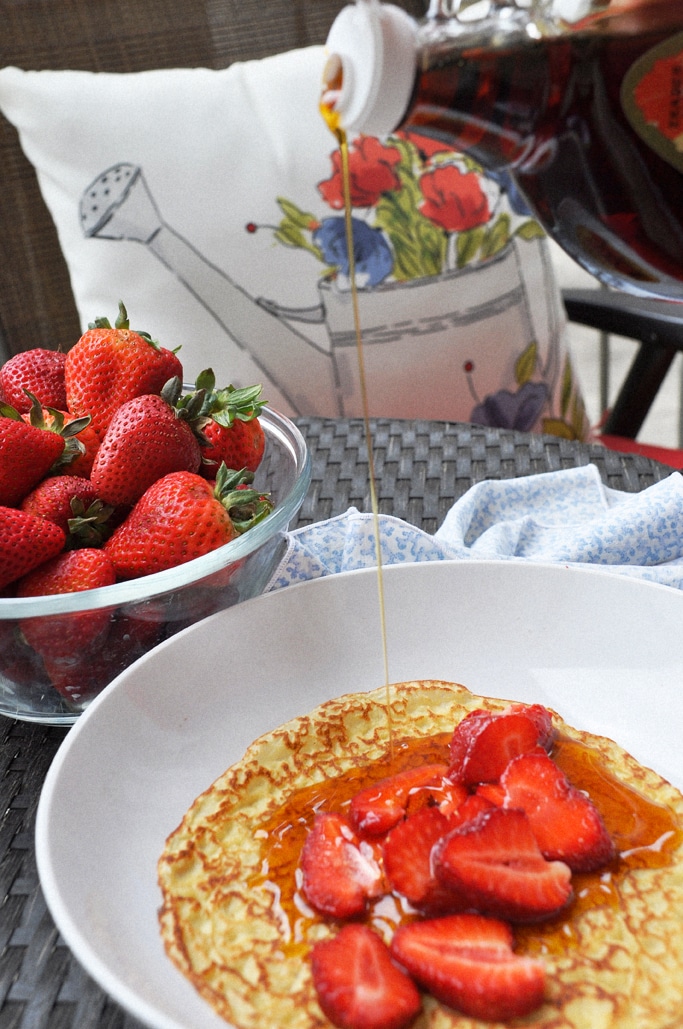 Now for Jeffrey, he is as happy as can be when I make these because he just eats one at a time without letting them cool off. I don't really think it matters the topping for him as long I make them, he is happy! So for what ever is left this Mother's Day, the rest went into his lunch box for his breakfast treat.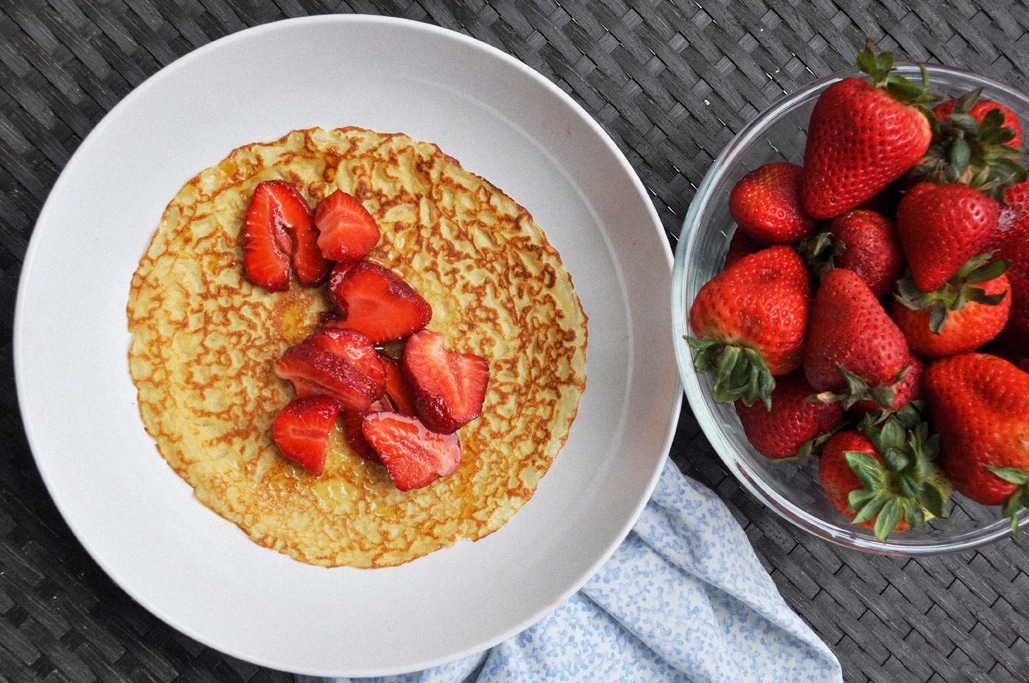 I'll always have the special memories of my godmother and mom making these crepes for me growing up and how special these two women were in my life. I hope you have a wonderful Mother's Day and remember all mom's everyday.
Places to visit in FRANCE:
Other RECIPES FROM FRANCE:
★ Like this post? ★ Tried this recipe? Give it a star rating below! ★ Let us know in the comments below or on social media using #LizzyLovesFoods and tag us @LizzyLovesFoods
You can connect with us on Instagram and Facebook account or on Pinterest. Don't forget to sign up to our newsletter & stay up to date with our latest Recipes & Travel Adventures
French Einkorn Crepes with Strawberries
Making my childhood favorite for Mother's Day
Ingredients
1 ¾

cups

Einkorn flour

½

teaspoon

coarse salt

2

cups

whole milk

room temperature, plus more if needed

3

large eggs

room temperature

½

teaspoon

of vanilla or brandy

2 ½

ounces

5 tablespoons unsalted butter, melted

non-stick stray for pan
Instructions
Sift flour and salt into a large bowl. Whisk together milk and eggs in a medium bowl. Pour milk mixture into flour mixture, whisking to combine. Whisk in butter.

Heat an 8- or 12-inch nonstick skillet over medium heat, and brush with butter. Ladle ⅓ cup batter into pan, turning and tilting skillet to coat bottom evenly with batter. Cook until top of crepe appears set, bottom is firm and golden brown in spots, and center is lifted by air pockets for about 1 minute.

Run a spatula around edge of crepe to loosen. Slip spatula under crepe, and flip in one swift move. Cook until bottom is firm and golden brown in spots, about 45 seconds. Transfer to a plate, and cover. Repeat until the batter is gone. Serve immediately.
Nutrition
Calories:
438
kcal
Carbohydrates:
43
g
Protein:
15
g
Fat:
23
g
Saturated Fat:
12
g
Cholesterol:
173
mg
Sodium:
393
mg
Potassium:
397
mg
Fiber:
5
g
Sugar:
6
g
Vitamin A:
820
IU
Calcium:
178
mg
Iron:
2.5
mg