Making Sourdough Bread brings back so many wonderful memories. It has a soft buttery taste that is like no other and is perfect for French Toast, or my favorite, butter, and jam like a Parisian.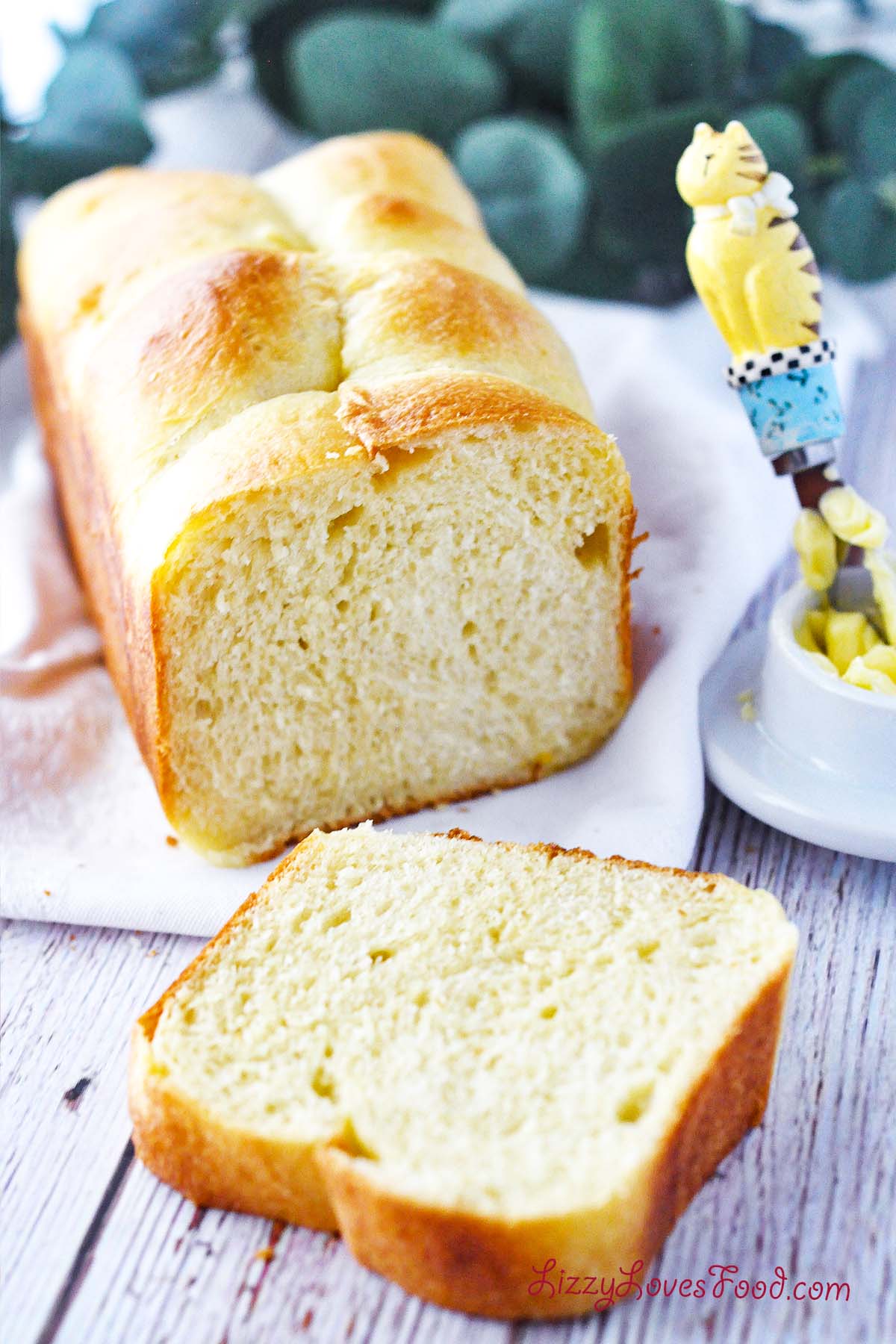 Growing up, I would go to the French Bakery with my mom on Sunday morning to buy 2 baguettes, ½ dozen croissants, and 1 brioche. It was the same order week after week. My father would then feed the dogs 1 croissant because it was Fifi and Phillips's favorite morning ritual.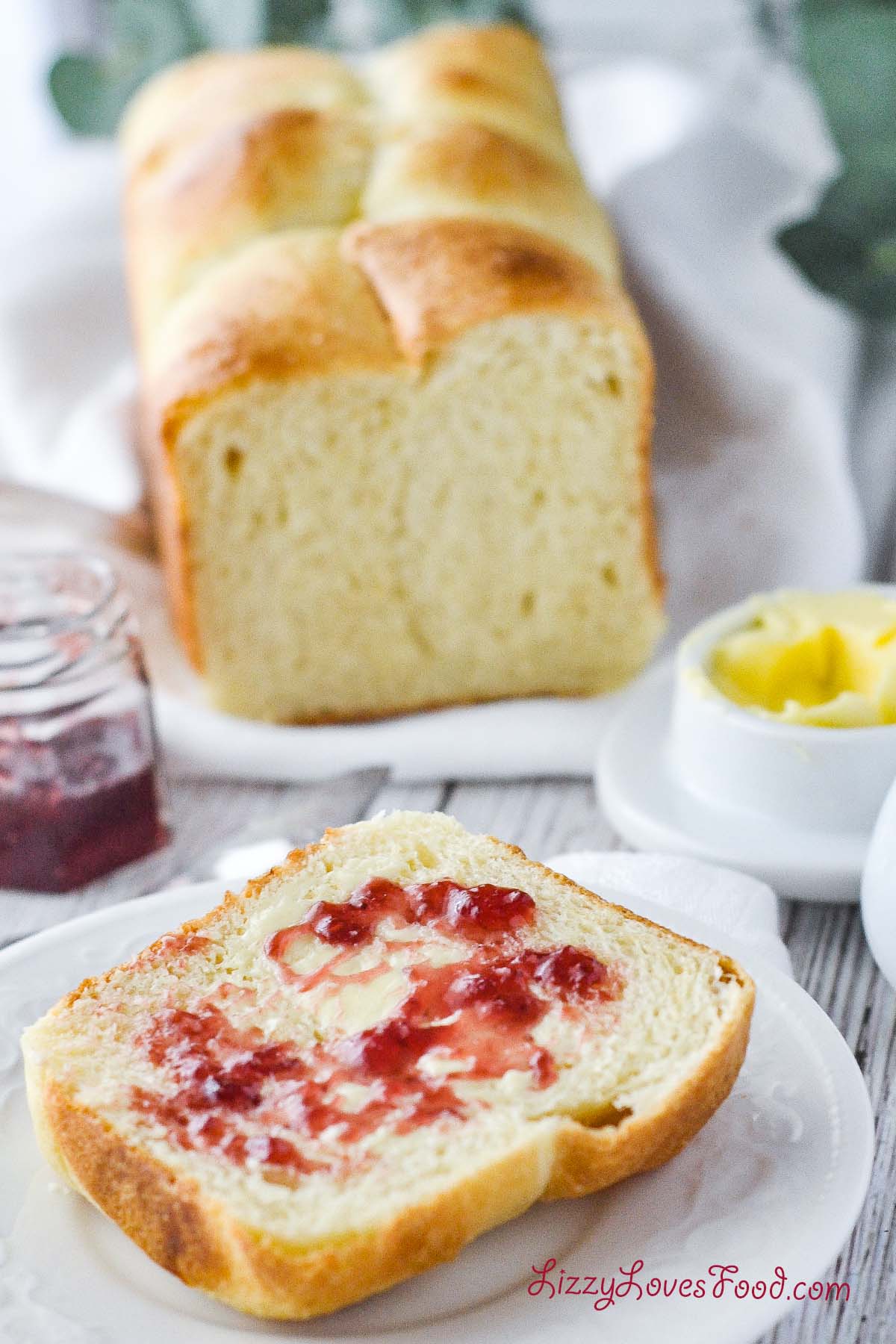 Today I do not live near a French Bakery and the Brioche bread is full of chemicals that really should not be consumed. Not to mention some are not allowed in most countries around the world. Here is what is at my local grocery store.
Ingredients from Store Bought Broiche
Wheat Flour, Eggs, Sugar, Concentrated Butter, Invert Sugar Syrup, Butterfatcreme Fraiche (Cultured Cream, Lactic Acidbacteria), Water, Natural Flavors, Yeast, Saltwheat Gluten, Brandy, Mono-Diglycerides, Deactivated Yeast, Acerola Extract, Beta Carotene Color.
Now I could break this down for you but it's simple if you don't know what it is don't eat it. Lactic Acid bacteria for example will cause bloat or digestive problems. I linked some of the products above in case you would like to know more.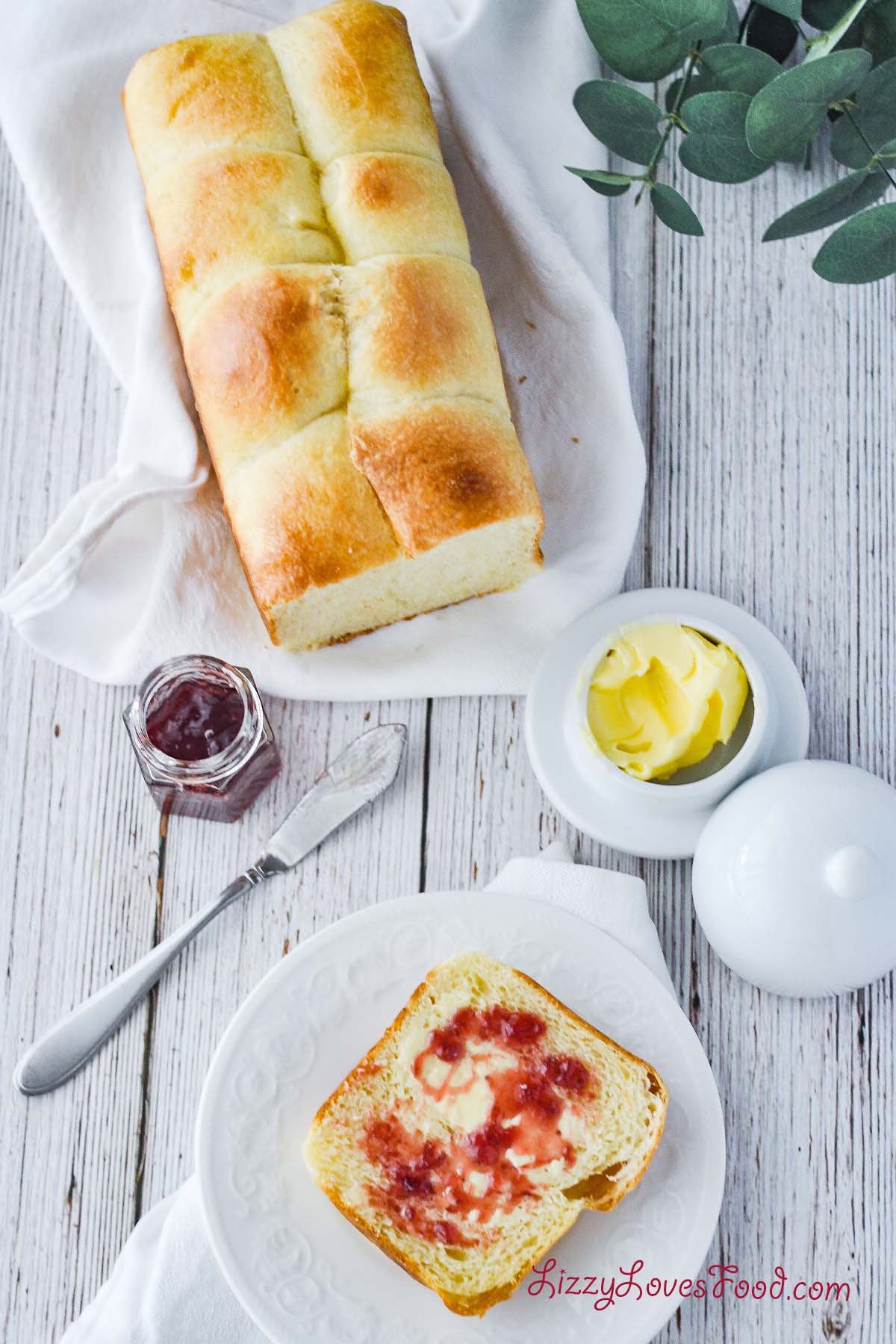 Invented by the French
The brioche is a France invention dating back to 1404 by Norman Vikings, he is believed to have brought the secrets of making butter with him to France.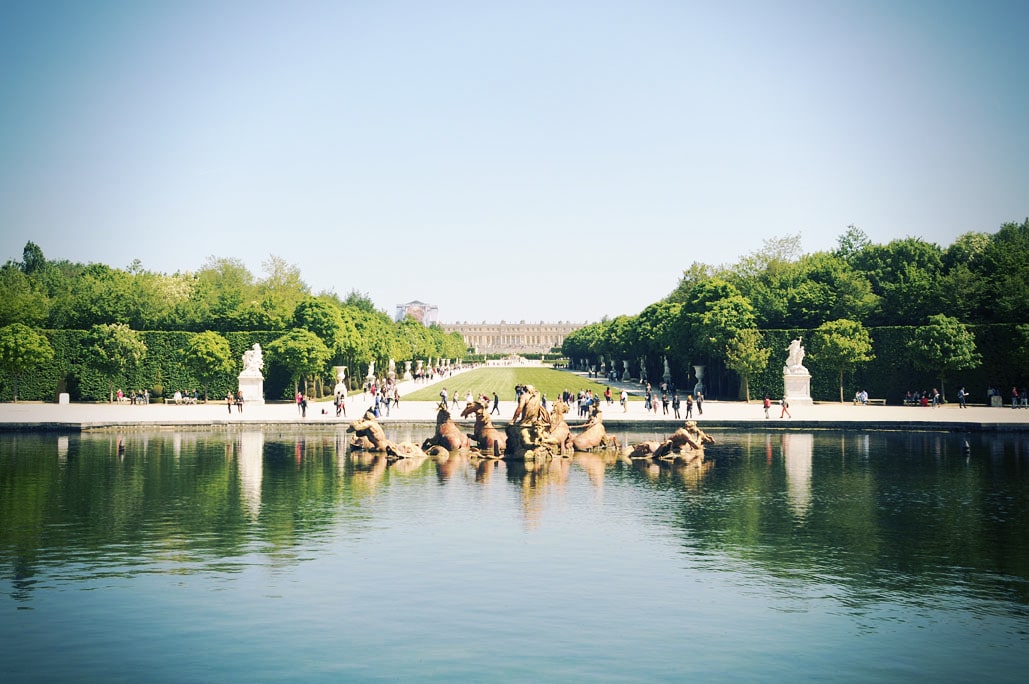 Yet it isn't the 1700s that it involved the blessed bread called pain bénit of the church which gradually became of better quality with more eggs and butter. It is Queen Marie-Antoinette, wife of Louis XVI that said, regarding the poor who had no bread, "Qu'ils mangent de la brioche", which gives us the famous quote "Let them eat cake."
Active Sourdough Starter
Get ready to become a brioche-baking pro! If this is your first time making sourdough brioche, it can be a tricky feat to achieve, but fear not! We've gathered tips and tricks from expert bakers to help you make perfectly fluffy sourdough brioche every time.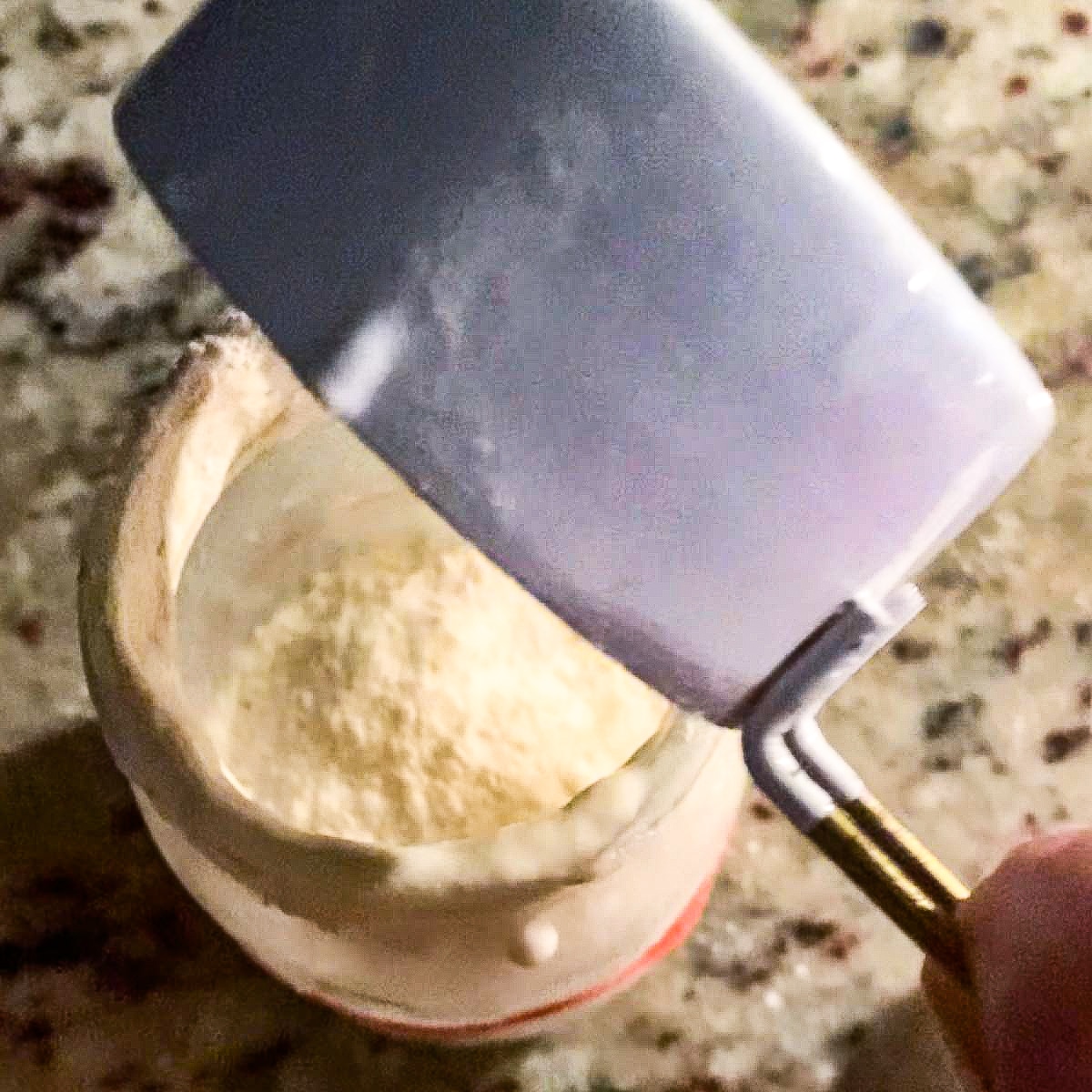 The first thing to do for this sourdough brioche bread recipe is to active sourdough starter. The best way to do this is to feed the sourdough starter and let it rise. Once that is done do a float test by taking a piece of the starter and drop into a glass of water. If it floats to the top like a piece of dough, get ready to mix the ingredients.
Measuring Ingredients
One of the most important aspects of baking sourdough brioche is measuring your ingredients accurately. Baking is a science, and even small deviations from measurements can throw off the chemistry of your dough.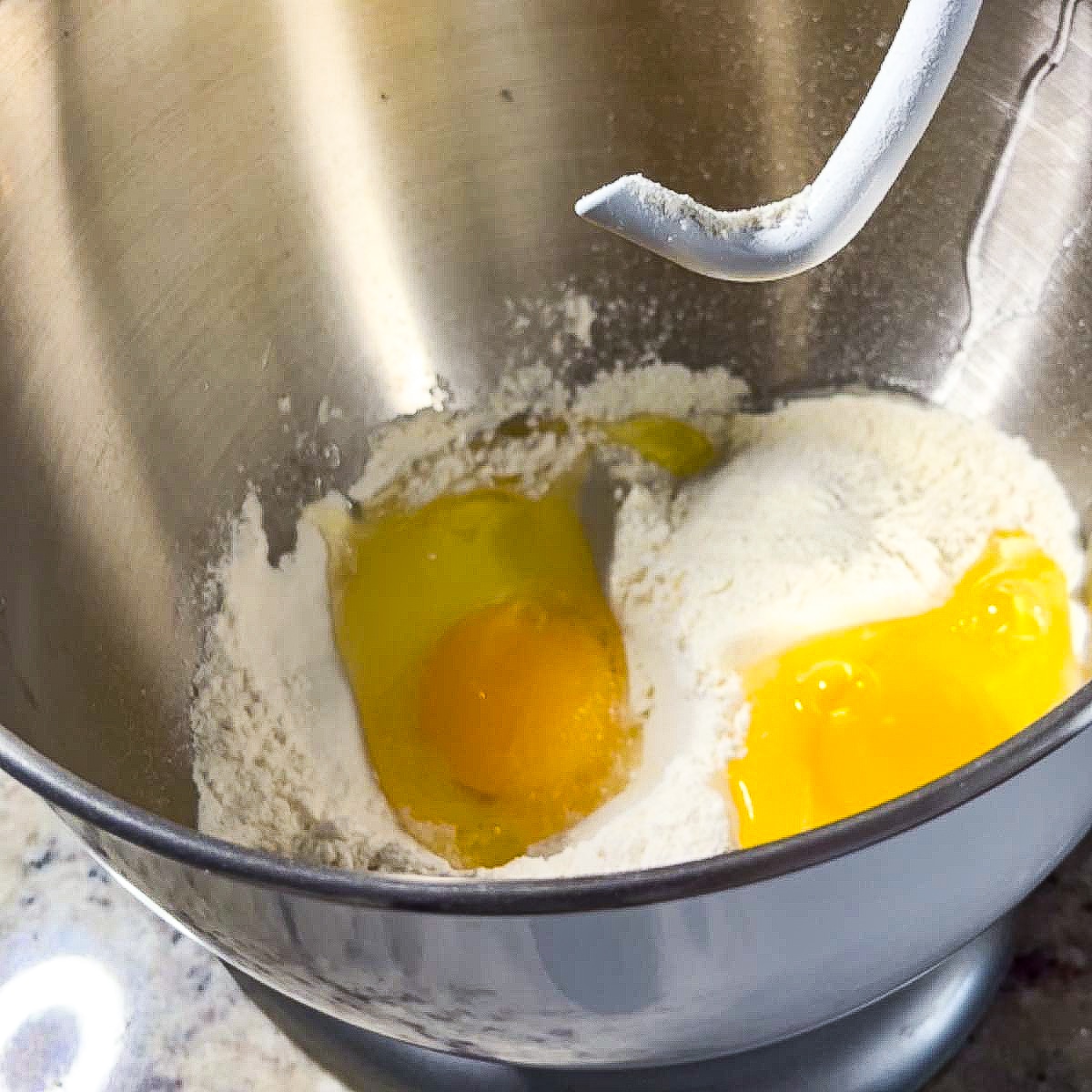 So, before you even start combining your ingredients, make sure you have the right tools for measuring them. A kitchen scale is the most accurate way of measuring flour and other dry ingredients while measuring cups are best for liquid ingredients.
The Right Flour
To achieve perfectly fluffy sourdough brioche every time, it's important to choose the right flour. While all-purpose flour can be used, it may not yield the same light and airy texture as bread flour. Bread flour has a higher protein content, allowing the dough to develop more gluten and resulting in a more structured and sturdy bread.
However, it's important to note that using solely bread flour can make the brioche too dense and heavy. A combination of bread flour and all-purpose flour can give the perfect balance of structure and lightness. A 50/50 mix is a good starting point, but feel free to adjust the ratio to your preference.
Another option is to use pastry flour, which has a lower protein content than all-purpose flour but still contains enough gluten to give the dough structure. This option can result in a more tender and delicate crumb.
Once you've chosen the right flour for your sourdough brioche, the next step is mastering the proofing process for fluffy dough.
Proofing Process for Sourdough Brioche
Once you've mixed your ingredients in a mixing bowl using a dough hook attachment mixer, the sourdough brioche dough can be rolled into a tight ball, and it's time for the proofing process. This step is crucial for achieving fluffy and light brioche. First, cover the bowl with plastic wrap and let the dough rest at room temperature until it has doubled in size. Depending on the temperature and humidity of your kitchen, pick a warm spot to help the dough first rise which can take anywhere from 4-6 hours.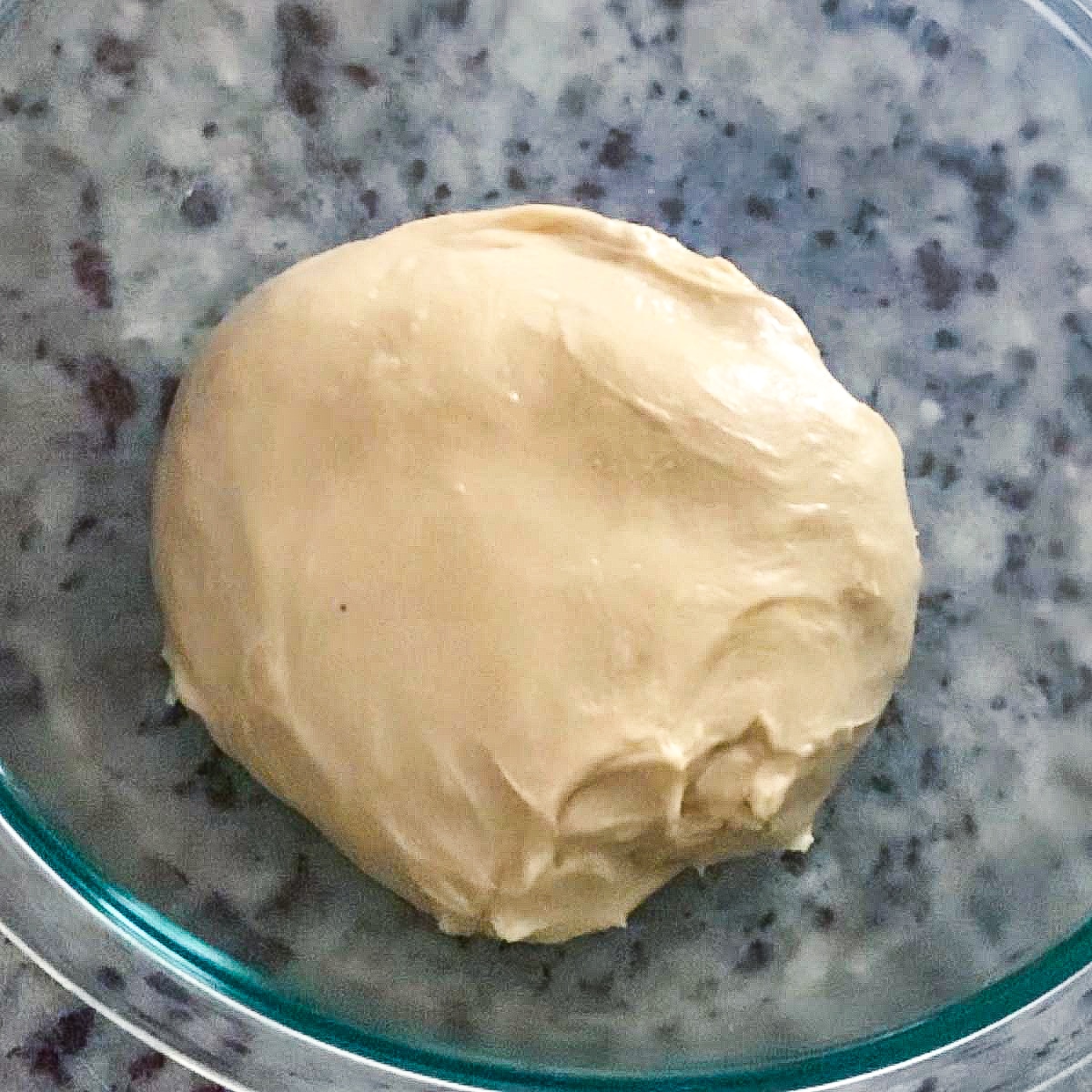 After your dough rise has doubled in size, gently press it down to release any air pockets. Next, cut the dough into 8 equal portions and roll it into equal balls. Line up the brioche dough balls into a greased parchment paper loaf pan and wrap them with plastic wrap and cover for about 4-6 hours or overnight and let them double in size.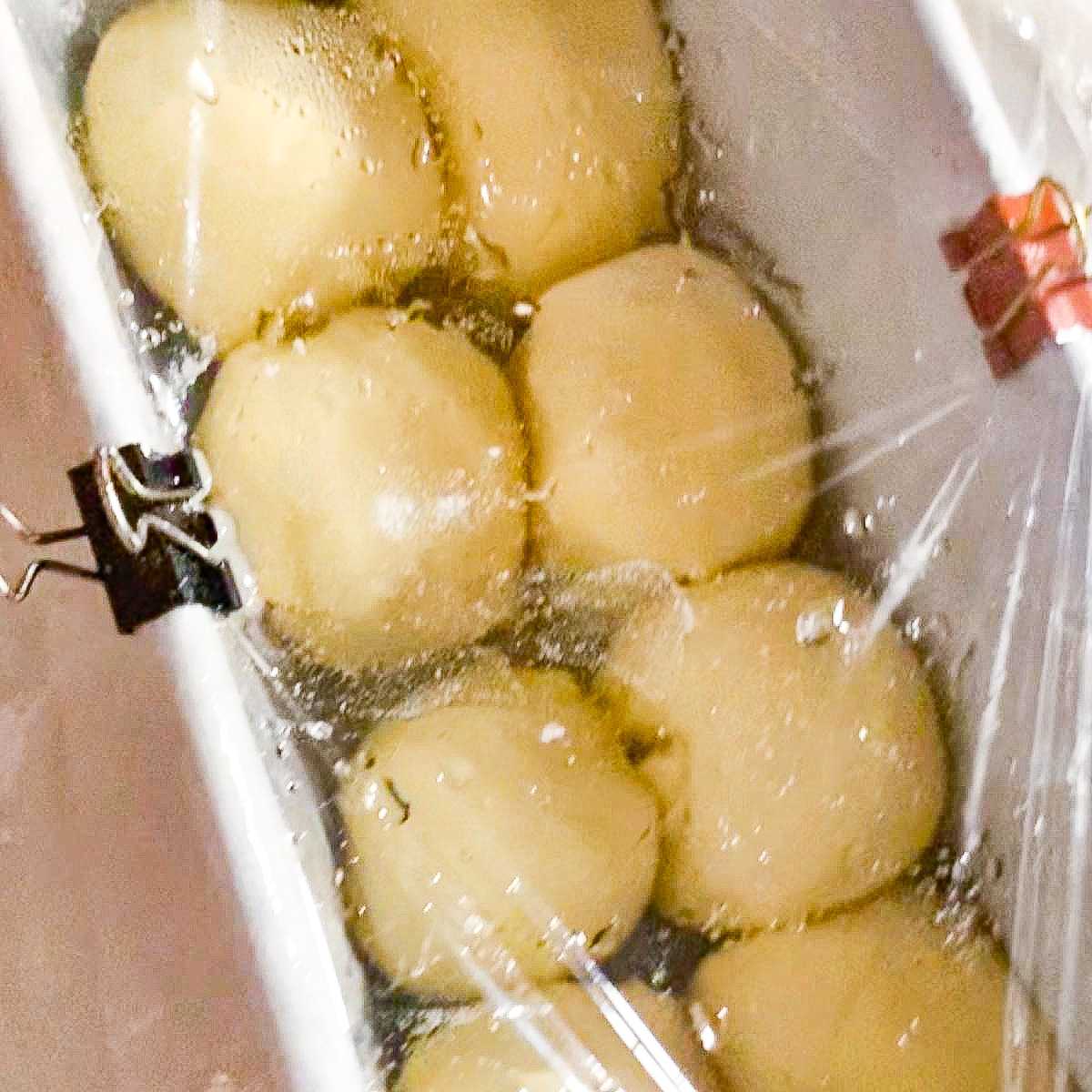 The second rise stage is just as important as the first, and shouldn't be rushed. Place it in a warm place again to allow the yeast to continue to work its magic by creating air pockets within the dough. Once your dough has doubled in size again, it's time to bake it to perfection.,
How to Bake
After your dough has doubled in size and undergone the crucial degassing and shaping steps, it's time for the final proofing and baking stages. Before you pop your brioche in the oven, give it an egg wash on top so it can achieve that golden layer on top.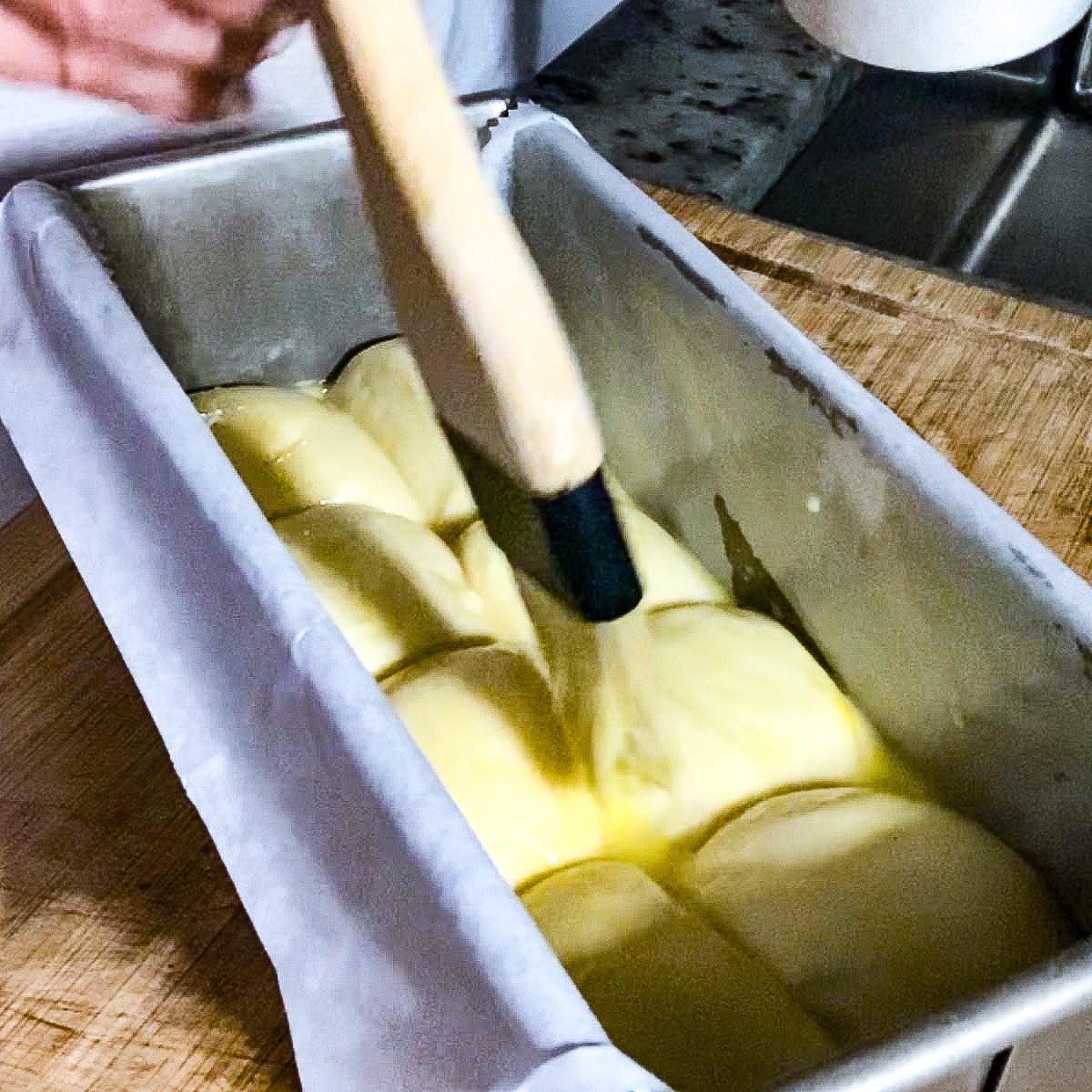 Then, make sure your oven is preheated to the correct temperature. A too-hot oven can cause your brioche to brown too quickly on the outside while remaining undercooked on the inside. On the other hand, an oven that's not hot enough can cause your bread to be dense and heavy.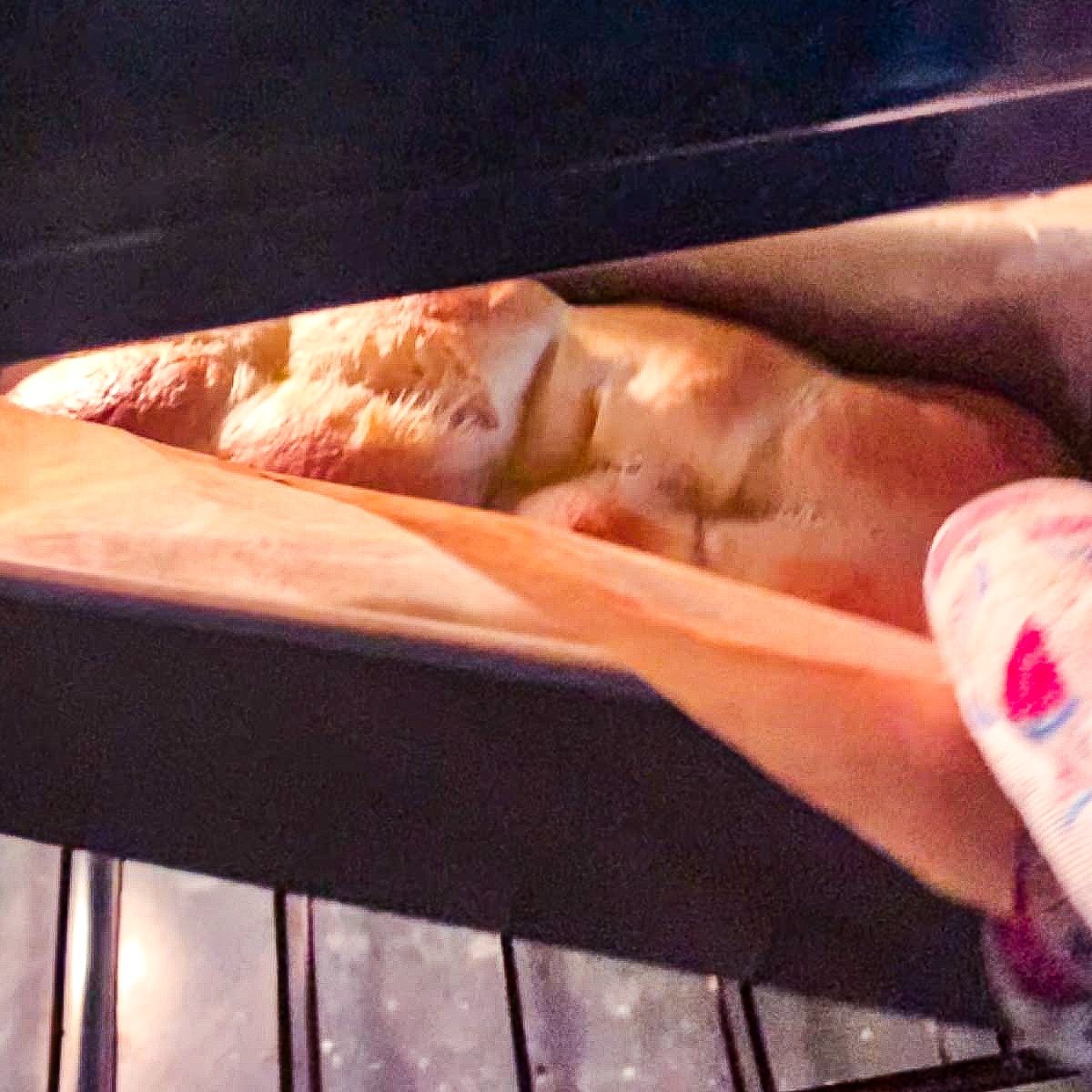 Choose a bread pan or baking sheet that will allow your brioche to rise properly during the final proofing stage. A pan that's too small could result in your bread spilling over the sides, while a pan that's too large could cause your bread to spread out and become flat.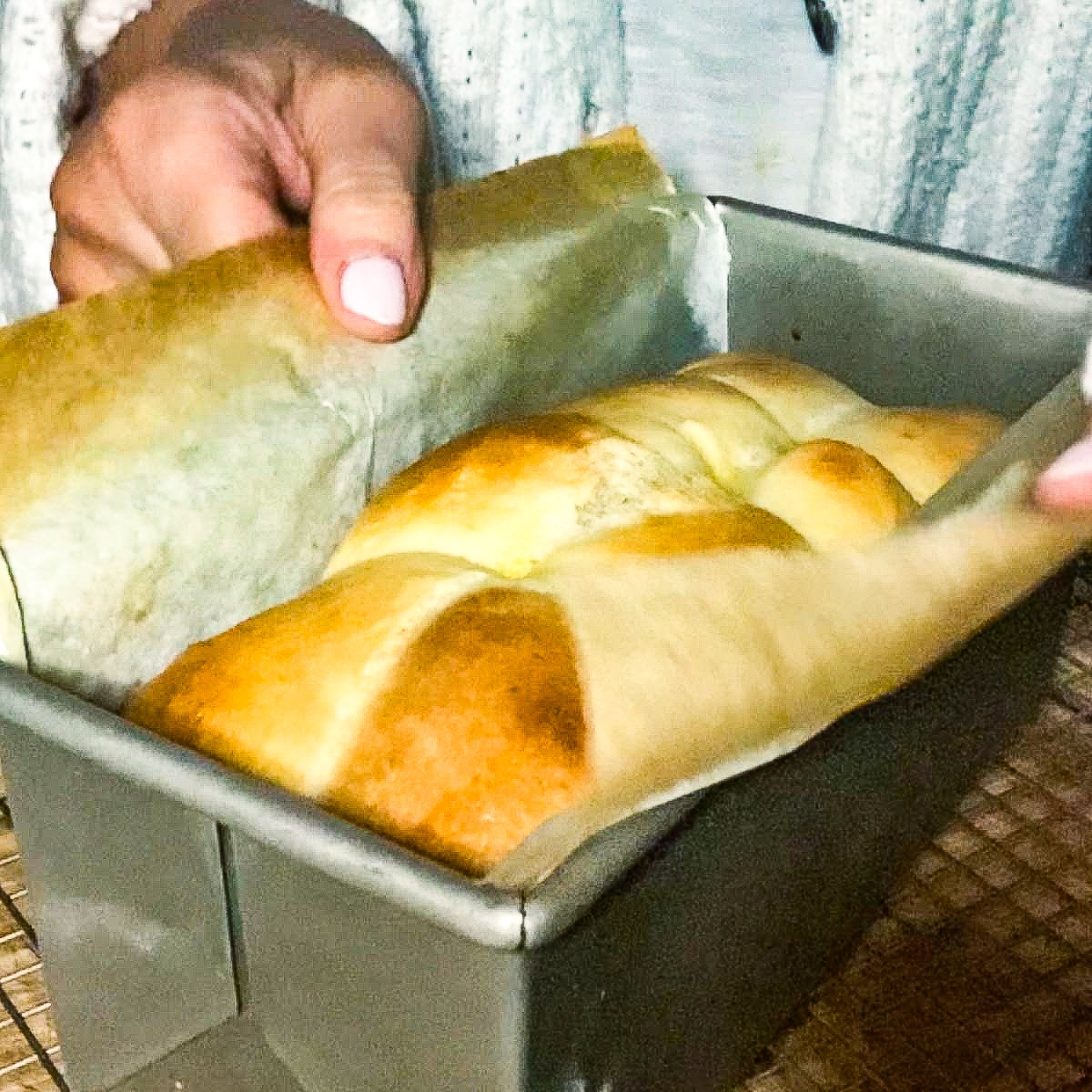 Once your brioche is in the oven, keep a close eye on it to ensure it's baking evenly. If it starts to brown too quickly, cover it with aluminum foil to prevent burning. The baking time will ultimately depend on the size and shape of your bread, so use a toothpick or thermometer to check if it's fully baked and golden brown before removing it from the oven. When it's done place it on a cooling rack so it doesn't sweat at the bottom and let it cool a bit before cutting.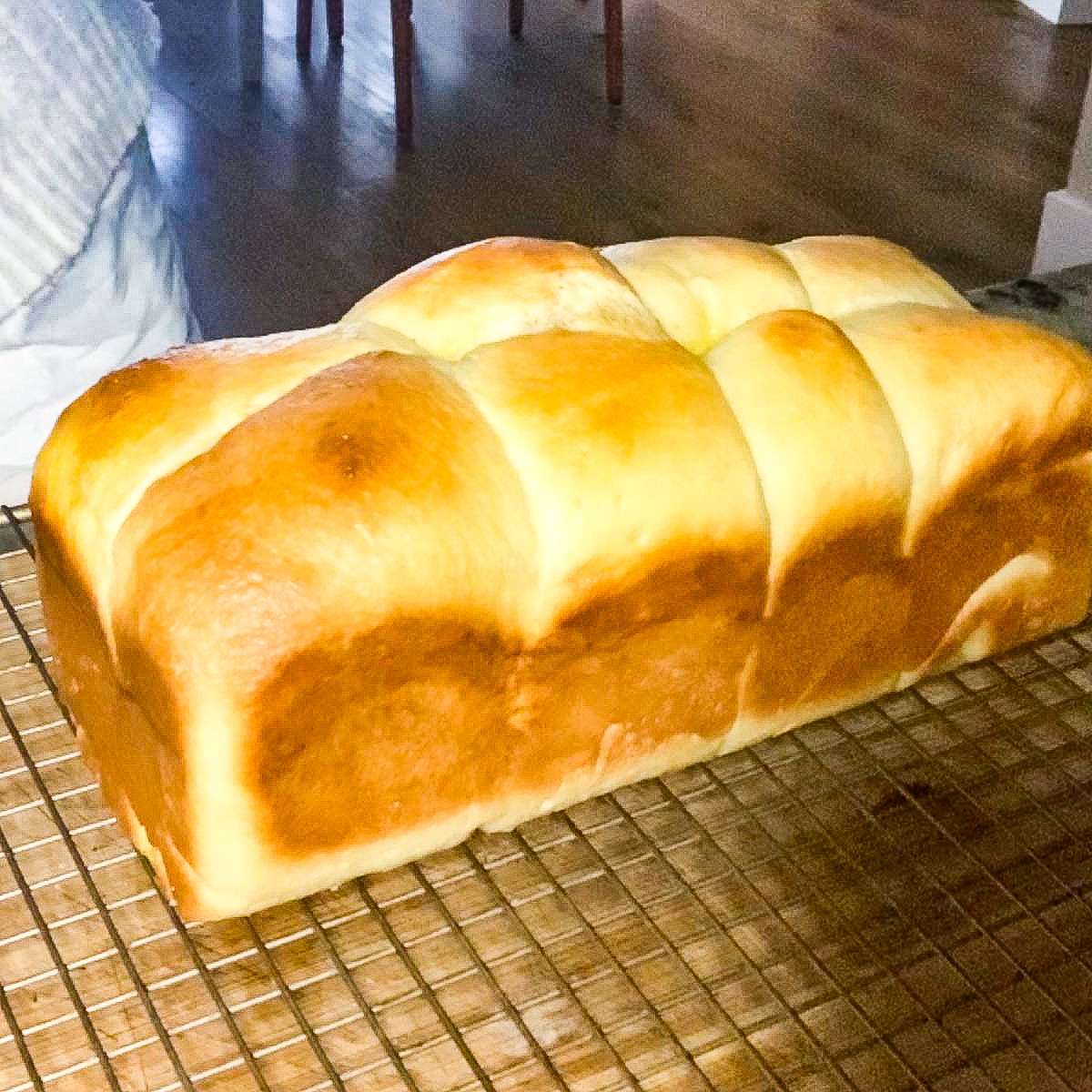 Delicious Sourdough Brioche Variations
Once you mastered this sourdough brioche recipe, endless possibilities can be created for other breads. This dough is just delicious and easy to work with.
brioche rolls with cinnamon sugar on top
sweet bread
brioche hamburger buns
challah bread
sourdough brioche roll
It can be intimidating to make homemade bread but once you master the craft it becomes very addictive and you will be baking fresh loaves on Sunday mornings like me. As Julia Child once said, "A party without cake is just a meeting." So, bring some joy to your gatherings with your own perfectly fluffy sourdough brioche. Till next time as my quest continues in search of the perfect bite!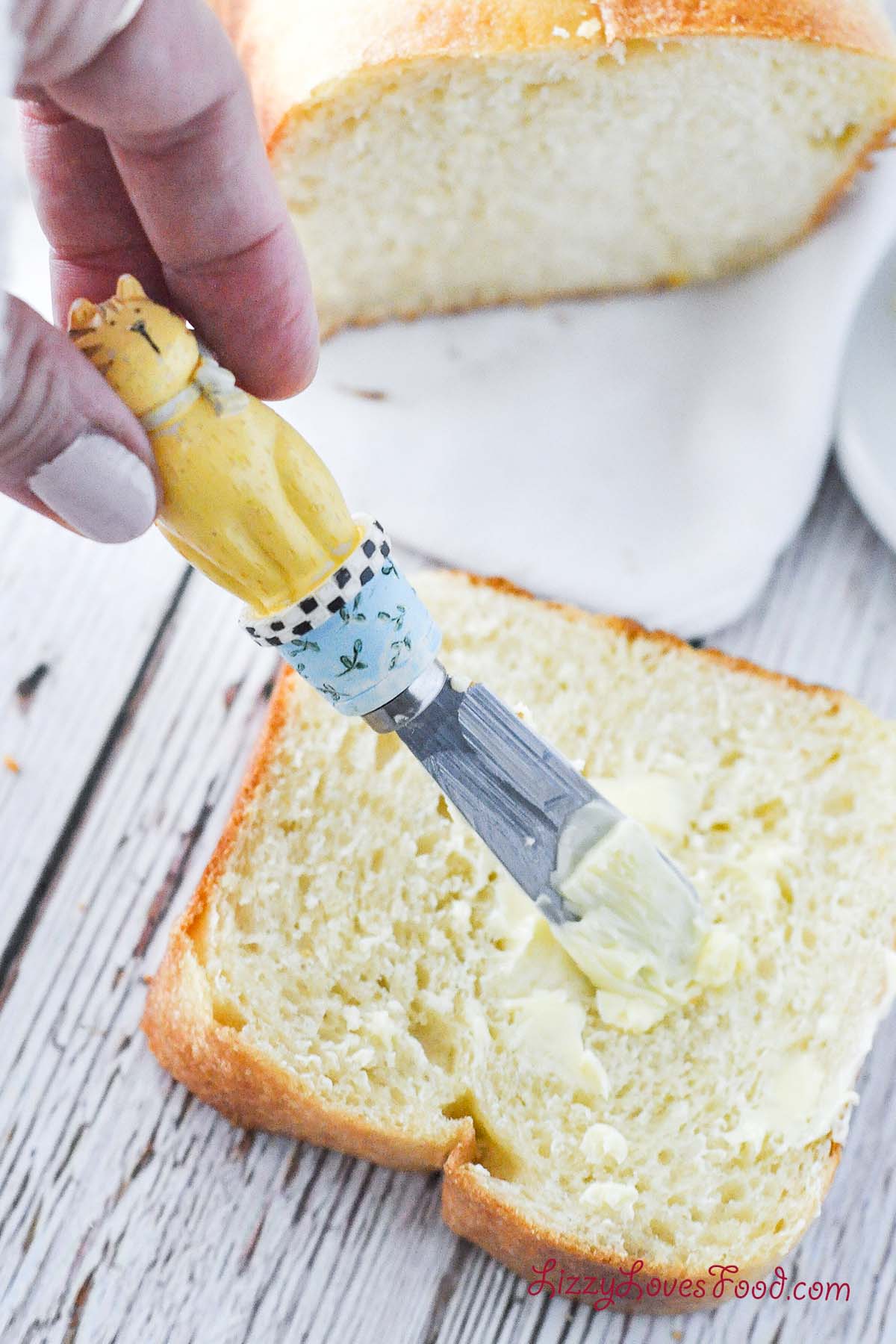 ★ Like this post? ★ Tried this recipe? Give it a star rating below! ★ Let us know in the comments below or on social media and tag us @LizzyLovesFoods You can connect with us on Instagram and Facebook account or on Pinterest. Don't forget to sign up for our newsletter & stay up to date with our latest Recipes from Around the World.
More French Recipes
★ Like this post? ★ Tried this recipe? Give it a star rating below! ★ Let us know in the comments below or on social media and tag us @LizzyLovesFoods You can connect with us on Instagram and Facebook account or on Pinterest. Don't forget to sign up for our newsletter & stay up to date with our latest Recipes from Around the World.
Sourdough Brioche a French Favorite
The Sourdough Bread recipe has a soft buttery taste that is like no other and is perfect for French Toast, or butter and jam like a Parisian.
Ingredients
Dough
½

cup

active sourdough starter

1.5

cups

bread flour

¼

cup

all purpose flour

3

tablespoon

sugar or honey

2

eggs

1

tsp

salt

¼

cup

milk

1

stick of butter

at room temp
Egg Wash
1

egg yolk

1

tablespoon

water
Instructions
Notes
Try not to add flour to the dough when mixing, it's very tempting when you see it so wet but wait until it is missing.
Use high-quality butter it makes all the difference in the world!
Like any sourdough bread, yeast for being substituted but the taste will be different.
The weather is a big factor so the warmer the harder to make bread has been my experience. The humidity will play a big factor if it is 80 percent.
Nutrition
Serving:
10
g
Calories:
133
kcal
Carbohydrates:
22
g
Protein:
5
g
Fat:
2
g
Saturated Fat:
1
g
Polyunsaturated Fat:
0.5
g
Monounsaturated Fat:
1
g
Trans Fat:
0.01
g
Cholesterol:
69
mg
Sodium:
256
mg
Potassium:
52
mg
Fiber:
1
g
Sugar:
4
g
Vitamin A:
110
IU
Calcium:
21
mg
Iron:
1
mg