Nothing better then finding a restaurant Where Locals Eat in Lisbon Portugal. As Portugal has become a very popular travel destination so has the food culture and nothing beats local cuisine to explore and enjoy when on a trip.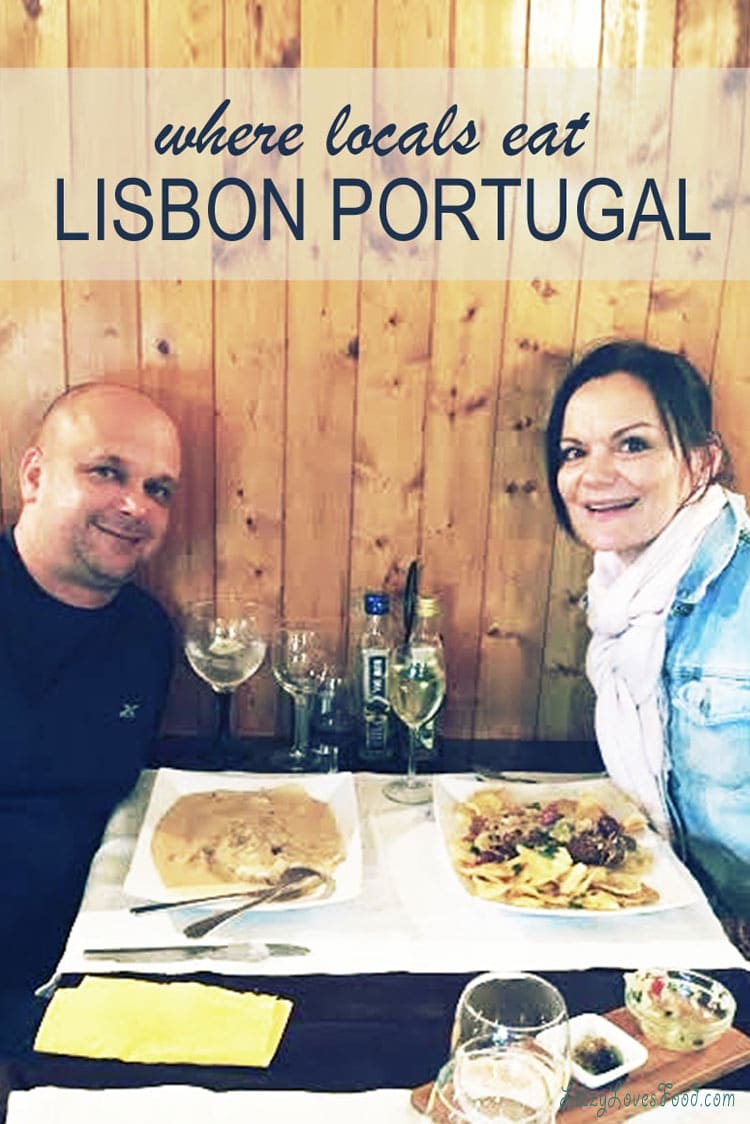 Here are some of my favorites as I explored my journey for the search for the perfect bite in Portugal.
Breakfast in Portugal
The coffee I have to say is the BEST! No Starbucks for me on this trip. Even Jeff, who doesn't like coffee, loved it. We did make eggs one morning and the yolk is so orange it reminded me of citrus orange in Florida. They were delicious and the yogurt that I bought from Auchan was the best I ever ate.

Breakfast is pretty much all about the pastries and coffee. There is a bakery on every corner it seems and between the bread and butter or the pastry selection, it's a hard to choice because it is all so good.
The dinner was incredible I had the beef in a cream sauce that I would of been happy with just the sauce, it was that good.

Jeff had the prawns in a curry blend that were delicious. It's always amazing to me when the restaurant takes the time to make the atmosphere and food equally appealing to all our senses. A meal I will remember for years to come!
Cost $75.00
5 SENTIDOS | Largo Assunção, 6 | 2750-298 Cascais | Portugal
Phone number+351 961 571 194 | Business website restaurante5entidos.com
Dinner at Casa Velha
Jeff had the the local fish and I had the Portuguese beef in a wine sauce. Absolutely wonderful meal and your taste bud will discover a whole new world.

The food is heighten with taste here, which we could not believe how tasty just the lettuce and tomatoes salad was compared to back home in the States. This video Jeff took.


He was amazed with the waiter deboned the fish to perfection. It's a work of art just watching the waiter doing it. A talent long gone in the USA.
Casa Velha
Av. Valbom 1, 2750 Cascais, Portugal | Phone:+351 21 483 2586
The fish is so fresh it swims off your plate. You have a great view of the ocean with lots of locals going for an evening walk or stopping for a little shrimp along with a cold beer.

The shrimp sauce was excellent and the garlic you could eat without that after taste. I was amazed on the taste of the garlic and how delicious it tasted in the sauce. By the way no one was over weight that we saw which is surprising to see because of how much they eat. The food is of a much better quality that makes a big differences. Cost $38.00
Escotilha Bar Lda
Piscina Alberto Romano | Praia das Moitas, 2750-335 | Cascais, Portugal



This was my favorite place and I can still taste the meal in my mouth. They made a wine sauce to go over the steak that left me speechless. The potatoes were cooked to perfection and I dipped them in the sauce.
Jeff had a traditional dish of Portuguese cod fish that was grilled to perfection. The place is just a neighbor joint that been there for ever but I can tell you it was well worth the trip and I would of had dinner there every night if Jeff would of let me. When I got the bill I could not believe how inexpensive the whole meal was for the night.
Cost: $32.00
R. Afonso Sanches 59, 2750-282 Cascais, Portugal
Restaurant João do Grão
t was our last night in town so we picked a place close to the hotel which was a recommendation. The place was an authentic Portuguese restaurant. The guys were loud and full of life while they watched soccer on the TV.

We sat outside and people watched as we had our traditional dinner of prawns in a garlic sauce along with the best potato fries on earth. I will truly miss Pork Alentejana which is a traditional meal in Portugal. We left with our tummies full and memories of a life time from this beautiful country.
Cost $58.00
Restaurant João do Grão
R. dos Correeiros 222, 1100 Lisboa, Portugal | Phone: +351 21 342 4757
Restaurants Where Locals Eat in Lisbon Portugal
Most of our sit down meals where dinner while we were in Lisbon, Portugal. I would stop for sandwiches and fruit to take for lunch so we could tour the museums and towns during the day. It's the best thing for me to keep dinner special and not to waste the day while traveling on vacation. I love to take pictures and my food backpack comes with me on all my trips.
I hope you enjoyed this post on Restaurants Where Locals Eat in Lisbon Portugal. May you all enjoy your vacation and enjoy searching for the perfect bite!
Places to visit in Portugal:
MORE WHERE LOCALS EAT:
★ Like this post? ★ Let us know in the comments below or on social media using #LizzyLovesFoods and tag us @LizzyLovesFoods
You can connect with us on Instagram and Facebook account or on Pinterest. Don't forget to sign up to our newsletter & stay up to date with our latest Recipes & Travel Adventures