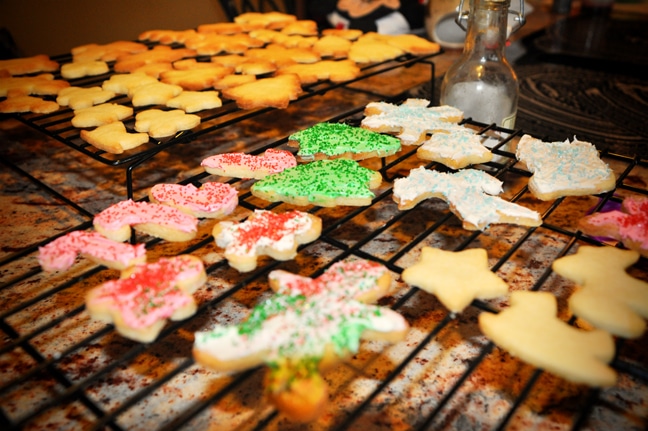 It's Christmas Eve and for my nephew and me it is cookie time! Every year I will make sugar cookies during the holiday and my little helper will color them. He has been doing this with me since he was 4 years old. When I look at him to see what a little man he is becoming, it brings a little tear to my eyes. He now reminds me that "he is not a baby anymore" but he still wants to make Christmas cookies with me.
Now the secret to a good cookie is butter and crisco, yes I said it but you see nothing else will do. I believe if your going to make a cookie make the best one you can! I don't think you can make a healthy cookie and why even try, what is the point??? I believe you eat well 80% of the time and the other 20% are for fun foods.
It took me a while to let go of the perfect design of the cookie with my nephew, I would get so picky and tell him how to do it but realized that he is NOT Martha Stewart and the kids she brings on to the show most be aliens coloring cookies.
I asked him what is the best part of making cookies and he responded, "Being with you and licking the frosting from our fingers" so even thou nothing matches, sprinkles every where, and they end up like a big scribble, they really taste good and I'm with my little angel.
Happy Holidays everyone!
Sugar Cookies
INGREDIENTS:
1 stick Crisco® Baking Sticks Butter Flavor All-Vegetable Shortening
OR 1 cup Crisco® Butter Flavor All-Vegetable Shortening
1 cup sugar
1 large egg
2 tablespoons milk
1 tablespoon vanilla extract
3 cups Pillsbury BEST® All Purpose Flour
1 ½ teaspoons baking powder
½ teaspoon salt
PREPARATION DIRECTIONS:
BEAT shortening and sugar in large bowl, with an electric mixer at medium speed until smooth and creamy. Beat in egg, milk and vanilla until well blended.
COMBINE flour, baking powder and salt in medium bowl. Gradually add flour mixture to shortening mixture at low speed until well blended. Wrap dough in plastic wrap; refrigerate 1 hour for easier handling.
HEAT oven to 375ºF. Roll ⅓ of dough at a time on lightly floured surface to ⅛-inch thickness. Cut dough with 2 to 3-inch floured cookie cutters. Place 1 inch apart on ungreased cookie sheets. Sprinkle with sugar, if desired.
BAKE 5 to 9 minutes or until edges begin to brown. Cool 2 minutes on baking sheet. Transfer cookies to cooling rack. Frost and decorate as desired.