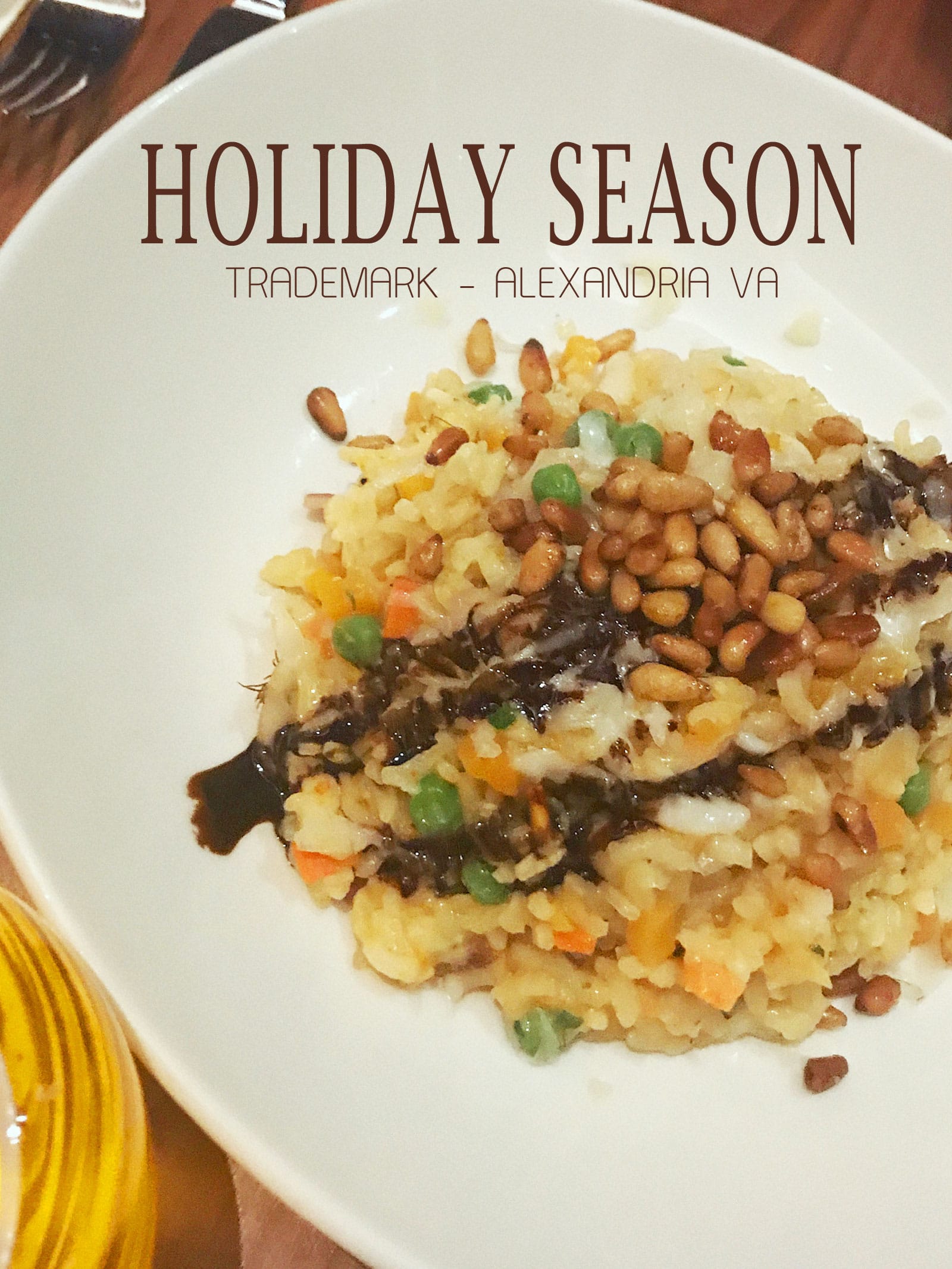 Holiday Season at Trademark Alexandria VA was an exceptional place to take the family for a festive dining experiences. It is one of the first places that Jeff and I went for dinner on a date night and remains one of my favorite place to dine and for special occasions.





Baby Kale Stilton Salad
Now we all know how much I cook and creating new recipes for our dinners every night is a regular routine for me. This year, Jeff proposed that we enjoy our holiday dinner over Thanksgiving at Trademark so I could eat and be served!. Who doesn't enjoy that? It was going to just be my mom and Jeff. We decided to keep it small because of all the traveling we have done this year. We both needed a break and just eat and be happy without all the fuss that comes from traveling during the holidays or cooking and cleaning up.
Bowman's Colonial Rum & Pumpkin Turkey Dinner

Thanksgiving Sweet Potato Pie
I was all for it this year when I had just finished my 3rd treatment of stem-cells and was not really well enough to stand to long. Not to mention Trademark makes the best Bloody Mary in all of Old Town. I always recommend the place for fish and chips or a great hamburger on the menu. To my surprise the Holiday Specials are out standing. I know some of you love to travel during the holiday season and Trademark is connected to the Westin Hotel. Many visitors come to Old Town because it has that traditional Christmas feel for everyone to enjoy. To top it off, Trademark makes a wonderful meal to celebrate the holidays. As we all know at the end of the day it comes down to food!
Last Harvest Risotto
We were so pleased with our meals that Jeff and I said we may make this a tradition at Trademark. The meal came with a accompaniment of wine or beer for each course. The serves is perfect and the food will melt in your mouth. I was singing at the table with share pleasure of how flavorful the meal was and let us not forget dessert! It was well worth the price of $38 per person. Which would have cost me more to make everything at home for 3 people. Not to mention we would have leftovers till Christmas.
Hail Mary Pudding
The wonderful thing is that they do Thanksgiving and a Christmas menu >> TRADEMARK-Holiday-2017. So if your in the neighborhood traveling for the holidays to Old Town do not worry for a Christmas buffet will be served with eggnog at Trademark. ENJOY - THE - SEASON - OF - GIVING.
Trademark | Drink & Eat

Address:
2080 Jamieson Ave, Alexandria, VA 22314

Hours:
Open today

·

7AM–11PM
|
Phone:
(703) 253-8640
Happiness after a meal!