French Recipe! Traditional French Beef Bourguignon is an all time favorite from my childhood in France. I can still remember my mother cooking in the kitchen with the aroma dancing in the house. It will make an imprint on your taste buds that will last a life time.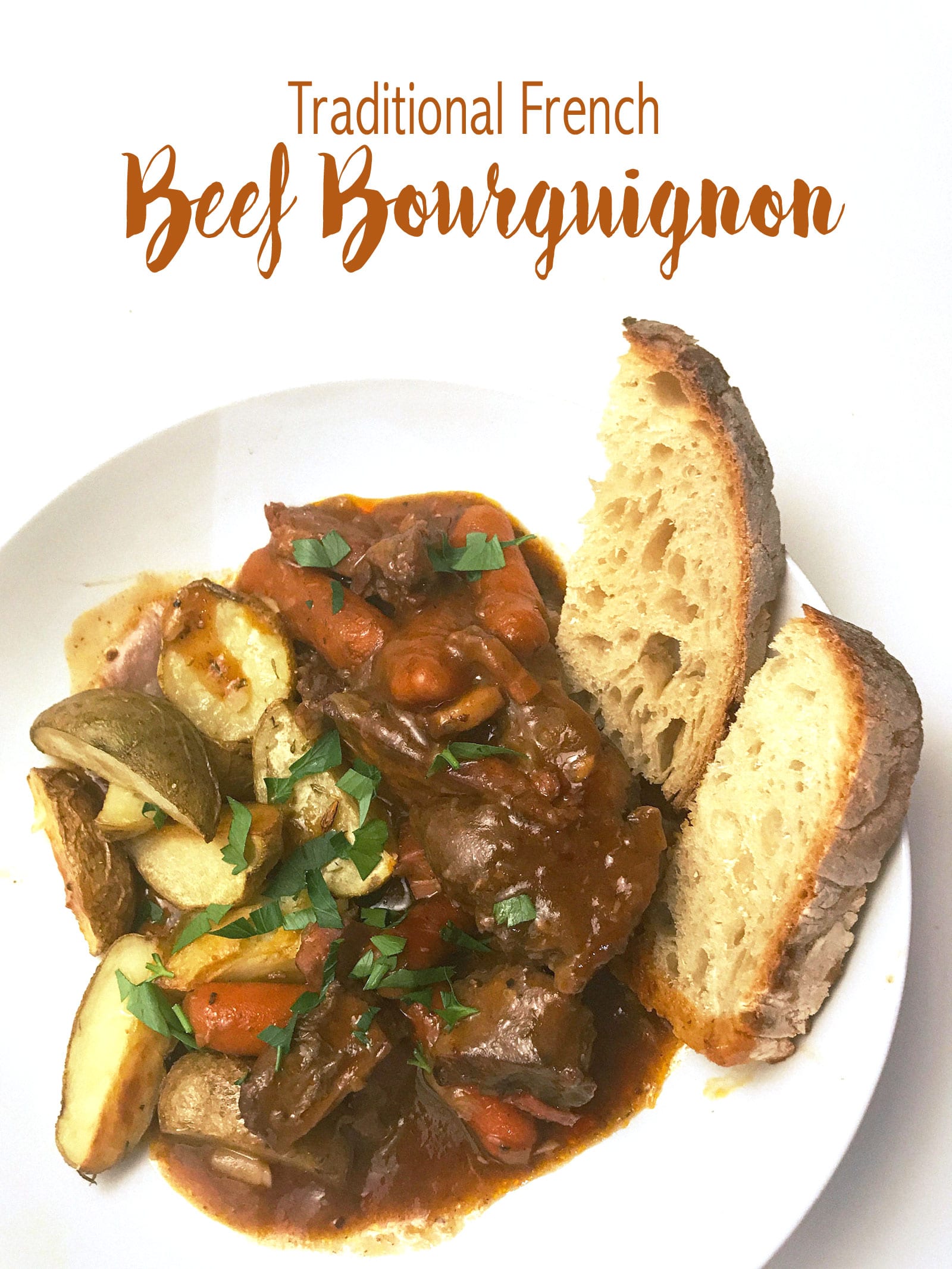 The first time I made this for Jeff he was ready to die! He could not believe how good Traditional French Beef Bourguignon. I make it in the version of my mother's recipe and my Godmother. Nothing to over the top but perfect in every way. It's amazing to me how wonderful a family recipe is and how you can pass it down to make memories with new friends and family. I think that is the secret to life's joy. Being able to pass down a family favorite recipe so it can live on with so many. The main reason I started this blog.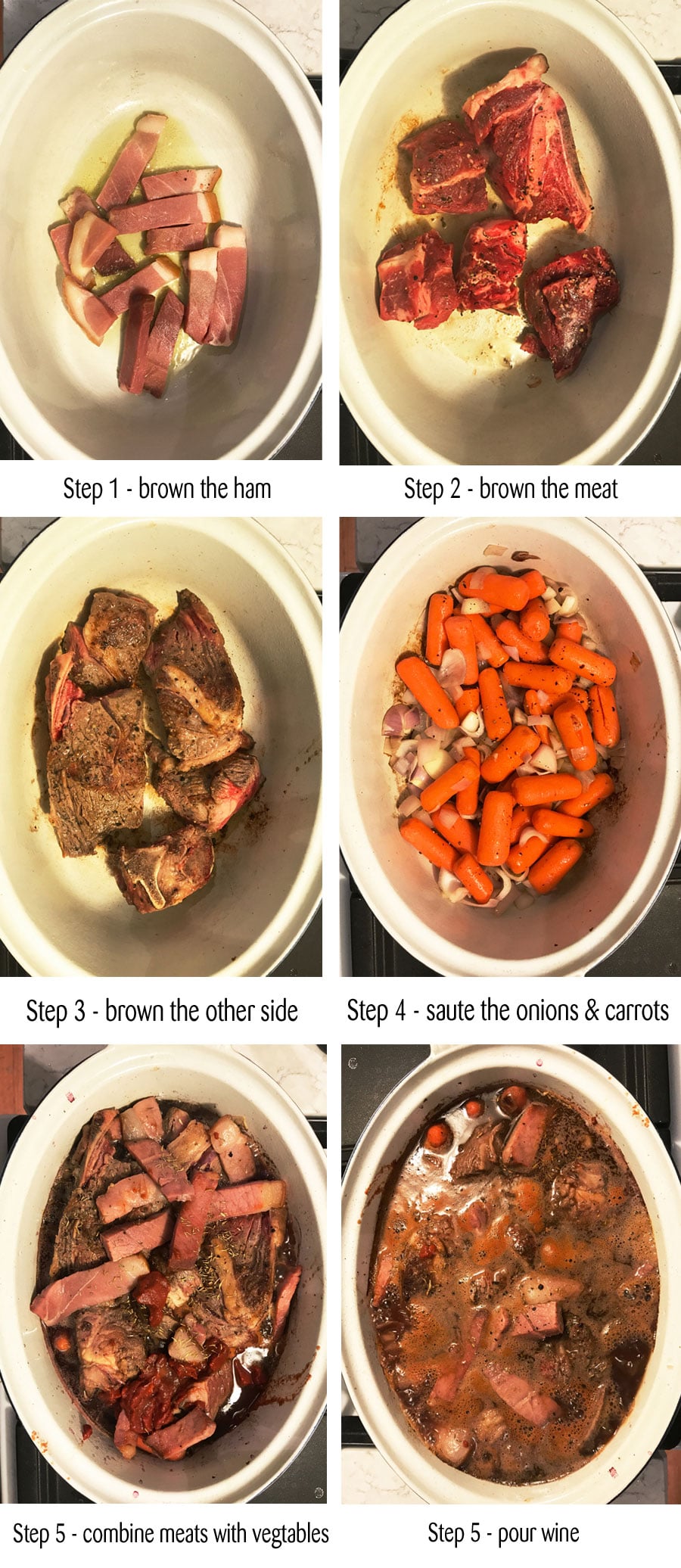 Traditional French Beef Bourguignon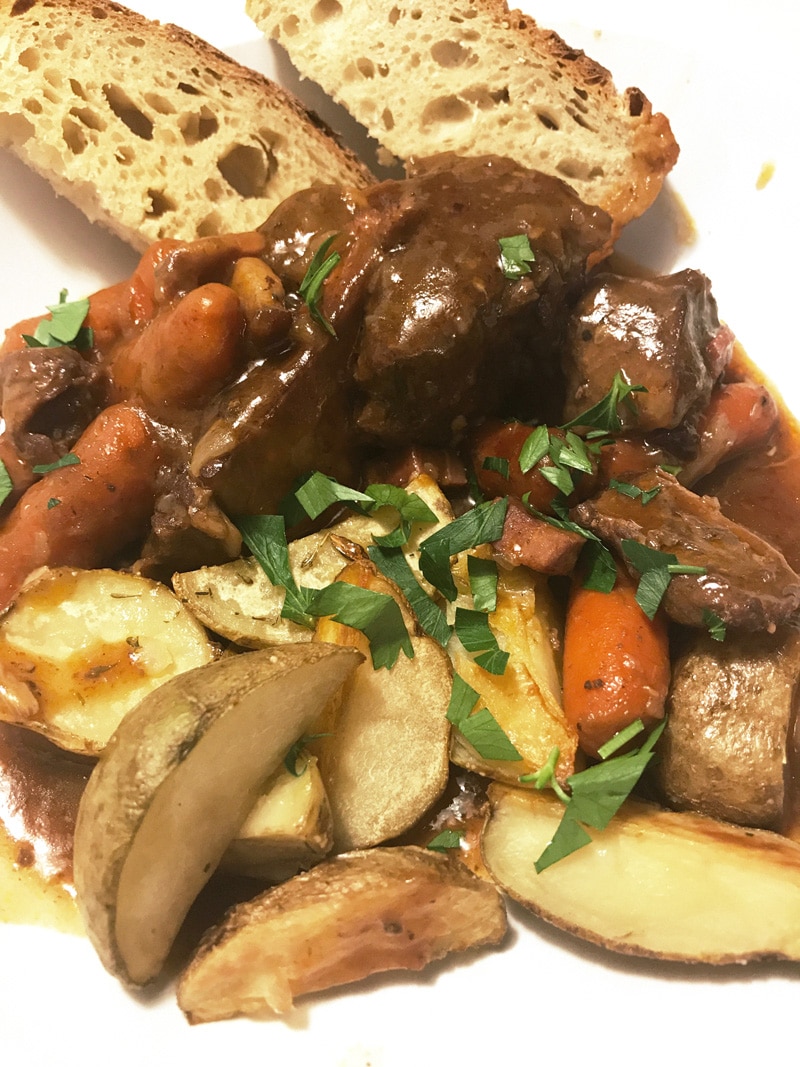 Food is more then just making a healthy dish or making it pretty. Making a memory together and enjoying the beauty of nature on your plate is what it's all about for me. One of the things that I give thanks too in my prayers every night is for food I was able to eat that day.
So now that winter has arrived and I am all bundled in my home, I have already made Traditional French Beef Bourguignon once. Jeff has already asked for it again. I know what your thinking, "it takes forever to make," but no. It will take you about 20 minutes to prep the dish and the rest is in the oven. Fry chicken takes much longer to make. The other thing friends of mine have asked, "Can I use a crock-pot?" As wonderful as a crock-pot is for so many dishes this is not one of them. If you have ever cooked with a Dutch oven, you will never forget the taste. It is completely different tool for cooking.
I have 2 recommendations to make this dish:
Get a good bottle of wine, Cote du Rhone or Pinot Noir.
(The better the wine the better the dish and have a glass with dinner)
Do it on a Sunday when you are laying around, it needs a good two hours to cook.
Traditional French Beef Bourguignon
Traditional French stew for a warm winter night.
Ingredients
1

tablespoon

good olive oil

8

ounces

dry cured center cut applewood smoked bacon

diced

2 ½

pounds

chuck beef cut into 1-inch cubes

Kosher salt

Freshly ground black pepper

1

pound

carrots

sliced diagonally into 1-inch chunks

2

yellow onions

sliced

2

teaspoons

chopped garlic

2 cloves

½

cup

Cognac

1

750 ml. bottle good dry red wine such as Cote du Rhone or Pinot Noir

1

can

2 cups beef broth

1

tablespoon

tomato paste

1

teaspoon

fresh thyme leaves

½ teaspoon dried

4

tablespoons

unsalted butter at room temperature

divided

3

tablespoons

all-purpose flour
For serving:
Country bread or Sour Dough

toasted or grilled.

1

pound

of roasted potatoes

½

cup

chopped fresh parsley

optional
Instructions
Preheat the oven to 250 degrees F.

Heat the olive oil in a large Dutch oven.

Add the ham and cook over medium heat for 10 minutes, stirring occasionally, until the ham is lightly browned.

Remove the ham with a slotted spoon to a large plate.

Dry the beef cubes with paper towels and then sprinkle them with salt and pepper.

In batches in single layers, sear the beef in the hot oil for 3 to 5 minutes, turning to brown on all sides.

Remove the seared cubes to the plate with the bacon and continue searing until all the beef is browned. Set aside.

Toss the carrots, and onions, 1 tablespoon of salt and 2 teaspoons of pepper in the fat in the pan and cook for 10 to 15 minutes, stirring occasionally, until the onions are lightly browned.

Add the garlic and cook for 1 more minute.

Add the Cognac.

Put the meat and ham back into the pot with the juices.

Add the bottle of wine plus enough beef broth to almost cover the meat.

Add the tomato paste and thyme.

Bring to a simmer, cover the pot with a tight-fitting lid and place it in the oven for about 1 ¼ hours or until the meat and vegetables are very tender when pierced with a fork.

Combine 2 tablespoons of butter and the flour with a fork and stir into the stew.

Bring the stew to a boil on top of the stove,

Lower the heat and simmer for 15 minutes.

Season to taste.

To serve, toast the bread in the toaster or oven. Rub each slice on 1 side with butter.

Roast some potatoes in the oven for about 35 minutes until cooked

For each serving, spoon the stew over potatoes and sprinkle with parsley.

Serve with sliced bread.

ENJOY!
Nutrition
Calories:
656
kcal
Carbohydrates:
24
g
Protein:
35
g
Fat:
35
g
Saturated Fat:
14
g
Cholesterol:
131
mg
Sodium:
725
mg
Potassium:
1063
mg
Fiber:
4
g
Sugar:
4
g
Vitamin A:
10035
IU
Vitamin C:
17.9
mg
Calcium:
82
mg
Iron:
6
mg