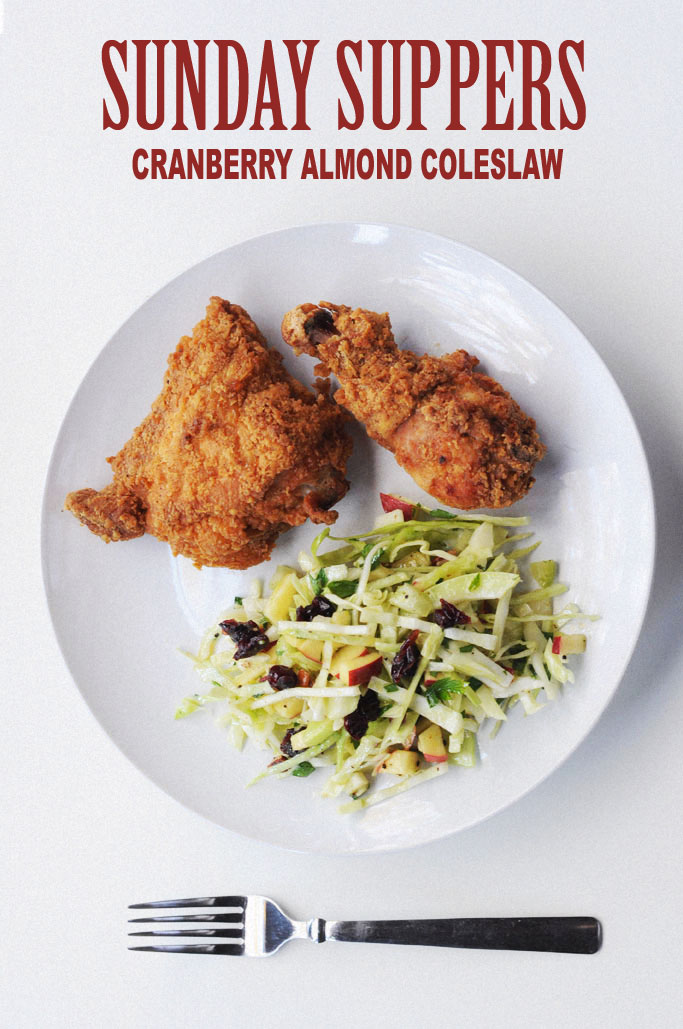 Sunday Suppers Cranberry Almond Coleslaw goes perfect with a Sunday afternoon football game with the Giants. All you need is a cool crispy day to stay home and wipe up some fry chicken with the Sunday Suppers Cranberry Almond Coleslaw. Even if the Giants have only won one game, who's counting?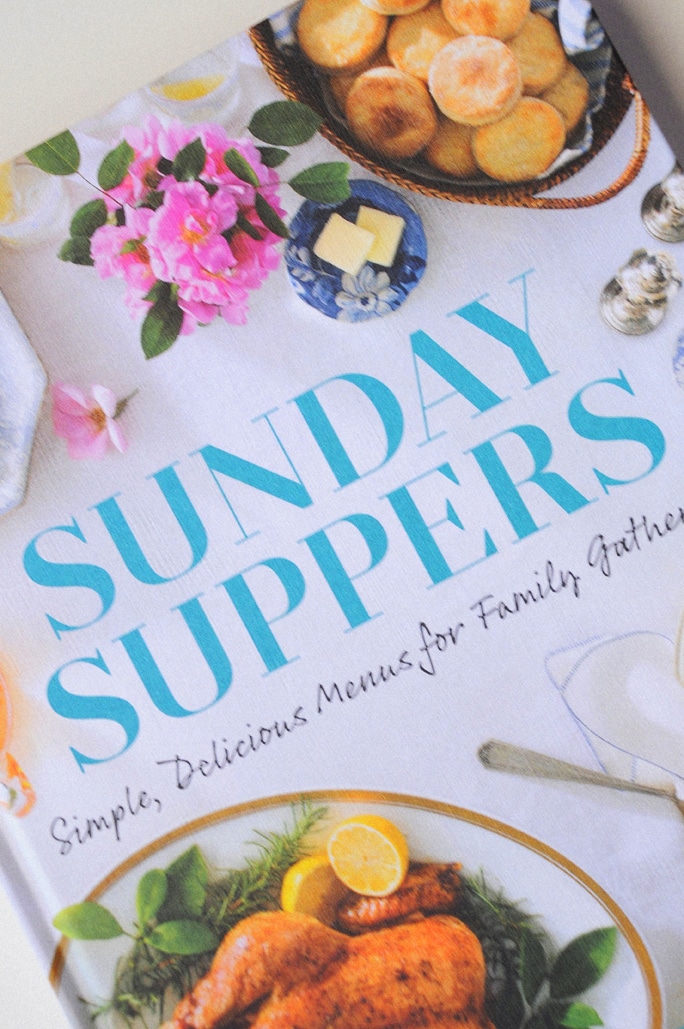 As some of you know, I am not a football fan but Jeffrey is so I make a Sunday meal that we can both enjoy while he lays on the couch. ( or naps even though he tells me he is watching the game ) Although I am well aware that as long as I have known Jeff, the Gaints have been losing alot! I don't even remember him saying they won once! That is his home team and it is a sad Sunday every Sunday they play. Yet as he says, "The food makes me happy even if they lose." LOL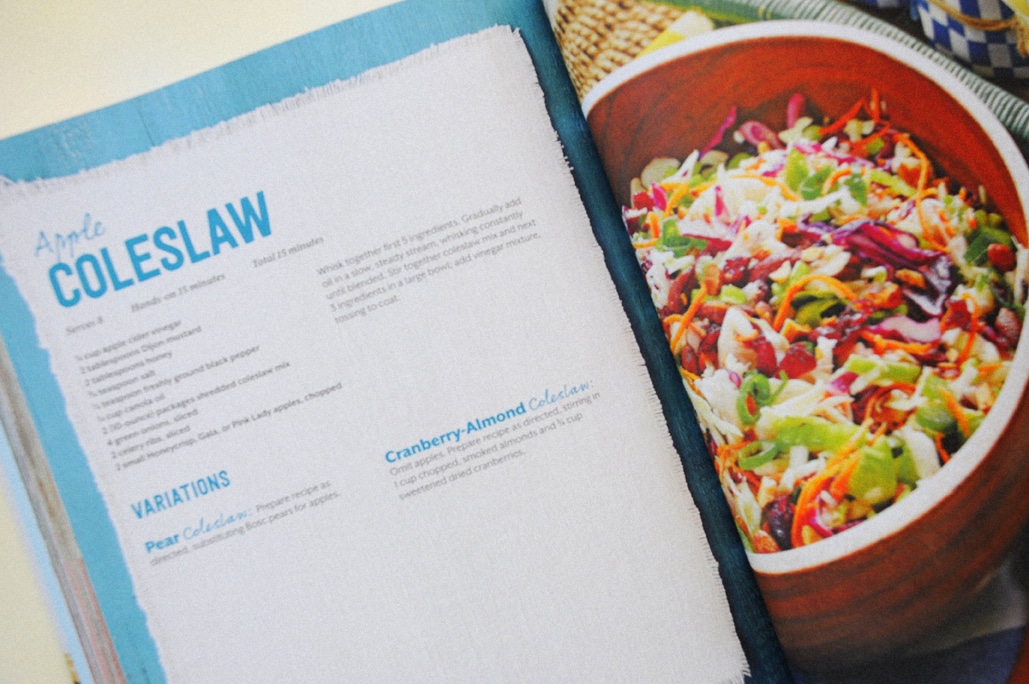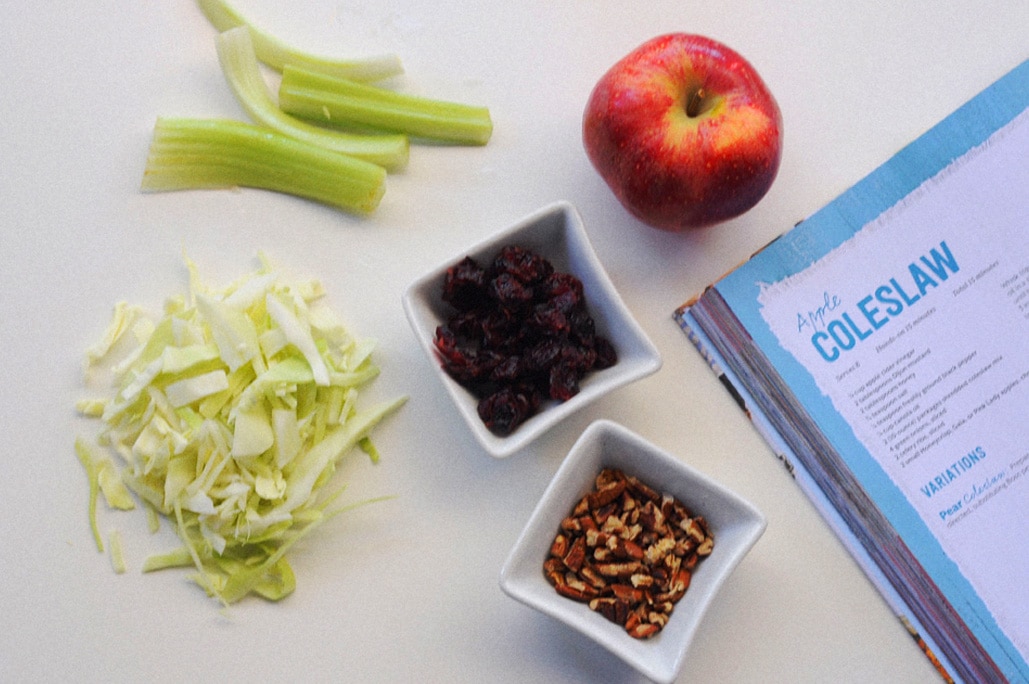 This is why this book is so perfect for coming up with a Sunday Suppers. It has a a variety of recipes and very easy to follow. That is one thing I look for in a cookbook. I first read a few recipes to see how well the instructions are to follow. If they are not well written, I have problems following the recipe and cooking should be fun and easy. I think that is why some people don't like to cook because they can't follow a recipe, not realizing that the recipe is not well written. You will not have that problem with Sunday Suppers cookbook, which would make a great gift for the holidays.
Sunday Suppers Cranberry Almond Coleslaw can be found on page 212 and the Picnic Chicken Bites on page 41. They make a perfect marriage together. For more Sunday Supper recipes visit Cynthia Graubart to purchase this wonderful book. Thanks Kourtney for sending me a copy!
Sunday Suppers Cranberry Almond Coleslaw
Ingredients
1/4

cup

apple cider vinegar

2

tablespoon

Dijon mustard

2

tablespoons

honey

1/4

teaspoon

salt

1/4

teaspoon

freshly ground black pepper

1/4

canola oli

2

packages of 10oz shredded cabbage mis

4

green onions

sliced

2

celery ribs

sliced

2

small Honeycrisp Gala

or Pink Lady, chopped

1

cup

of shopped almonds

3/4

cups

of sweetened dried cranberries
Instructions
Whisk together first 5 ingredients. Gradually add oil in a slow, steady stream, whisking constantly until blended. Stir together coleslaw mix and next rest of the ingredients in a large bowl, add vinegar mixture, tossing to coat.