Stuffed portobello mushrooms make for a tasty and healthy dinner!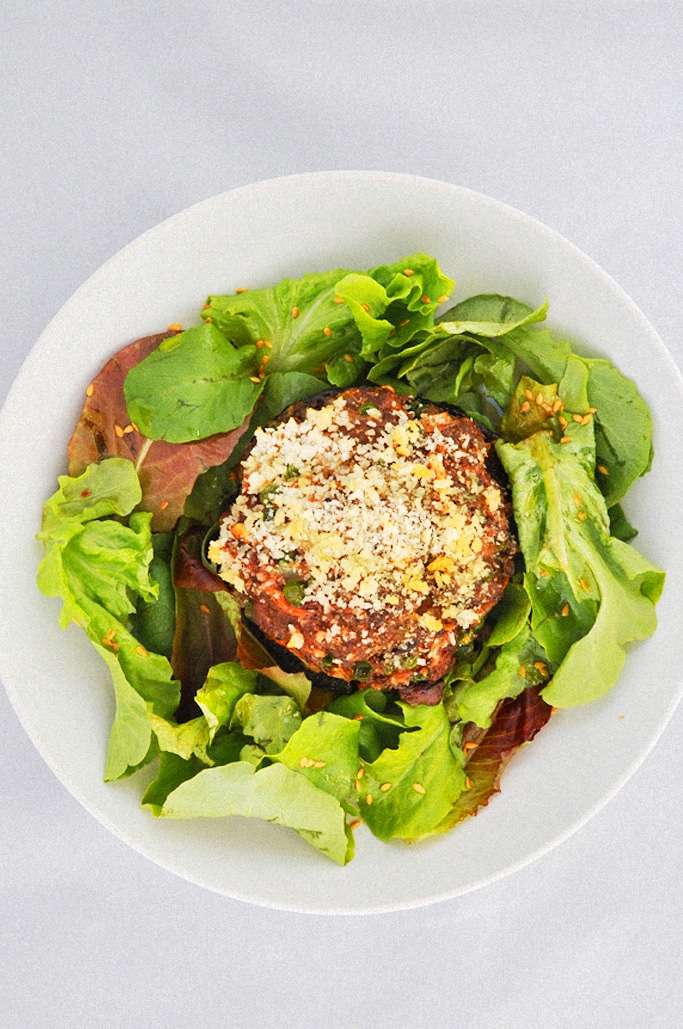 We decided to go to the Farmers Market today, and what do I see but the largest portobello mushrooms. So I quickly bought 4 for $2.00 so I could make a stuffed portobello mushroom recipe for dinner. Everyone always asks me, "You must spend a fortune for food." This is far from the truth when you cook at home.
Groceries Shopping with Lizzy:
Rule # 1
Find local farmers market in your area, especially if you buy lots of vegetables. When they are in season you will find them to be cheaper then the local grocery store.
Rule #2
Never run out for one ingredient, as I always say, "Just don't make it."
Rule #3
Buy what's on sale and stock up. We do this with meat and chicken. We freeze it, but we don't buy a life long supply incase the world ends. Just enough to satisfy the month. Things always go back on sale next month.
Rule #4
If you know how much you eat, you can pretty much determine how much to spend. We did the math for us: 1 Person x 3 meals a day/with snacks = $10 so it cost us for 2 people a $140 for groceries. This is about average for the week.
Rule #5
We only buy organic meat because we hope its less filled with antibiotics, this is by far the most important. To supply us with enough protein we include organic eggs from Trader Joe's and canned tuna.
Rule #6
Always buy the main ingredients to satisfy a balance diet. Ours include lettuce, fruit, and eggs. These items are always in the basket. Only buy a weeks supply because you want it as fresh as it can be. You must go to the grocery store once a week. My day is Friday night or early Saturday morning, when things are freshly stocked. On Friday they stock early because no one usually goes to the grocery store during that time.
Rule #7
Never buy from a box. There is so many unrecognizable ingredients in food today. I am a big believer if I can't pronounce it- I don't buy it.
Rule #8
I never buy juices or soda, however we buy bags of tea to make ice tea during the week. You will save tons of money by doing this and eliminate all the sugar from your diet.
Rule #9
Coupons work for detergent, towels, garbage bags and condiments which I usually don't buy at the grocery store. I pick up these items up at Walmart, Target or even Walgreens, which most of the time has a better price.
Rule #10
Always buy what's in season so you can save money. This is when things are in abundance and are the least expensive. Here is a chart you can follow on what's in season.
Stuffed Portobello Mushrooms
Stuffed portobello mushrooms for a healthy dinner.
Ingredients
4

portobello mushrooms

½

pound

of ground beef

1

onion

1

cup

of shredded carrots

½

cup

of peas

½

cup

of toasted pine nuts

just roast them in the pan

2

tablespoon

of Garam Marsala

1

teaspoon

of garlic powder

½

cup

of panko crumbs

1

egg

Salt and Pepper
Instructions
Mix the ground beef with the spices, egg and panko crumbs and set a side. Add salt and pepper.

In a pan pour olive oil and saute the vegetables, sprinkle garlic powder and ½ tablespoon of Garam Masala.

Let the vegetables cool off and mix with the ground beef and pine nuts.

Make 4 round balls and pat into the mushroom.

Sprinkle some Panko on top and put in the oven until crispy on the edges.
Nutrition
Calories:
372
kcal
Carbohydrates:
21
g
Protein:
18
g
Fat:
25
g
Saturated Fat:
5
g
Cholesterol:
81
mg
Sodium:
215
mg
Potassium:
831
mg
Fiber:
5
g
Sugar:
7
g
Vitamin A:
5575
IU
Vitamin C:
11.6
mg
Calcium:
71
mg
Iron:
4.2
mg