Health quinoa salad in a mason jar, is a quick an easy lunch for the week.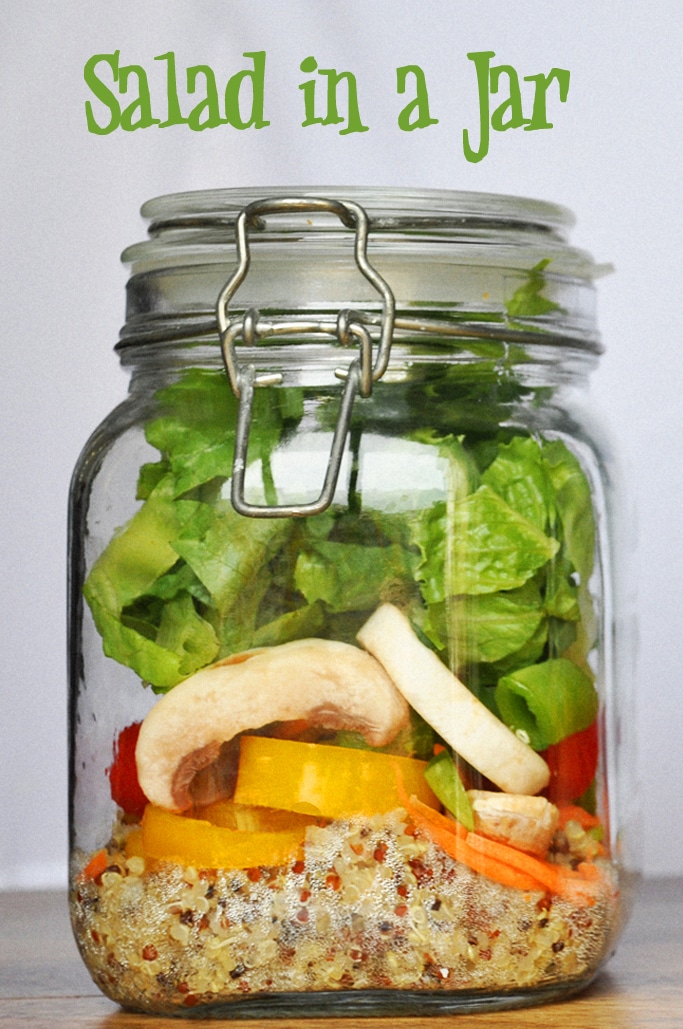 I'm all settled into our new home and the first thing I did was make Healthy Quinoa Salad for lunch so Jeffrey could take to work. I have had so much "moving of boxes" and "putting things away" that I decided to make lunch for the whole week without skimping on health. So what better way to do this then to have salad in a jar.
The easiest thing to do and stays fresh all week, which I know for most of us is important so we don't throw out food. The part I'm most amazed about is how food really stays fresh in a glass lid. I guess that why our grandparents did this and now we use ZipLoc. I remember my grandmother had rows of food, sauces and herbs in these jars and I always thought why not buy a can? 20 years later I get it!
Kale and Mushrooms

Peppers, tomatoes, olives, shredded carrots, broccoli
SO I decided to start from the beginning and purchase all of these mason jars and glass containers that are very affordable. The only thing I'm using my Ziploc is to freeze food and we don't warm it up in the microwave. Most of the food that I freeze are: pineapples, mango, strawberries, blueberries, green beans, carrots, and soups. Pretty much nothing else because it does not taste the same.
The quickest way to make this salad is to make a list of everything that you would like to put in and then stack the salad on top. A lot of people put the salad dressing at the bottom but I have to tell ya, did not like my results so I don't do that anymore. I bought these tiny containers, that don't spill or I use an old spice jar that is empty and fill up the dressing so it can be used right before you eat your salad in a jar.
Healthy Quinoa Salad in a Jar
A healthy quinoa salad for lunch.
Ingredients
1

cup

of Shredded Carrots

1

cup

of Mushrooms

1

cup

of Cherry Tomatoes

1

cup

of Broccoli

½

cup

of Almonds

½

cup

of Shredded Mozzarella

2

cups

of Quinoa

1

cup

Baby Peppers

3

cups

of Kale
Instructions
Divide your vegetable so you can just pick and insert into the mason jar. First start with the 2 spoons of quinoa, Then add some of the other vegetables to layer each one at a time. Top it off with the lettuce and close the jar. Place it in the refrigerator and your done.