Gluten-Free Shrimp Curry & Rice Noodle Soup is a delicious and nutritious family meal that's easy and quick to put together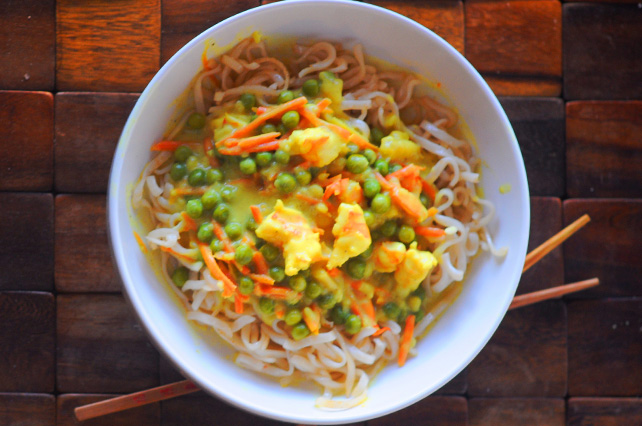 So it's been awhile since I've posted but life has been so busy. I just don't seem to have enough time in the day to do everything I would like to, including cooking. I've been trying to figure out how did our parents do it and then it goes back to the basic, 1 stayed home to watch the kids and do the house work.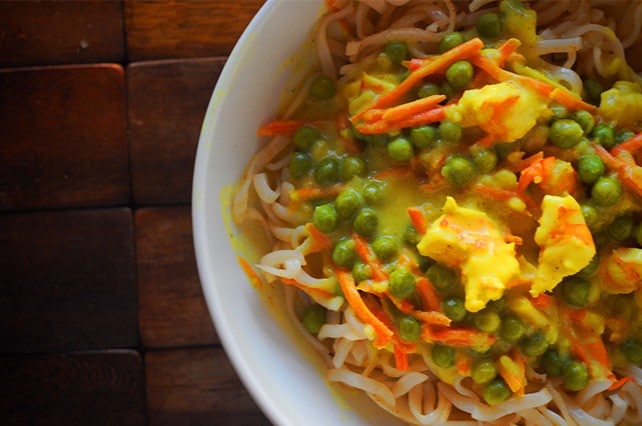 I see these shows on cable and just think to myself, how unrealistic to our world that we live in compared to theirs. These people do not cook, do laundry, go to work, come home at 6 or 7, and start all over the next week. And if they do, someone needs to let me know the secret.
I always try to cook when I'm feeling a little overwhelm, always seemed to put me in a better mood. So this past weekend I decided I would make a shrimp dish, Jeffrey (my partner) loves shrimp and they are quick and easy to cook but we have had such a terrible time finding shrimp that don't taste like they have been bleached. I'm starting to lose faith with the "fresh seafood" vs "frozen.
Now when you go to buy seafood, you have to decide, local farm raised, fresh water, frozen, previously frozen, and if your like me I try to calculate the miles from the country the seafood arrived – SCARY! Then I come to my senses while I was shopping and I say, fresh water, local Key West shrimp, 1pd please at Whole Foods FOR $17 – WHAT A MISTAKE THAT WAS!!! They tasted like chloride. So I go back to what my mother thought me to buy, which she is all about the seafood and living in New England, very picky! Green Wise Frozen Shrimp at Publix for $25. They were perfect and I learned that in the future I will buy frozen because when you live in Florida at 80% humidity, everything should be frozen!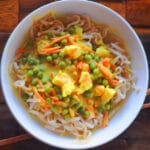 Shrimp Curry and Rice Noodle Soup
A delicious and nutritious family meal
Ingredients
1

tablespoon

vegetable oil

1

tablespoon

grated fresh ginger

2

tablespoon

of curry

2

cloves

garlic

minced

1/2

teaspoon

red-pepper flakes

1

pound

6 to 8 medium carrots, peeled, halved lengthwise, and thinly sliced

1

can

13.5 ounces coconut milk

1

tablespoon

cornstarch

1

package of KA-ME Thai Rice Noodles

1 1/2

pounds

large shrimp

peeled, deveined, and tails removed

1/4

cup

freshly squeezed lime juice

1

small package of frozen peas

4

scallions

thinly sliced

Pinch

of Salt
Instructions
Heat oil in a large (3-quart) saucepan over medium-low heat. Add ginger, garlic, curry and pepper flakes; cook, stirring, about 1 minute. Add carrots, coconut milk, and 2.5 cups water. In a small bowl, mix cornstarch and 2 tablespoons water until smooth; add to pot. Bring to a boil.

Add rice noodle and peas to pot. Return to a boil, reduce heat to medium, and simmer until rice noodles are done and carrots are just tender, 3 to 4 minutes.

Add shrimp; stir until opaque, about 1 minute. Remove pot from heat, and stir in lime juice; season with salt. Pour into serving bowls, and garnish with scallions.
Nutrition Facts
Shrimp Curry and Rice Noodle Soup
Amount Per Serving
Calories 350
Calories from Fat 36
% Daily Value*
Fat 4g6%
Cholesterol 285mg95%
Sodium 864mg38%
Potassium 450mg13%
Carbohydrates 48g16%
Protein 26g52%
Vitamin A 12905IU258%
Vitamin C 20.9mg25%
Calcium 218mg22%
Iron 3.9mg22%
* Percent Daily Values are based on a 2000 calorie diet.