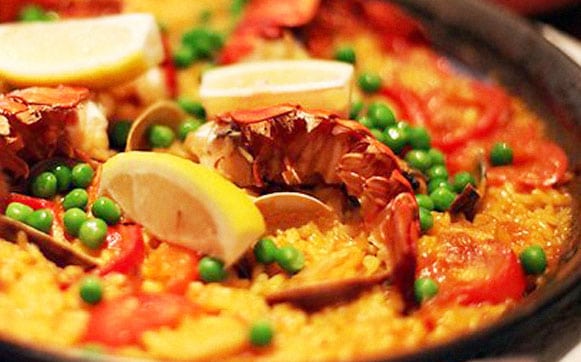 My mom came up with her own version of Paella I think because she has no patience's to wait. She cooks this a lot in the summer time with all the fresh seafood in New England that's available. My mom also considers herself in expert in this dish from traveling many times to Spain in her young years. And as good as it is who would argue with her - ah not me 🙂
Lobster is cheap this time a year and people buy it regular during the summer. On average you can get a 2 pd lobster for $6.00. So on to Mom's Paella!
Mom's Paella
2 pds. of large Shrimps
2 Lobsters
2 pds. of large scallops
1 Shallot
6 Garlic cloves crushed
3 ripe tomatoes, cored and cut into thick wedges
1 Stick of butter
2 Tbsp of olive oil
1 Pack of Knorr Sazon
1 tsp of Saffron
1 Fish bouillon
Chop the shallot, garlic, tomatoes and sauté in pan with butter, add fish bouillon and 1 pack of Knorr Sazon. Mix in pan and then throw in lobster, shrimps and scallops. Estimate the time until sea food is done. Other seafood can be added but these are her favorite.
While the above is cooking prepare rice.
2 cups of rice
4 cups of water
1 Fish bouillon
Peas can be added the rice when it is almost done. When both are done she either serves it separate or add on top of the rice. Slice some lemon wedges and squeeze on top.