I love Chinese rice, but I don't want the extra calorie so I make it myself. If you follow this recipe it will be better than your local Chinese restaurant. Everything is fresh and definitely NO MSG. I love to make this on a Friday night and watch a movie on the couch.
The Meat (pick anyone or combine the 2)
½ pound chicken thighs ( cooked with teriyaki sauce in the crockpot)
½ pound of shrimp with soy sauce ( cook this in the wok first and then set aside to make the rice)
The Rice
4 cups rice, prepared
½ pound chicken breasts, thighs cooked
1 cup of mushrooms
1 cup peas frozen
1 white onion, chopped
2 cloves garlic, minced
2 eggs
3 tablespoons sesame oil
¼ cup soy sauce
Instructions
Prepare rice according to package instructions to yield 4 cups cooked rice.
Heat sesame oil in a large skillet on medium heat.
Add onion, garlic, peas, carrots and mushrooms. Stir fry until tender.
Crack eggs into pan and scramble, mixing throughout vegetables.
Add rice, chicken, and soy sauce to pan. Stir in soy sauce and remove from heat.
Slice some scallions and the place them on top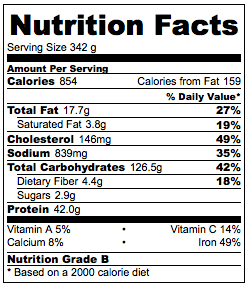 The cost $12.95 Enjoy!
[adsenseyu5]