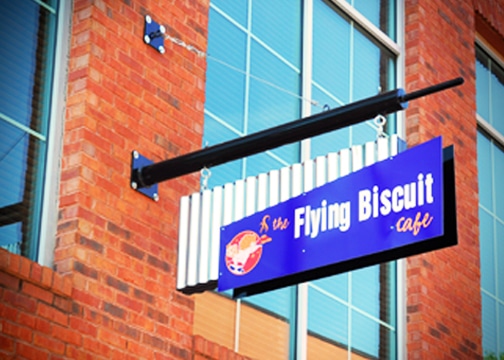 The Flying Biscuit Cafe is exactly that – the best biscuits in the World! They are fluffy and soft with that buttery taste as you bite into them. I had mine with loads of gravy with sausage and it just melted in my mouth. I'm not much for grits but when your in Georgia you have to have grits. They were loaded with cheese and butter that almost made my heart stop but I have to say this is definitely a treat to have. My honey could not wait for our plates to come, because while your sitting there you can smell the warm biscuits coming from the kitchen and can't wait to start eating.
Now the menu does have a selection of low fat plates but what's the point of eating that when your away having fun??? Our bill came out to $26.74 which I think was the best meal in the middle of downtown. The place is as colorful as can be and after we were done, off to Peidmont Park we went so we could walk off some of these calories. Surprisingly its a franchise and they have them all over, so look around, maybe there is one in your neighborhood!
The Flying Biscuit Cafe Organic Lavender Blueberry Basil Jam
6 cups blueberry
3/4 cup water
1/2 cup sugar
12 medium basil leaves (chopped)
1/4 cup lavender
cheese cloth
Wrap lavender in cheese cloth, in a medium
saucepan combine all ingredients and simmer for
approximately 20 minutes, take off and puree.