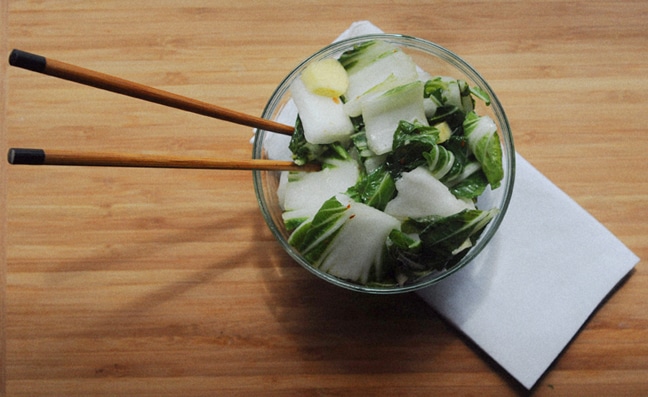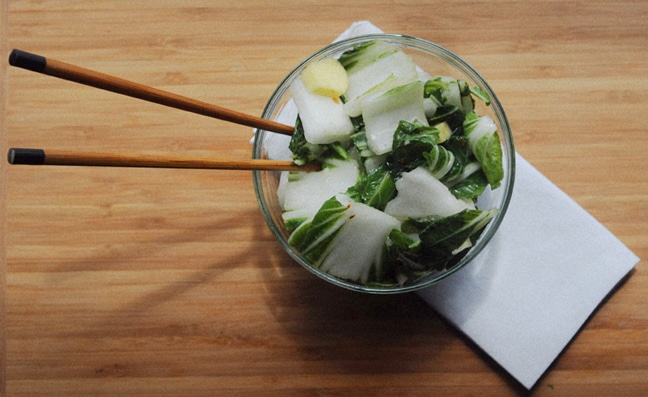 I am pickling cabbage the Korean way. A friend of mine brought some in so I could taste it and I thought it was the best thing for summer cook outs with a rib eye steak on the grill. I mean coleslaw is great but this is a little surprise in your mouth. It's a little hot but also a little sweet.
So I decided to make some myself – considering that we don't have any Korean places to eat in Fort Lauderdale. I mean, she did say it was easy enough and gave me the recipe from her mom! Aren't mom's the greatest, like when I think of how many people have said, "My mom use to make…" and then they tell me about this wonderful childhood memory that is about a meal that their mother's made.
Thanks you Mrs Kyong!
Kimchi Korean Pickled Cabbage
4 cups bok choy; sliced crosswise in strip
4 cups Chinese cabbage; sliced crosswise in strip
2 teaspoons pickling salt1 cup scallions; coarsely chopped
3 teaspoons minced garlic cloves1 teaspoon dried crushed red pepper flakes1 teaspoon minced fresh ginger root
1 whole chile de arbol
1/4 cup rice vinegar3 tablespoons olive oil
Cut the dark green leaves from the white stalks of the bok choy, Slice the white stems crosswise into thin slices. Roll the bok choy leaves lengthwise into a cylindrical shape and slice them and the Chinese cabbage crosswise into narrow strips. Toss these all together and soak in refrigerator with salted water to cover for several hours to over night.
Drain well. Combine with salt, onions, garlic, crushed pepper flakes and ginger. Toss to mix and pack into a large jar with lid. Put the whole chile de arbol whole against the side of the jar for garnish. Drizzle on the vinegar and oil and put on the lid. Keep stored in refrigerator and use as needed. This should keep for several weeks. A small amount, chopped fine it makes a great relish.