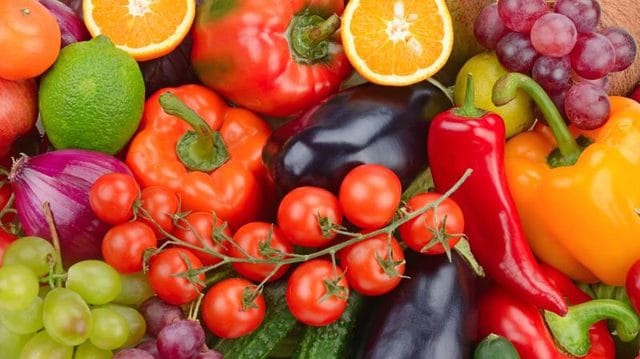 Today on #FoodFactFriday we explore Alkaline Foods. Now what are alkaline foods you ask? It is the belief that certain foods can affect the acidity and pH of bodily fluids, including the urine or blood, and can therefore be used to treat or prevent diseases. Now, I never heard of this until I went to a doctor that put me on a rigid diet to improve my Degeneration Spine Disease which can be very painful at times.  With this diet I experienced less pain and some days felt like I had none at all, which was amazing to me because of how I felt for so long.
Here is a list of Alkaline Foods, especially High Alkaline Foods:
Vegetables:

Beets, Broccoli, Cauliflower, Celery, Cucumber, Kale, Lettuce, Onions, Peas, Peppers, Spinach

Fruits:

Apple, Banana, Berries, Cantaloupe, Grapes, Melon, Lemon, Orange, Peach, Pear, Watermelon

Protein:

Almonds, Chestnuts, Tofu

Spices:

Cinnamon, Curry, Ginger, Mustard, Sea Salt
Now some people think this can't be but I can assure you it worked on me. All you have to do is try it for a week and see if you notice anything different. My skin felt like it was glowing and my body was limber to do anything! It is only when I go off the alkaline diet that I feel the pain and get adult acne again.
A study on Alkaline Diet and Back Pain
There is some evidence that chronic low back pain improves with the supplementation of alkaline minerals [47]. With supplementation there was a slight but significant increase in blood pH and intracellular magnesium. Ensuring that there is enough intracellular magnesium allows for the proper function of enzyme systems and also allows for activation of vitamin D [48]. This in turn has been shown to improve back pain [49]. http://www.ncbi.nlm.nih.gov/pmc/articles/PMC3195546/
The next thing I did was buy these PH Stripes to monitor my urine if it was alkaline. Now alkaline does not change in the blood stream but will in the urine with your diet. It was very difficult at first to even see a change in the stripe but after about 2 weeks and constantly increasing my veggie intake, I was Alkaline 7 !!!! What a surprise this was to me and who would of thought I could be so happy with my green strip. Jeffrey and I now have a contest going on with "Who is the Greenest."
PH Stripes
#FoodFactFriday – Alkaline Foods
I was surprised to see Dr Oz do a show just about Alkaline diets. You know when celebrates do things that are considered trendy, keep in mind, they have the financial resource to some of the best medical advice in the world. Which does not limit them to a PPO or HMO and my favorite when you call the insurances company is, "there not a provider." With the health field being such a corporate environment and gear to a general care for patience verses the individuals needs, staying healthy is the key.
I've been to so many doctors and no one ever mentioned my diet needed to change. Which makes me wonder, why as kids they though us "You are what you eat." I challenge you to try it for a week (2 weeks would be best if you can)  and see how you feel. If you don't see a difference then you would have eaten lots a veggie and that is still a good thing. But if you feel different then it will change your life.
Dr Oz – Fight Toxic Acid with an Alkaline Diet – pt1 from JFR studios on Vimeo.
Here is  a Download a pdf of a list of Alkaline Diet that I food from GreenOpedia