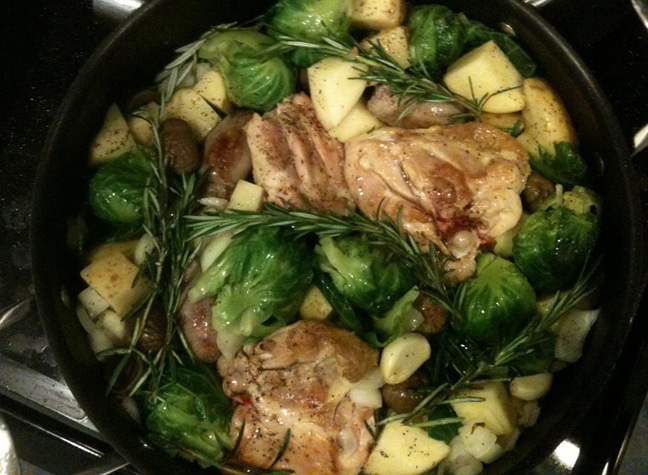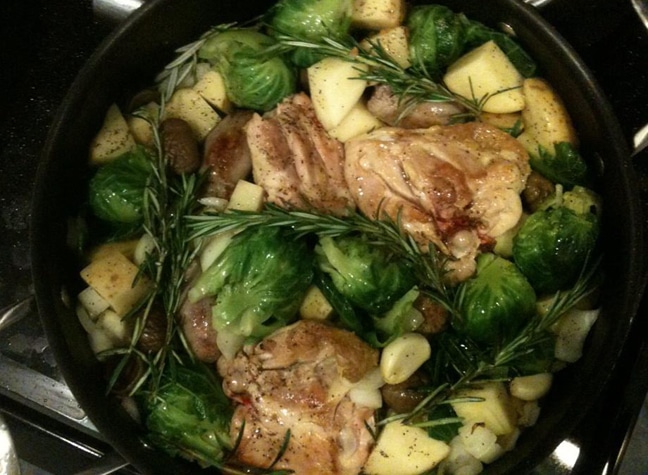 "Chicken Thighs Dancing with Brussels Sprout" is how I see this dish and it has the wonderful aroma that will come from your oven. I had gone to the farmers market down the street on a Saturday morning when I saw the most beautiful Brussels sprouts. They reminded me of a dish that my god mother made in France with little roasted potatoes. At this moment my brain was highly active to get to my kitchen and cook a Parisian meal like my god-mother did!
First the Chicken
6 thighs of chicken
3 TBSP of olive oil
3 cloves of garlic crushed
1 sprig of Rosemary
Sprinkle salt and pepper on the chicken
First you need to heat a deep sauté pan (I got mine at Marshall's for $39 – you will cook with this all the time once you have one) then throw your garlic in and let it simmer for a moment. Place you thighs in the pan and brown on each side until a golden crisp. Once this is done remove from the stove top. And place the chicken on a plate
Second the Brussels Sprouts
1 package of Brussels sprout
2 Yukon potatoes
1 package of chestnuts
½ cup of white wine (I prefer a Chardonnay)
¼ cup of water with a ½ chicken bouillon
3 sprigs of Rosemary
3 garlic cloves
Salt and Pepper
I cut my Brussels sprouts in half before I place them in the pan. Cut the potatoes in a good size squares and place them around the pan. Place the chestnuts, rosemary, salt & pepper and pour the wine and water. Now pour about 2 TBSP of olive oil and mix everything really good. Place your chicken and nestle it in the pan – don't cover it you want it to have room to crisp a little. This should cook for about 30 minutes covered and then uncover for 15 minutes at 375 degrees. If you need to add a little more wine or water because the water is gone just add a little at a time. This part is hard to estimate because ovens are so different from one another. My oven these measurements work, at my mother's, I need to add wine and a little water.
Get yourself some French bread so you can dip into the pan and most of all a great bottle of white wine will go perfect with this – I recommend a Sauvignon Blanc that has been chilled in the fridge. Enjoy your summer vegetables this time of year - most are local.