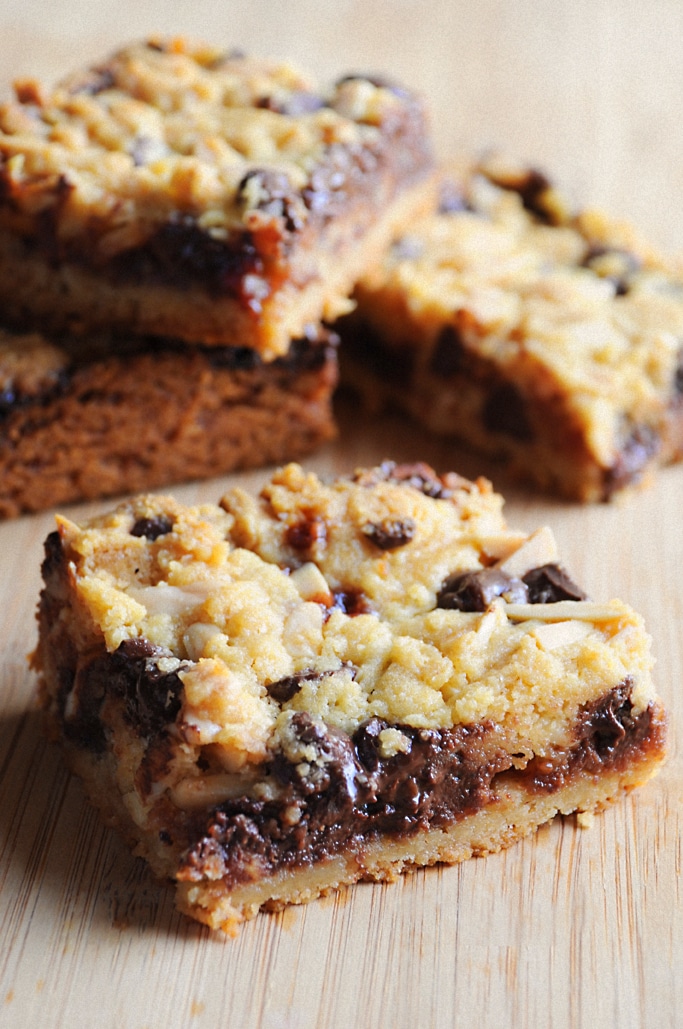 I remember the first time I made Chocolate Almond Raspberry Crumb Bars with my mom in the kitchen. I had checked out a recipe book at school when I was in the 6th grade. I brought it home and asked my mother if we could make these delicious looking cookies. Since then I've altered the recipe a little over the years, but it's still a family favorite. I try to make them twice a year, once for Christmas and for Memorial Day weekend. They are perfect treats for picnics by the water and your kids will love them too. So if your searching for the perfect bite and tired of those ordinary bars try theses Chocolate Almond Raspberry Crumb Bars.
Chocolate Almond Raspberry Crumb Bars
Chocolate Almond Raspberry Crumb Bars
Chocolate Almond Raspberry Crumb Bars that are easy to make and filled with raspberries and chocolate to make the perfect bite!
Ingredients
1/2

pound

2 sticks unsalted butter, at room temperature

3/4

cup

sugar

1

teaspoon

pure vanilla extract

2 -1/2

cups

all-purpose flour

1/2

teaspoon

kosher salt

10 to 12

ounces

Trader Joe's raspberry jam

1/2

cup

of chocolate chips

1/4

cup

sliced almonds
Instructions
Preheat the oven to 350 degrees.

Place the butter and sugar in the bowl of an electric mixer fitted with the paddle attachment and mix on medium speed just until combined.

With the mixer on low, add the vanilla.

Sift the flour and salt together and, with the mixer on low, slowly add to the butter mixture, mixing until it almost comes together in a ball.

Turn the dough out on a board. Lightly pat two-thirds of the dough evenly on the bottom of a 9-inch square baking pan and about 1/4-inch up the sides.

Spread with the jam, leaving a 1/4-inch border.

Mix the chocolate chips and almonds into the remaining dough with your hands. Break the dough into small bits and distribute it on top of the jam, covering most of the surface.

Bake the bars for 45 minutes, until lightly browned.

Cool completely and cut into 9 or 12 bars.
My Favorite Things in the Kitchen while making cookies!