Applewood Bacon BLT with Maple Mayo
My Applewood Bacon BLT with Maple Mayo sandwich is one of my favorite sandwiches for a weekend treat with a cold glass of homemade lemonade. I remember the first time I had this hearty sandwich at a small little shop in Georgia. Can you say, "bacon should be the state symbol in Georgia?"They have bacon on everything, including donuts with caramel topping. How yummy is that! There was every kinda of bacon smoked in every flavor you can imagine in Georgia.
So from this little sandwich shop that I went to years ago, I remember the mayo was flavored with maple and it had a sweetness that blended perfectly with bacon. Not that bacon does not taste perfect by itself but let's face it a little maple syrup does add a special touch to the perfect bite!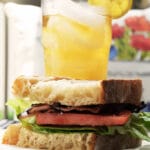 Applewood Bacon BLT with Maple Mayo
Ingredients
1/2

pound

of Applewood Bacon

Italian bread

thick slices

2

cups

of Boston Lettuce

1

heirloom tomatoes

sliced

1/2

cup

of mayo

2

tablespoon

of maple syrup

1/2

squeezed lemon

pinch

of salt and pepper
Instructions
I place my bacon on a cookie rack with a pan underneath and place it in the oven. This allows the grease to fall into the pan and keeps the bacon flat.

Cook in the oven at 350 degrees for about 20 minutes or until bacon is crispy all around the edges.

Once the bacon is done, slice your bread into half inch thick slices and toast both sides.

Mix your mayo, maple syrup and lemon juice together with salt and pepper.

Spread the mayo on the bread, place lettuce and tomato on one side and bacon on the other.

Cut your sandwich and half and serve with a cold glass of lemonade.
Here are some of My Favorite Things for this Memorial Weekend!