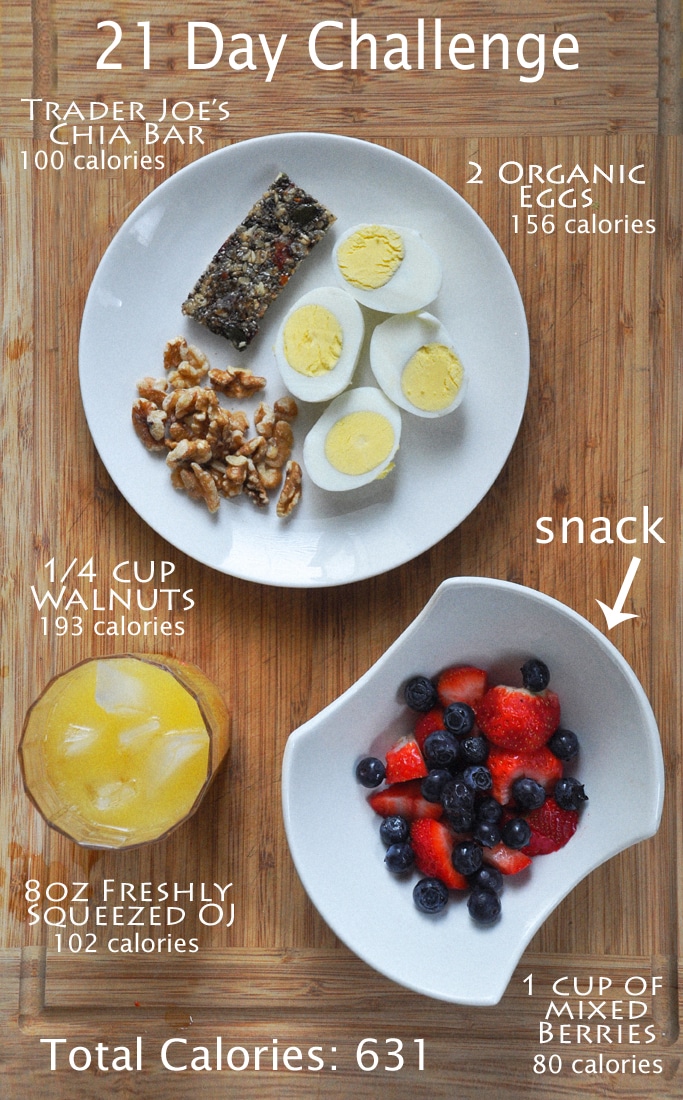 Today is my first day of the 21 Day Challenge – Day 1. Yes it's time for me to detox and gear up while I am all bundled up.  I'm starting my clean eating along with my daily exercise to improve my back mobility. THE HOLIDAYS ARE OVER! The secret – NO CARB! NO SUGAR! NO LIQUOR!

Day 1
Female: Weight 139 – Height 5.6
Pre Breakfast – 6:30am
2 cups of coffee to start my day. No sugar because we are cutting out all sugar.
Breakfast – 10:30am
I had my breakfast around 10:00am because I don't like to eat to early. I have most of my calories at this time which helps not to snack during the day.
2 hard boil eggs – 156 calories
1 chia bar – 100 calories (Trader Joe Chia bars)
8 oz freshly squeezed orange juice – 102 calories
1/4 cup of walnuts – 193 calories
Total Calories: 551
Lunch – 1:00pm
Snack – 3:30pm
I have a piece of fruit at this time and it is usually berries or an apple.
1 cup of mixed berries – 80 calories
Exersie – 5:00pm
1 hour of yoga – burned 477 calories
Dinner – 6:30pm
bowl of lettuce – 440 calories
12 oz grass feed meat patty – 209 calories
Bedtime – 10:00pm
I like a cup of tea with my husband in the evening. Jeff usually makes it and is done before bedtime. I have a few sips and end up going right to sleep.
Total calories for the day: 1522
Grocery List 
eggs
oranges
mixed berries
walnuts
chia bars
romaine lettuce
spinach
arugula lettuce
shredded carrots
chickpeas
black olives
tomatoes
lean ground beef
I'm ready for day 2!